Why Notre Dame shouldn't underestimate Northwestern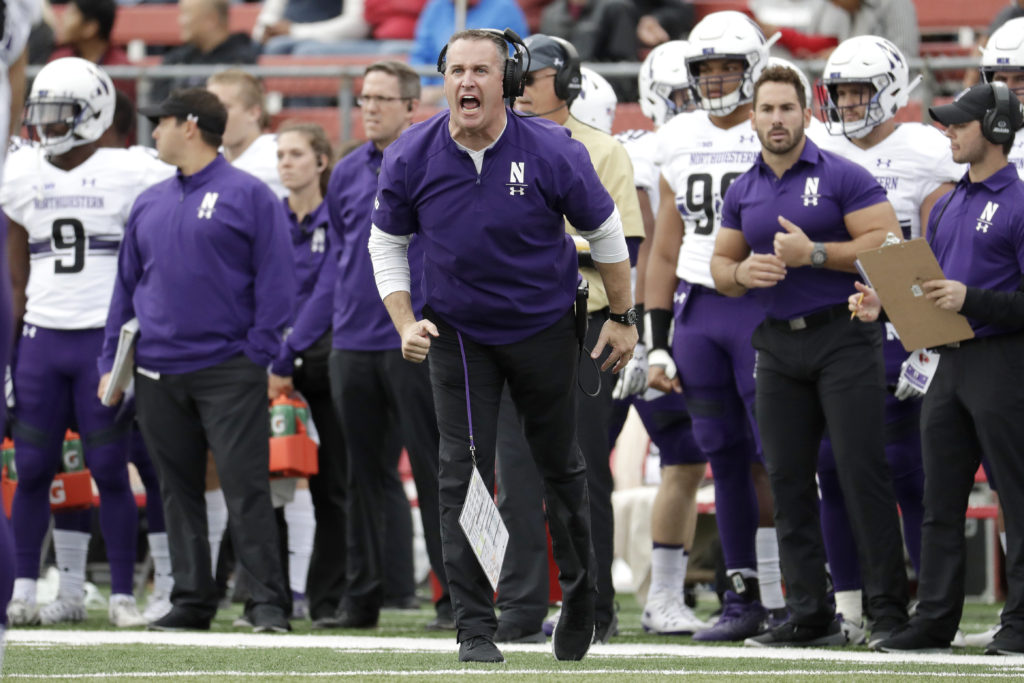 The Fighting Irish are No. 4 after the release of the first College Football Playoff Rankings, but a potential land-mine game on the road this Saturday looms against a feisty Wildcats team.
Notre Dame isn't overlooking Northwestern by any means, but any team coming off a 10-win campaign from last season should never be taken lightly. Notre Dame could possibly be catching Northwestern at the wrong time. Head Coach Pat Fitzgerald has his Wildcats playing with confidence.
Northwestern is 5-1 in conference play, riding high on a four-game win streak and has victories over three teams with a winning record this season. The Wildcats may have three losses and just beat a Badger team without their starting quarterback, but besides the double digit loss to Duke, Northwestern's other two were by a combined eight points.
Notre Dame has a ton of momentum heading into week 10. Brian Kelly's offense been humming ever since he put sophomore Ian Book behind center in week four and the unit been averaging 40.4 points per game over the team's last five wins. Now that all the College Football fanatics got their first glimpse of the Playoff Rankings, the Fighting Irish now have huge targets on their backs. Kelly should expect for his squad to get every opponent's best for the remainder of the season.
The Wildcats are hungry and have not beat a Top-Ten team at home since 2004. Northwestern has been scrappy on defense and could potentially give Notre Dame's offense fits. The Wildcats' defense has allowed 20.5 points per game over the team's last four wins. Fitzgerald will try to disguise different blitz packages to confuse Book and force him to make mistakes for Northwestern to have a chance in this game.
Northwestern's senior signal-caller Clayton Thorson leads the Big 10 in interceptions thrown. His decision-making has been suspect thus far and the Fighting Irish's defense look to exploit that. Notre Dame's defense has been rock solid all season long, although playing Navy last week didn't help the unit in preparation for Northwestern's offense. The Fighting Irish's defense is allowing 19 points per game and will put pressure on Thorson to beat them with his arm.
In the passing game, Notre Dame's secondary will have the advantage. Junior ball-hawking safety Jalen Elliott leads the Fighting Irish with three picks and junior cornerback has two other interceptions. Thorson's primary target is senior wideout Flynn Nagel. Expect the Irish to double-cover Nagel on third downs and force another Wildcats receiver to step up.
Fitzgerald's team has been playing with that never-say-die mentality and found themselves in some unforgettable comebacks this season. Expect Northwestern to lay it all on the line against Notre Dame. Kelly knows his team will be walking into a snake pit and will need to be physical in the trenches and make a statement early on. The opportunity is there for the Fighting Irish to improve their resume with a win, while Northwestern can jump into the rankings with the upset. This will be one of the most entertaining games on Saturday's slate.