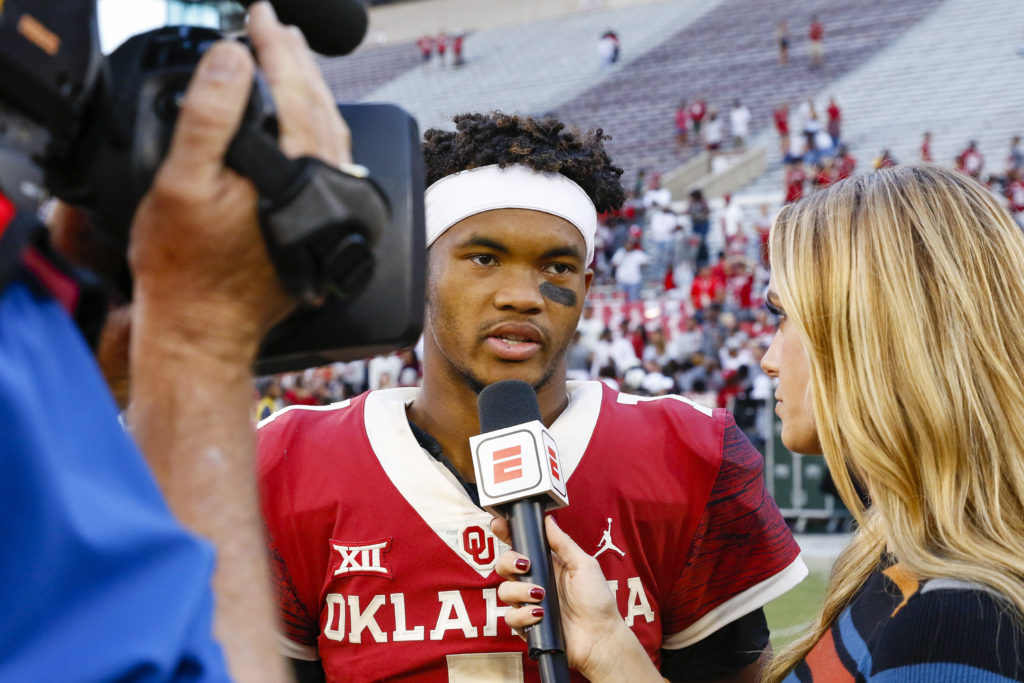 The signal-caller made a decision back in June that was unprecedented among student athletes.
Murray was drafted No. 9 overall in the 2018 MLB Draft by the Oakland A's, with a contract that pays him nearly $5 million. Still, he decided to put the fame and glory on hold to complete his junior season as the starting quarterback for Oklahoma.
It's mind-boggling to think a 20-year-old kid wouldn't dive at that opportunity head-first, considering thousands of student athletes across the country come from humble beginnings and a pro career is their way out of poverty. However, being the starting quarterback for a prestigious University that has tremendous tradition, passionate fans and a winning culture, Murray's decision doesn't seem too far-fetched.
You only get a few chances in life to enjoy time as a student athlete and Murray obviously loves the game. The fact that the Sooners are coming off a loss in the College Football Semifinal, returns a bunch of hungry players that's ready to get back to the post season and was missing one key piece to make the team complete, his decision to stick around became much easier.
The now 21-year-old has a great connection with second-year Sooners coach Lincoln Riley and NCAA rules allow college athletes to play professionally in one sport while maintaining eligibility in others. Murray can't play baseball for Oklahoma this year, but agreed that he'll continue his pro baseball career after the 2018 football season is over.
The Texas native also had an unusual journey to Oklahoma. Murray played his freshman season at his father's alma-mater Texas A&M. Then-coach Kevin Sumlin kept having issues with his quarterbacks and for whatever reasons Murray, Kyle Allen and Kenny Hill all transferred during his tenure. Murray had to sit out the 2016 season because of NCAA transfer rules, played his sophomore year as a backup to 2017's Heisman Trophy winner Baker Mayfield, learned how to be a leader and finished with three touchdown passes.
Murray knew replacing Mayfield was going to be huge shoes to fill, but he felt no pressure and was up to the challenge. Five games into the 2018 season and Murray has filled in better than expected, with video game-type of stats and the Sooners' offense picked up where it left off last year. The 5-foot-10, 195-pounder has the highest quarterback rating of any FBS starter in the entire country and Oklahoma leads the Big 12 in scoring, averaging 48.6 points per game.
Murray has completed 70.6 percent of his passes for 1,469 yards, and tied for first in the league with 17 touchdown passes and just two interceptions. He also been named Big 12 Offensive Player of the Week three times this season and now his name is mentioned in the Heisman discussion. It also helps that Oklahoma is undefeated at 5-0.
The Red River Rivalry is this Saturday and Murray will start in the biggest game of his career thus far. The fact that he's from Texas makes this game even more important and all eyes will be on him. Players are remembered for what they do on the biggest stages and it doesn't get any bigger than a ranked Oklahoma and Texas squad clashing in the Cotton Bowl.
Murray will have a opportunity to increase his Heisman chances with a win over the Longhorns Saturday. Before he takes his first snap in this huge rivalry game, Murray can look back on everything that got him to this point and ask himself was it all worth it. I guarantee Murray will say he'll do it all over again if he had to.