Is it too early to jump on Notre Dame's bandwagon?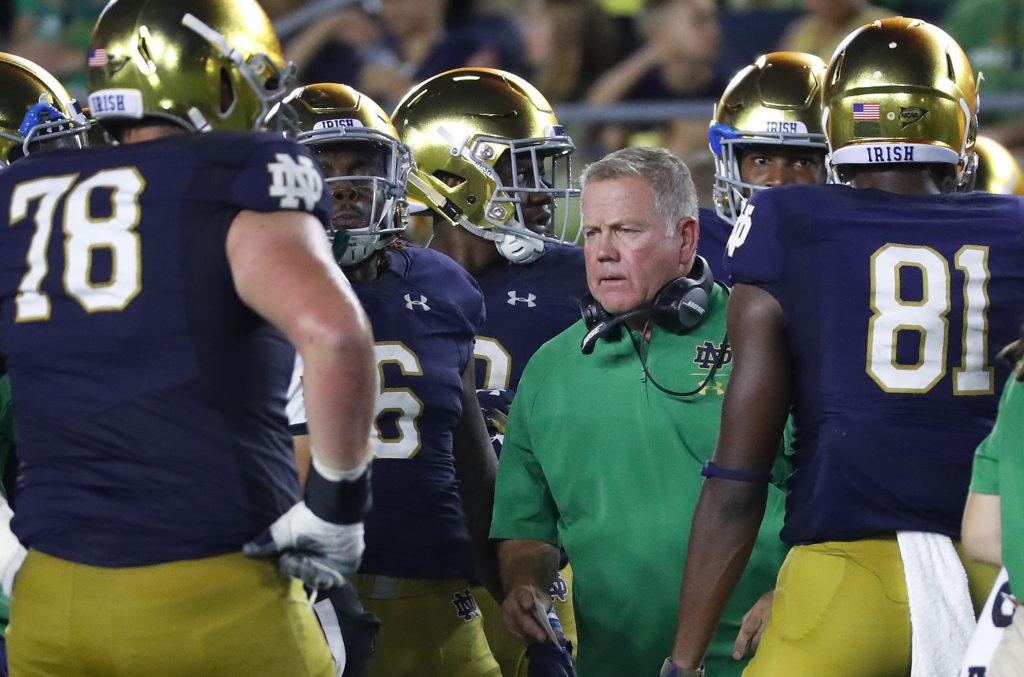 The Duke of college football took down a highly-ranked team last Saturday, jumped up two spots to No. 6 in the Associated Press Poll and remains unblemished on the season.
Rather you love or hate Head Coach Brian Kelly, he has his team playing with confidence in 2018. Notre Dame hasn't started the season 5-0 since 2014, but has everyone's attention after manhandling previously undefeated Stanford by three touchdowns at home.
Kelly benched starter Brandon Wimbush after his struggles in the passing game and gave sophomore signal-caller Ian Book the nod. After Book threw for 278 yards, four touchdowns, no interceptions and added 47 yards on the ground, it seems that Kelly made the right decision.
The Fighting Irish has beaten a team from the Big 10, Pac-12, SEC and ACC. Notre Dame is now primed for its first national title run since 2012 and has a remaining schedule loaded with ACC teams and the season finale at USC to get to the promised land.
Notre Dame has put together a physical ground game on offense, averaging 201.4 yards per game and 13 touchdowns. Dexter Williams, Tony Jones Jr. and Dexter Williams have combined for 709 yards and all averages over five yards per carry. The quarterbacks have also done a great job with their mobility and improvising out of the pocket to keep the chains moving
The defense has made drastic improvements from last season and been a nice complementary to the offense, allowing just 18.8 points per game. Senior linebacker Te'von Coney leads the pack with 39 tackles, including four from behind the line of scrimmage, a sack and an interception.
The Fighting Irish is riding a six-game win streak and will take their act on the road for a second time this season when the team travels to No. 24 Virginia Tech for a top-25 clash this Saturday. The Hokies will love nothing more than to take down two undefeated teams in back-to-back weeks and erase any memories of their embarrassing loss at Old Dominion two weeks ago.
The bandwagon is starting to increase with the love in the polls and Kelly knows the targets on his player's jerseys has grown and they should expect to get every opponent's best. With arguably one of the toughest schedules in the country, if Notre Dame finishes the regular season undefeated or with one loss, the team should have strong consideration for a spot in the College Football Playoff.