Why Boston College is the hottest team in the ACC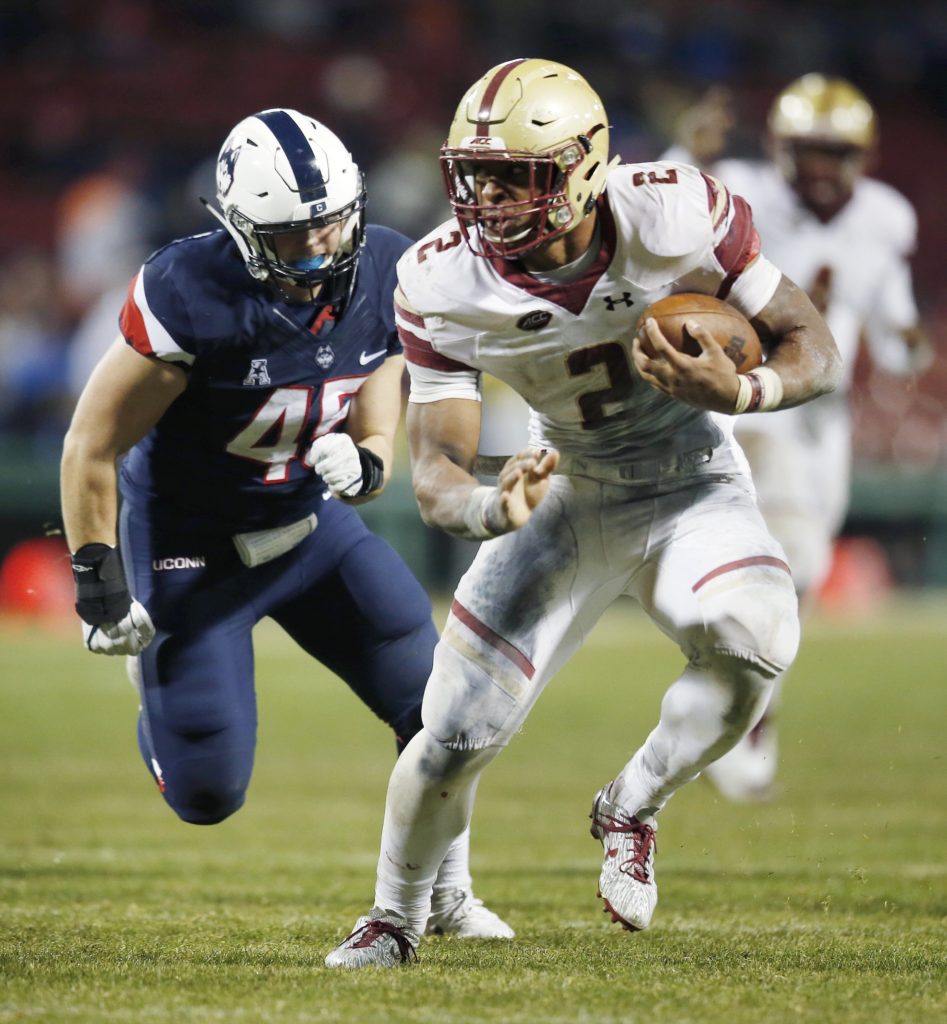 With arguably the best running back in the Atlantic Coast Conference and an offense that's averaging 52 points per game, it's no surprise that Boston College catapulted into the Associated Press Top 25.
Head Coach Steve Steve Addazio has his Eagles 3-0 for the first time in his six-year tenure and ranked No. 23 in week four of the college football season. After putting up 41 points on a talented Wake Forest team on the road, Boston College seems to be the biggest threat to Clemson in the Atlantic Division.
The offense has been built around true sophomore running back AJ Dillon, who was the Eagle's top recruit in 2017. The 6-foot-2, 240-pounder rushed for 1,589 yards and 14 touchdowns last season and has picked up where he left off in 2018. Dillon has 429 yards on the ground in the Eagles three games this season, including 334 and four touchdowns in the last two and leads the league in rush yards per game.
The Eagles have played smart football thus far and sophomore quarterback Anthony Brown has yet to throw an interception. The signal-caller threw for 11 touchdowns and nine interceptions last season, but is off to a great start in 2018 and has has completed nearly 69 percent of his passes for 424 yards and three touchdowns.
The defense has played solid for the most part, allowing 23 points per game, almost identical statistically to where the unit finished a year ago. Every level of the defense has a stud player. Senior defensive end Wyatt Ray anchors the boys up front and has 16 tackles, including six for loss and is tied for first in the ACC with five sacks. Senior linebacker Connor Strachan leads the team in tackles with 25 and averages 8.3 a game. Junior cornerback Hamp Cheevers has emerged in the secondary and is tied for second in the league with two interceptions.
The Eagles are back on the road for a second-straight week and travels to West Lafayette this Saturday to play the Boilermakers that are desperate to get their first win of the season. Boston College has everything in place to make some noise in the ACC this season. The conference schedule sets up pretty nice with home games against Louisville, Miami, Clemson and Syracuse. Road games at NC State, Virginia Tech and Florida State are winnable, but the more the Eagles continue to win the bigger the targets will be on their backs.
Now that Boston College is finally getting national attention it'll be interesting to see how the team handles being in the spotlight. Addazio will have his hands full with keeping his team focused and not complacent if the Eagles want to sustain their recent success. For now, Boston College has finally arrived and the entire ACC has taken notice.