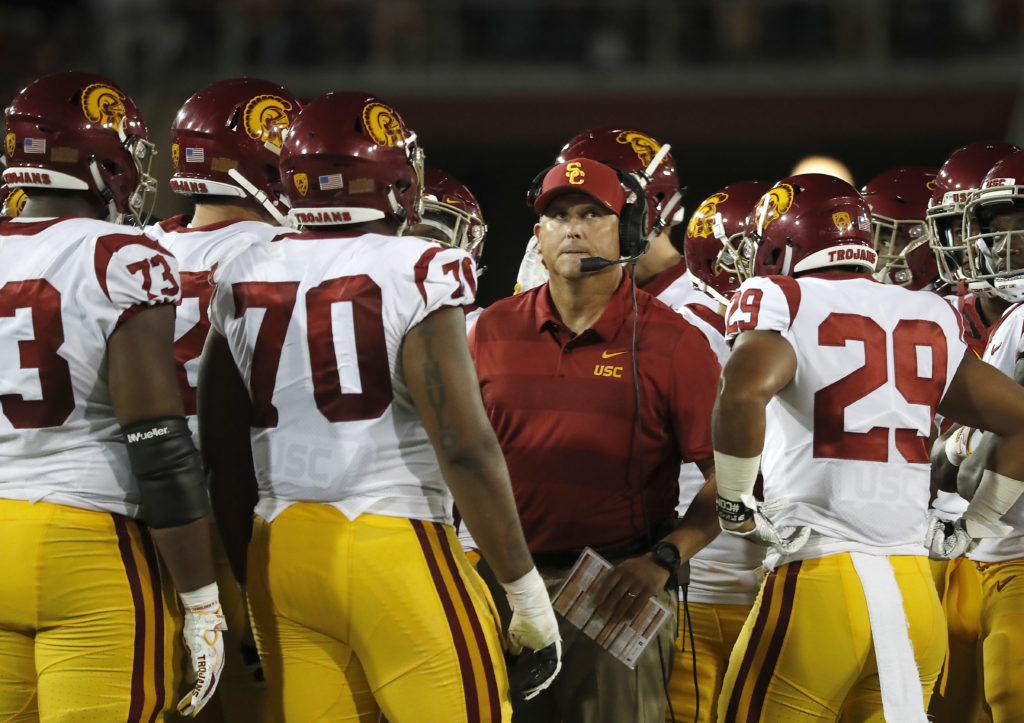 For a coach that has gone 28-12 in three-plus years, fresh off a conference title and posted two-straight double-digit win seasons, it's mind-boggling to think he's on any type of hot seat.
That type of success is good enough for 90 percent of the football programs across the country, but not at Southern California. The USC faithful still think it's Pete Carroll patrolling the sidelines and that the Trojans should be competing for a national title year in and year out. There's some fans that were even displeased with Helton's hiring in the first place. USC athletic director Lynn Swann decided to preserve the University's funds and kept everything in-house.
Now Helton has come under fire after the Trojans lost three of their last four games, including two-straight. USC was expected to take a few steps back after having to replace the school's first 4,000-yard passer and NFL First Round top pick Sam Darnold. The offense also had to replace a 1,500-yard rusher and a 1,000-yard receiver. Helton named true freshman quarterback JT Daniels his starter for 2018 and he has thrown for 819 yards, one touchdown and three interception after three games. True sophomore running back Stephen Carr hasn't exactly took the running back position by storm either.
The Trojans are only averaging 20 points per game on offense and the offensive line has allowed seven sacks. That's uncalled for when the program brings in top-10 recruiting classes annually. Offensive coordinator Tee Martin needs to make some changes quickly or he might be out of a job by the end of the regular season.
USC's defense was expected to be a dominant unit and carry the team while the offense develops, but the Trojans have struggled to stop the run. The front seven continues to get pushed around in the trenches. The defense is allowing 25 points per game and has no interceptions.
It's tough to say if the Trojans are even the favorite in the South division at this point, with Arizona State better than expected and Colorado undefeated. USC has a tough home game this Friday against undefeated Washington State. It's a perfect opportunity for Helton to silence some of his critics, but if the Trojans drop their third-straight game the grumbling around campus will be unbearable.
Helton will face his toughest coaching task by trying to keep his team focused and not give up on their season. USC still has everything to play for, including a conference title and a shot at one of the New Year's Six bowls. Another conference loss will most likely put all those goals to rest. This is a proud football program and won't tolerate any nonsense and mediocrity from its coaches. Remember Lane Kiffin was fired on the team's plane ride back home after a  road loss and Steve Sarkisian was let go after his alcohol problems surfaced.