Why it's time to hit the panic button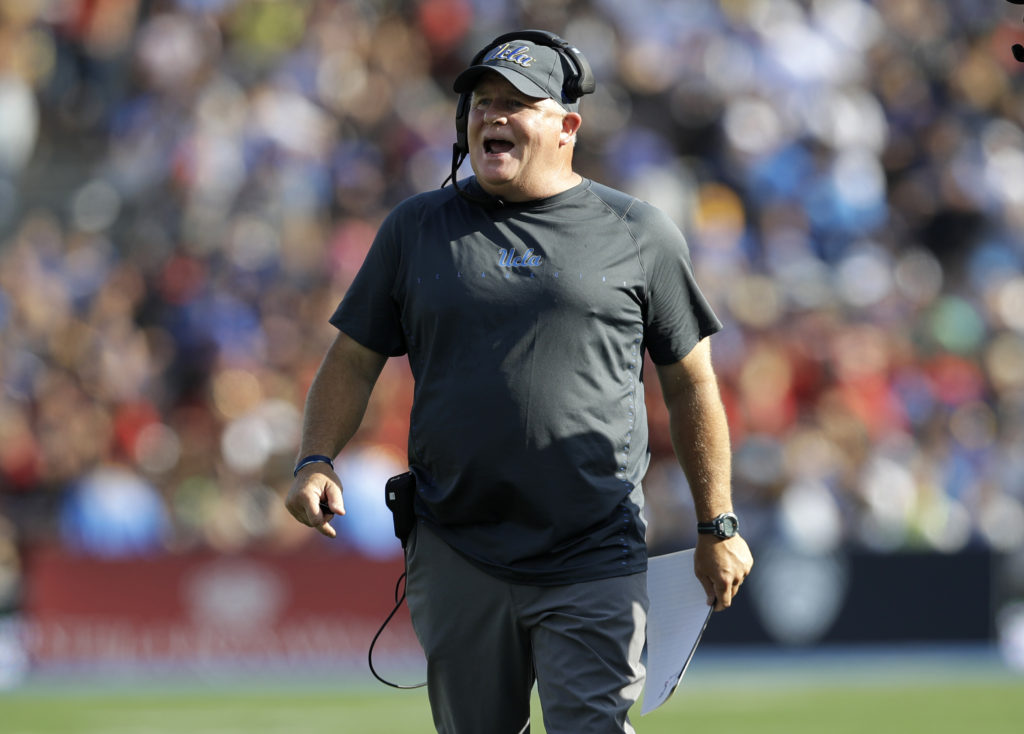 Four football teams have fallen by the wayside early on and will try to salvage what's left of their seasons.
Scott Frost, Chip Kelly, Willie Taggart and Chad Morris were all hired late last year to lead Nebraska, UCLA, Florida State and Arkansas in the right direction. However, three weeks into the season and all four coaches have their teams in worse shape than their predecessors left them in. After last Saturday, each coach has some shuffling to do on their rosters and if changes aren't made quickly, none of the four schools will be bowl eligible by the end of November.
With a combined record of 2-9 entering week four, getting players to buy into the culture and grasp the concept of what the coaches are trying to implement may be as tough as winning. Fans will have to rally behind their teams instead of withdrawing their support in order to see improvement from the outside looking in. Nowadays coaches salaries are open to the public and people are free to voice their opinion of whether or not the individuals are worth it.
The four programs have reached a state of emergency and the coaches backs are against the wall. With the pressure to win now, every week will provide a new challenge and opportunity. By examining each team's current situation, what's at stake will be put in perspective and it'll be interesting to see how everything plays out.
Chad Morris, Arkansas:
Arkansas fired Bret Bielema after he posted two losing seasons during his five-year tenure and lured in Morris from Southern Methodist. Morris is well compensated, with a six-year contract that pays him double annually than what he made at SMU, but the Razorbacks are 1-2 after three games. Arkansas lone victory was over an inferior FCS team. However, losing to Colorado State on the road and a 27-point home loss to North Texas in consecutive weeks has left a black eye on the team and the SEC. The Hogs are a hot mess at the moment, with mediocre play at the quarterback position and a defense that's struggling mightily. Cole Kelly has the lowest quarterback rating of any starting signal-caller in the SEC with 115.60. The offense ranks 10th in the league in points and rush yards per game. The defense has allowed 32 points per game, including 39 in the last two weeks. As if the program couldn't reach a new low, last Saturday's arrest of Morris after the North Texas loss was the weirdest incident that has happened to an Arkansas coach since Bobby Petrino's motorcycle accident. He was alleged to have resisted arrest, fled on foot from authorities and needed Dallas Cowboys owner and Razorback alumn Jerry Jones support before being released from jail. When it rains it pours and Arkansas has to visit a ticked-off Auburn team this Saturday for its conference opener. Arkansas conference schedule doesn't get any easier with home games against Texas A&M and Alabama following Auburn, but the opportunity is there to get the season turned around. In reality the Hogs will likely be on a five-game losing streak after their next three games.
Chip Kelly, UCLA:
Kelly was viewed as one of the best hires during the off-season and had UCLA fans optimistic about seizing control of Los Angeles from USC. His five-year contract is worth 23.3 million and expectations were pretty high for the two-time PAC-12 Coach of the Year. However, Kelly and his team have been humbled in the worst way after starting the year 0-3 for the first time since 1971. The only loss that was expected was the second game at Oklahoma, but home losses to Cincinnati and Fresno State are uncalled for. The Bruins are dead last in the league in scoring, passing and total offense and the defense is allowing nearly 38 points per game. Kelly needs time to implement his system and get his type of players in the program, but at the moment none of the players seem to be buying in. To make matters worse, the starting quarterbacks' dad called out Kelly, claiming the team has lousy coaching and play-calling. Kelly's biggest challenge will be keeping his players focused, without giving up on the season. There's still a lot of football to be played and the Bruins open up conference play on the road against a talented and undefeated Colorado team. The bye-week comes at the perfect time and should help Kelly gather his troops to rally behind him. It'll be like hitting the reset button on the season.
Scott Frost, Nebraska:
Out of all the coaches on this list, Frost was the one who was embraced with open arms by the fan base and was projected to be the most successful by the national media. After all, he's a Nebraska native, played quarterback under Hall of Fame Coach Tom Osborne, was apart of the Huskers last national championship team and led Central Florida to an undefeated season in 2017. All of those attributes have helped him during a time of distress with the first 0-2 start for the program since 1957. Frost gets a pass for now because his starting quarterback is out with an injury with no timetable of when he'll return. Still, Nebraska has had a season to forget thus far with its first game cancelled due to inclement weather, a nail-biting home loss to rival Colorado, topped off by the school's first ever loss to a Sun Belt team in Troy last Saturday. Frost called out his own players in the wake of the loss and will need to get his team in gear for their conference-opener at the Big House. That's easier said than done with the way the Huskers have played in their first two games. Turnovers and penalties have plagued this team. The defense has been solid for the most part, but needs to create more turnovers and stop giving up the third and longs. Frost eliminated the fullback position from the offense and that's what he needs right now with the team struggling to convert first downs on short-yardage situations. The Huskers are eager to snap their six-game losing streak, but their offense with Andrew Bunch at the helms won't stand a chance against a star-studded Wolverine defense on the road. Talk about growing pains, Nebraska is potentially looking at its first 0-3 start since 1945.
Willie Taggart, Florida State:
Taggart probably has the warmest seat out of all the newly hired coaches this season. People are already calling for his job, which is mind-boggling when you look back three weeks prior and everyone was on board. Taggart is getting paid five million a year and the Seminoles are a complete mess at the moment. The offensive line can't block a soul and has surrendered 10 sacks in three games. The quarterback can't stay in the pocket long enough to find open receivers and no leaders have emerged. It's very alarming when Florida State's offense was held out of the endzone against Virginia Teach, needed a fourth quarter rally to beat an FCS foe and scored only one touchdown against Syracuse porous defense last Saturday. The Seminoles are dead last in the ACC in points and rush yards per game. True sophomore running back Cam Akers is a rising star in the league, but defenses are stacking nine in the box to stop him because the passing game presents no threats. Through this rough stretch Taggart has remained positive and believes his team will be fine. Northern Illinois visits the Doak this weekend and Florida State needs to right the ship before it crashes and burns. The schedule doesn't get any easier for the Seminoles with Miami, Wake Forest and Clemson lurking in October. It's sad to say, but the coaching staff and players seem to have already given up on Taggart. The next few weeks will definitely show if that's true or not.