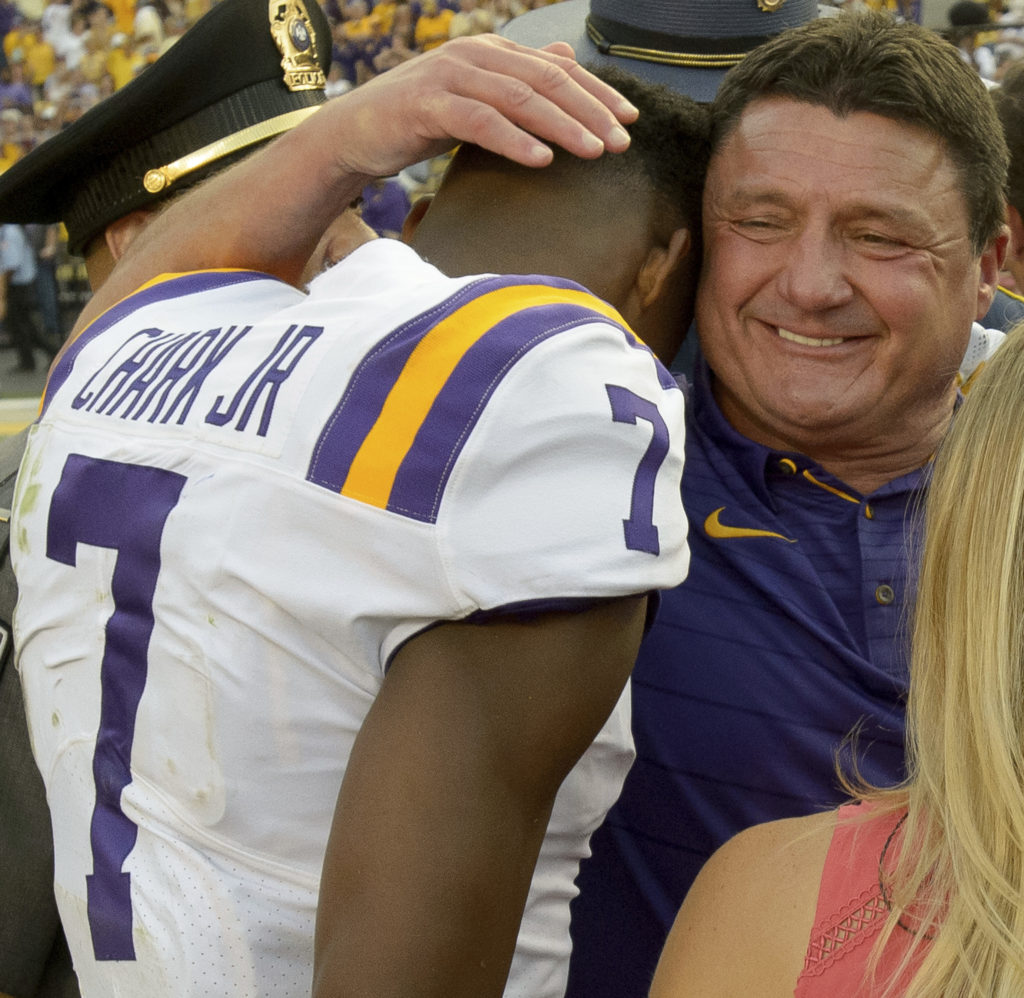 Remember during the off season how all of the naysayers thought Louisiana State's Ed Orgeron's seat was hotter than any other FBS coach? Some thought he wasn't the right man to run the Tiger's program, that his record as an SEC coach was laughable and even classified his daily consumption of energy drinks unhealthy.
Well after LSU upset Auburn on The Plains last night, those who criticized and scrutinized the coach are probably hiding in their mouse holes now. Believe it or not, the Bayou Bengals are 3-0, took down two top-10 teams from the preseason  and moved up to No. 6 in the latest Associated Press Top-25 poll.
For Orgeron to have his team in this great position didn't seem likely heading into the fall. After all, a couple players had off the field issues post spring, two potentially starting signal-callers left the team right before fall camp and the coach was putting his job in the hands of a graduate transfer that couldn't secure the Ohio State quarterback position from a sophomore.
The team persevered and after three games people are starting to jump on Orgeron's bandwagon. His signal caller Joe Burrow doesn't have the best completion percentage of starting quarterbacks in the SEC, but been effective enough to have three touchdown passes and no interceptions. Running back Nick Brousette is No. 2 in the league in carries and has two-100 yard rushing games under his belt.
The Bayou Bengals defense has been a tenacious bunch this season and the unit is tied for first in the SEC in sacks and interceptions. Linebacker Devin White has been a tackling machine, ranking second in the conference in stops and cornerback Greedy Williams has displayed his ball-hawking skills with two picks.
LSU will likely head into the month of October undefeated where a brutal four-game stretch that consists of Florida, Georgia, Mississippi State and Alabama awaits. If Orgeron's squad surfaces from that meat grinder with just one loss, it would be hard for the voters to keep them out of the top-four in the second week of the College Football Playoff Rankings.
As for now, Orgeron can sit back comfortably in his chair and soak it all in, knowing that there's still plenty of unfinished business to take care of. If LSU was under the radar before it's definitely not now. The Bayou Bengals have a target on their backs the size of Mount Rushmore and will get every teams' best.
This will be Orgeron's toughest coaching task to date, with keeping his players motivated and focused despite all the new media love. It's harder to maintain success after you obtain it, but this isn't the coaches first rodeo and he'll try his best to make sure his boys stay grounded and keep their eyes on the prize.