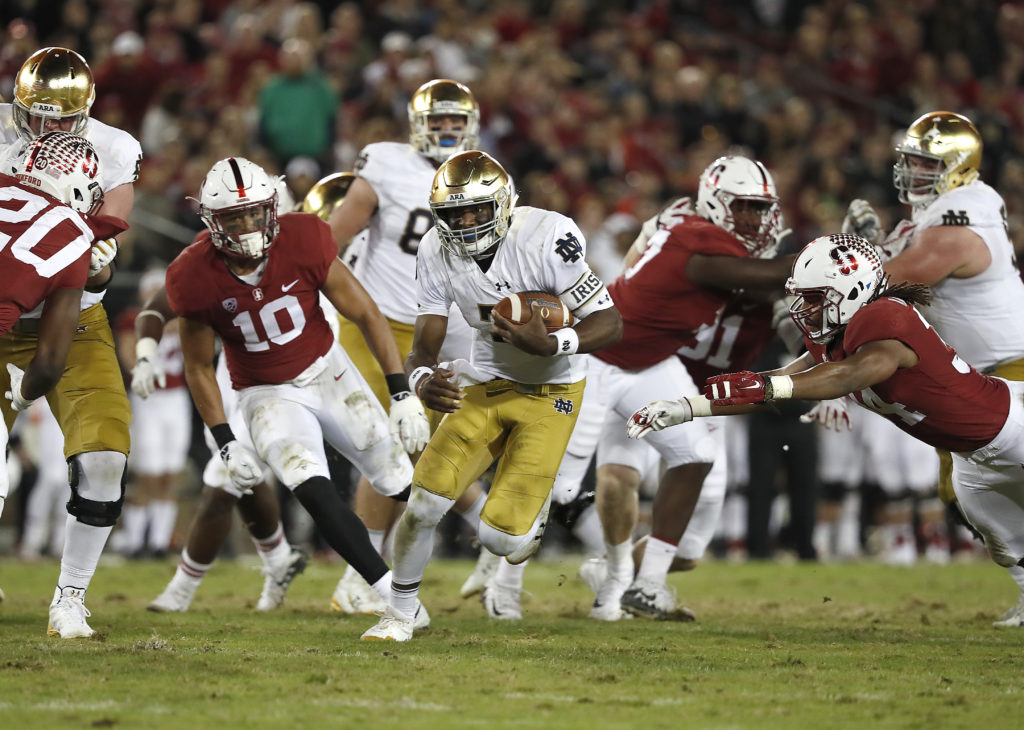 Last season was a roller coaster ride for Head Coach Brian Kelly. He caught a lot of heat after the home loss to Georgia and condescended a female reporter who asked him about it. Notre Dame then went on a seven-game win streak that included a lopsided victory over rival USC and closed out the season with a bowl win over LSU. Now the 2018 season is upon the Irish and the team returns its starting quarterback, three starters along the offensive line and a defense that's loaded with talent and experience.
Team strengths: The offensive running game, linebackers and special teams. The Irish had a dominant ground game last season and finished seventh nationally averaging 269.3 yards per game. The backfield lost 1,000-yard rusher Josh Adams, but junior  quarterback Brandon Winbush along with running backs Dexter Williams and Tony Jones combined for 1,395 yards on the ground and 21 touchdowns. All three will operate behind an offensive line led by Remington Award Watch List senior center Sam Mustipher. The defensive front seven returns five starters, including senior linebackers Te'von Cney and Drue Tranquill. The duo combined for 201 tackles, including 23.5 from behind the line of scrimmage, 4.5 sacks and an interception last season. Senior place kicker Justin Yoon has made 42 out of 52 career field goals and senior punter Tyler Newsome has a career punting average of 43.8 yards.
Team weaknesses: The offensive passing game. Notre Dame finished 103rd nationally in pass yards per game in 2017. Besides wide reciever Chase Claypool's 29 receptions, no other returning Irish receiver caught more than 19 balls last season or have more than 34 receptions for their career. Notre Dame will need to be more effective through the air if the team wants to reach the next level.
Players to watch: Quarterback Winbush, running back Williams and cornerback Julian Love. Winbush displayed his dual-threat ability last season after passing for 1,870 yards to go along with a team-high 803 yards on the ground and 30 total touchdowns. Kelly has already named Winbush his starter for the season-opener against Michigan. Williams averaged an eye-popping 9.2 yards per carry and scored four touchdowns for the Irish last season. His production should improve now that he's the primary running back for 2018. Love led the Irish with three interceptions last season and tallied 68 tackles, including one for loss.
The schedule: Daunting. Notre Dame probably has one of the toughest schedules of any team in the country. Eight of Notre Dames' 12 opponents went to bowl games last season. Opening the season at home against a talented Michigan team will be very challenging. Road games at Wake Forest, Virginia Tech, Northwestern and USC, plus home contests with Stanford, Navy and Florida State would make even the best teams in the nation cringe.
My take: Notre Dame has the talent, experience and production to win another 10 games this season, but the schedule may be too much to hope for a berth in the College Football Playoff. Notre Dame will be better than what its record indicates at the end of the season.