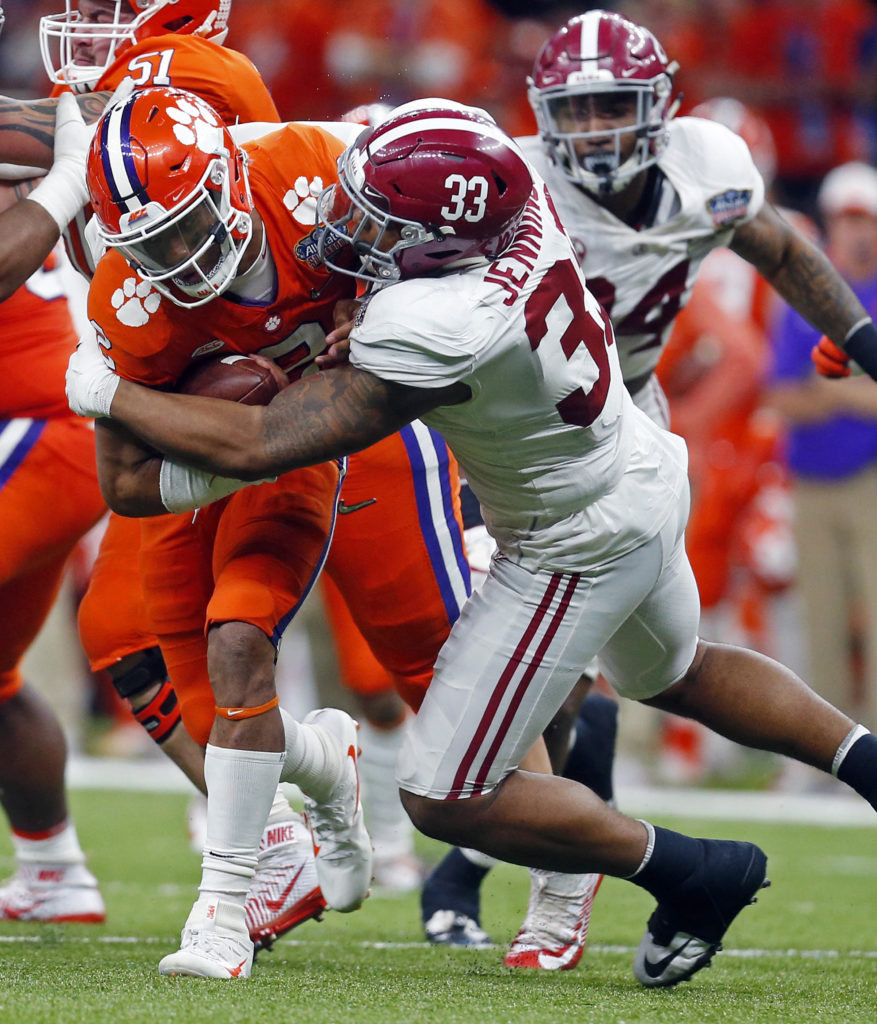 Alabama had a season to remember, becoming the first team to clinch a berth into the College Football Playoff without winning their own conference. Alabama showed the world that the committee didn't make a mistake and won the national title, which was the teams' second in the last three years. For 2018, the entire roster is filled with four and five-star talent, with young athletes waiting their turns to fill the voids left from departed players. All of fall camp the focus has been on the quarterback competition between Jalen Hurts and Tua Tagovailoa. Saban decided this week that he was going to play both quarterbacks in the season-opener against Louisville. This is the coaches attempt to keep both quarterbacks happy. Alabama returns seven starters on offense, including four along the offensive line. The defense returns three starters led by junior All-SEC defensive end Raekwon Davis.
Team strengths: Offensive ground attack. Year in year out Alabama puts together a punishing ground game that includes the running backs and quarterbacks. Running backs Damien Harris and Najee Harris form one of the best duos in the SEC and combined for 1,370 yards on the ground and 14 touchdowns. Quarterbacks Hurt and Tagovailoa combined for 988 rush yards and 10 touchdowns. The backfield will be operating behind an all-star offensive line led by All-American junior left tackle Jonah Williams.
Team weaknesses: Uncertainty on special teams. Alabama has to replace last years' kicker and Ray Guy finalist punter JK Scott. Freshmen Joseph Bulovas and Skyler DeLong will take over kicking and punting duties.
Players to watch: Quarterback Tagovailoa, running back D. Harris, wide receiver Jerry Jeudy, defensive end Davis and linebacker Mack Wilson. Tagovailoa had the game-winning touchdown in that gave Alabama the national title. His numbers during the regular season wasn't too shabby either, passing for 636 yards, 11 touchdowns, with only 2 interceptions and two more scores on the ground. To keep Hurt from transferring Saban listed both quarterbacks as co-No.1s, but everyone knows the inevitable. D. Harris is the teams' leading returning rusher with 1,000 yards and 11 touchdowns. Jeudy is the teams' leading returning receiver in receptions and yards as a true freshman for the run-heavy Crimson Tide. His average of nearly 19 yards per catch last season shows how dangerous of a deep threat he could possibly be in 2018. Davis tallied 69 tackles, including 10 from behind the line of scrimmage, 8.5 sacks and an interception. Wilson had 40 tackles, including 2.5 for loss and a team-high four interceptions.
The schedule: Favorable. The Tide gets Texas A&M and Auburn at home. Alabama travels to Ole Miss, Arkansas, Tennessee and LSU and should win all of those games. Alabama avoids Georgia, South Carolina and Florida from the East.
My take: The Tide has the talent, experience and production on offense to score 35 points on any team in the country. Even with all the new faces on defense Alabama should be able to run the table. It'll be a complete shocker if Alabama doesn't make it to the SEC Championship Game for a second year in a row.