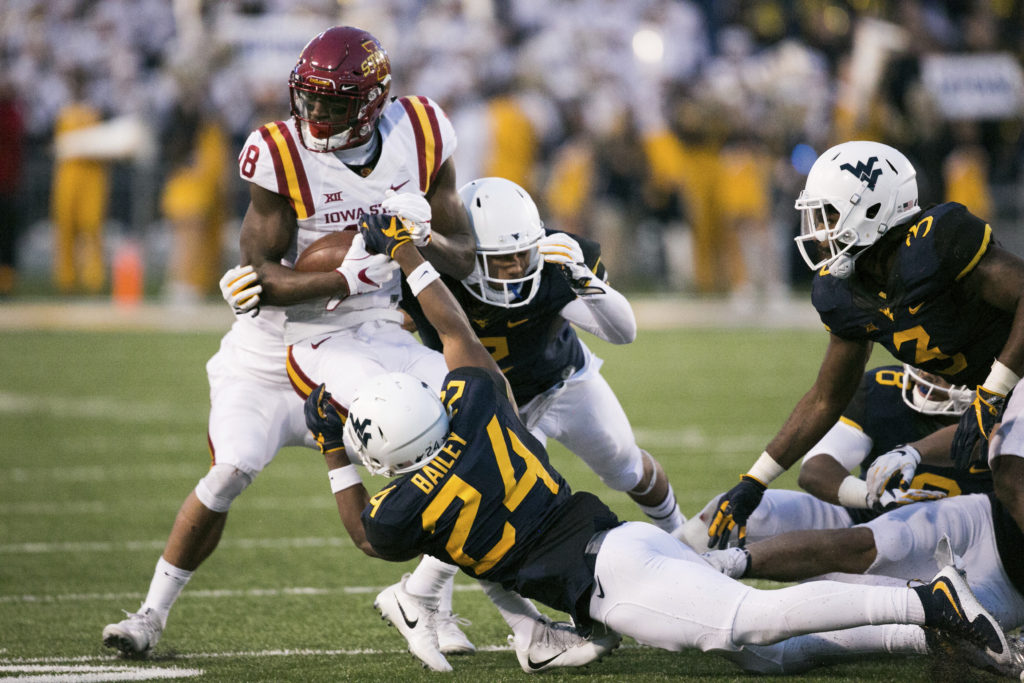 What a jump the Cyclones made on a national scale in year two under Matt Campbell. It all started with an upset victory on the road at Oklahoma. The school won its first bowl game in eight years and the eight wins were the most by the team since 2000. The only problem now is that Iowa State has caught everyone's attention and won't be able to sneak up on nobody. It'll be interesting how the team handles being the hunted instead of being the hunter in 2018. The offense returns seven starters, including a senior signal caller, a 1,000-yard rusher and three starters along the offensive line. The defense was the biggest improvement from 2016 to 2017, and the Cyclones finished second in the Big 12 in scoring and rushing defense. Six of those starters return from that unit and look to build on last seasons' success.
Team strengths: Pass offense and rush defense. Quarterback Kyle Kempt threw for nearly 1,800 yards for 15 touchdowns and three interceptions. Despite the loss of leading receiver Allen Lazard, there's still four players returning who caught 21 or more balls last season. Wide receivers Hakeem Butler, Matthew Eaton and Deshaunte Jones combined for 90 catches for 1,178 yards and 11 touchdowns. Not to mention running back David Montgomery caught 36 balls for 296 yards. It shouldn't be a problem for Kempt to spread the wealth around in 2018 and there isn't one key receiver defenders can just lock in on. The Cyclones ranked 23rd nationally in defending the run last season, a drastic improvement from finishing 103rd in 2016. With four starters returning in the front seven Iowa State should be able to continue on that success and plug up the running lanes.
Team weaknesses: Rush offense. Although Montgomery finished with 11 rushing touchdowns last season, the team still struggled to move the ball consistently on the ground and ranked 117th nationally in rush yards per game. That will need to improve if the Cyclones wants to build on their success.
Players to watch: Running back Montgomery, wide receiver Butler and linebacker Marcel Spears. Montgomery went from 563 rush yards and two touchdowns in 2016 to 1,146 and 11 touchdowns in 2017. Look for him to improve on his rushing total this fall. Butler is the teams' leading returning receiver with 697 yards and seven touchdowns and averaged 17 yards per catch. He'll be the go-to wideout this fall. Spears was a beast for the defense last season tallying 107 tackles, including 8.5 from behind the line of scrimmage, a sack and two interceptions.
The schedule: Challenging. Iowa State has to travel to Iowa, TCU, Oklahoma State and Texas. Besides Oklahoma the home games are winnable.
My take: Campbell has changed the culture in Ames and got the kids believing they can compete with anybody. It'll be interesting to see if the Cyclones are in the mix for a Big 12 title game berth in November, but if not expect another winning season for sure.