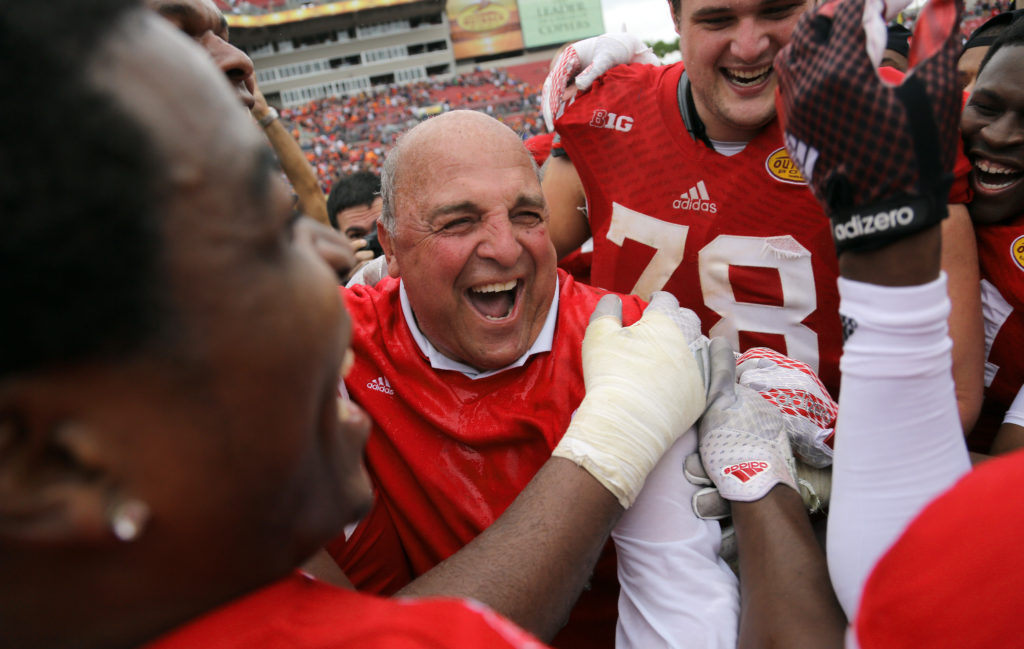 Who says you have to bring in a top-10 recruiting class every year to win at a high level in today's' game. Recruiting gurus like Nick Saban and Urban Meyer have set the bar pretty high, but there are well-coached teams out there that can play with the best of them and don't possess elite talent.
As long as a coach has a system that's functional and lands athletes with something to prove after being passed up by the blue-blood programs, then you have the main ingredients for a team to be successful. The process takes patience from coaches and the players have to buy in, but once both sides share the same vision then the victories start to pile up.
As we uncover 10 diverse programs from every Power 5 conference that has accomplished this strategy, it'll be no surprise how this formula works and why college football has so much parity among teams today.
Kansas State: The 78-year-old Bill Snyder has made his career on taking in junior college transfers and players that no other programs want. His philosophy is simple: play disciplined defense, don't turn the ball over on offense and capitalize on special teams. Over the past eight years the Wildcats have compiled a record of 68-36, with seven-straight bowl berths, two double-digit win seasons and three AP top-20 finishes. What's amazing about the job Snyder does is the fact that his highest-ranked recruiting class during that span was 49th!
Georgia Tech: The only FBS program that still runs the triple-option attack besides the academies. Paul Johnson somehow find ways to make it work and recruits those under-the-radar running backs who can throw the ball and manage the game from the line of scrimmage. The Yellow Jackets may pass only 10 times a game, but they beat you by pounding the ball and playing sound on defense. Opposing defenders have to really study film on Georgia Tech and play their assignments otherwise they'll get burned big-time. Over the last 10 years that Johnson been on the sidelines the Yellow Jackets have gone 75-54, with two double-digit win seasons, eight bowl berths and three AP top-25 finishes. It's mind-boggling that his teams accomplished those feats with recruiting classes that never sniffed the top-40!
Mississippi State: Say what you want about the Bulldogs benefiting from riding the wave of the SEC, but we all know they don't recruit nowhere near the level of their division foes Alabama, LSU and Auburn. Former coach Dan Mullen did a magnificent job during his tenure of keeping that program on the winning track when it could've easily stayed as an SEC bottom-feeder. Going 64-39 over the past eight years, with eight-straight bowl appearances, including a 6-2 record in those bowl games and three AP top-20 finishes is nothing less of miraculous. MSU will always be the "little brother" of the state, but it has become a program that demands respect. Even with the departure of Mullen, the Bulldogs aren't going anywhere.
Wisconsin: There's no other program in the country that does more with less and wins consistently at a high level like the Badgers. It all starts from the top with Wisconsins' rock-star athletic director Barry Alvarez. The system he used nearly 30 years ago is still implemented in the program today and is very productive. The formula trickles down to having mammoth offensive linemen, a game-managing signal-caller, tenacious defense, play-making tight ends, sure-handed receivers, topped-off by a workhorse running back. Alvarez even coached the team in their bowl game during two separate coaching changes. Wisconsin hasn't had a losing season in 16 years and during that span the program has compiled an impressive record of 156-57, three Big 10 titles, eight bowl wins, including its' last four and 12 AP top-25 finishes. What's astonishing is that Wisconsin accomplished all these feats and never had a recruiting class that cracked the top-30. The Badgers captured all of those wins the right way too, without cheating or controversial scandals.
Oklahoma State: The Pokes always get the players that Oklahoma, Texas and Texas A&M don't want. Year in and year out nearly half of the teams' roster is made up of second-class players from the Lone Star State. Still, Mike Gundy and the Cowboys get it done in the win column. The program was one win away from playing for all the marbles in 2011. Over the last 12 years Oklahoma State has compiled a record of 110-67, with nine bowl wins and seven AP top-20 finishes. There's a reason Mike Gundy has stayed put in Stillwater.
Louisville: This is a basketball school first and foremost, but the football program is no slouch by any means. The Cardinals has posted eight-straight winning seasons with a combined record of 71-33 during that span, won four bowl games, had four AP top-25 finishes and produced a Heisman Trophy winner. It's hard to believe that Louisvilles' highest-ranked recruiting class during the past eight years was 27th.
Iowa: A steak and potatoes program that's as blue-collar as it gets in the midwest. The Hawkeyes' have the longest-tenured FBS coach in Kirk Ferentz and he takes chances on players that no other coaches would dare. Most of his players arrive on campus as a work-in-progress and his system of a strong ground game and a stingy defense has been the identity of this program for nearly two decades. The Hawkeyes were a failed goal-line stand from making the College Football Playoff in 2015. Ferentz recruiting classes rarely sniffs the top-40, yet Iowa has gone 82-48 over the last 10 years, with two double-digit win seasons, five bowl wins and three AP top-20 finishes.
Utah: It's a tough job recruiting top players on the west coast when your University isn't named USC, UCLA, Washington or Oregon. Still, that doesn't stop Kyle Whittingham from putting together winning season for the Utes. After dominating the Mountain West for years, times were tough at first for the Utes adjusting to life in the PAC 12. The past four years have been better for the program, going 35-17, winning four-consecutive bowl games and finishing in the AP top-25 three times.
West Virginia: The Mountaineers have put together 15 winning seasons in the past 16 years. That includes a combined record of 138-67, five double-digit win seasons, six bowl wins and eight AP top-25 finishes. With three different coaches during that span, it acknowledges that West Virginia has a culture of winning. Current Mountaineers' coach Dana Holgorsen has one of the best offensive minds in college football. None of Holgorsens' recruiting classes reached the top-30, yet he finds athletes who fits his system and turn them into elite players.
N.C. State: The Wolfpack have posted seven winning seasons in the past eight years. During that span N.C. State compiled a record of 58-45, with five bowl wins and two AP top-25 finishes. That's not a bad feat for a program that has come accustomed to finishing in the bottom half of recruiting in the ACC.