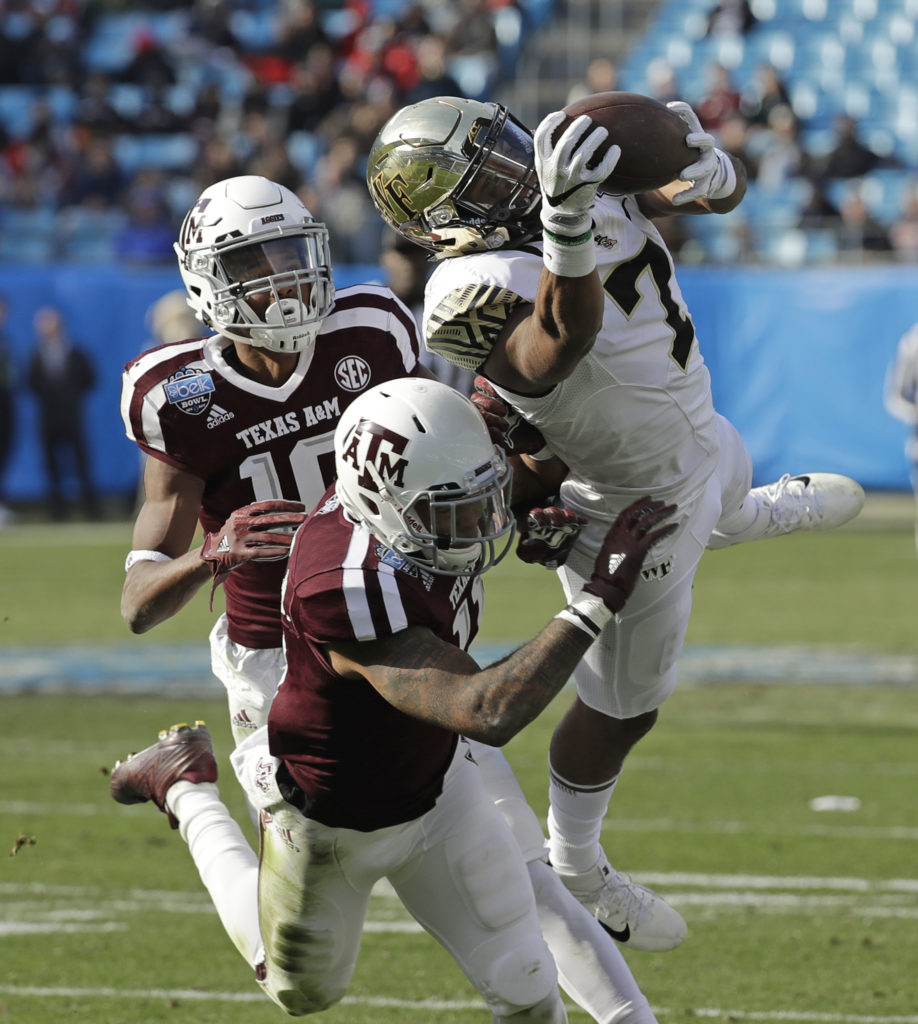 What a surprise to the ACC the Wake Forest football program has been. After seven-straight losing years Head Coach David Clawson has guided the Demon Deacons to back-to-back two winning seasons and two-straight bowl victories. The teams' eight wins last year were the most by the program since 2008. It simply shows how great of a job Clawson has done during his four years of leading the program. Now it's year five and Wake Forest has several returning starters on both sides of the ball. Deep into fall camp its still uncertain on who will be the starting quarterback for the season-opener at Tulane. Regardless of who the quarterback will be they will play behind an offensive line that returns all five starters, along with a seasoned running back and game-changing receivers. On defense six starters return and will need all the production they can get after finishing last in the ACC in pass and total defense.
Team strengths: Play-making receivers. Whoever Clawson names as his starter at quarterback for 2018, the receivers that will be catching the balls will make life a lot easier on the signal-caller. Scotty Washington, Greg Dortch and Alex Bachman have combined for 119 catches, 1,798 yards and 15 touchdowns. The Deamon Deacons finished third in the ACC in pass yards per game last season.
Team weaknesses: The defense. Wake Forest finished dead last in the ACC in pass and total defense last season. Talent wasn't the only problem, because players were put in wrong positions on the field and had problems adjusting to first-year defensive coordinator Jay Sawvel's system. Six starters return on defense and they can't get any worse than last year, but expect minimal improvement.
Players to watch: Running back Matt Colburn, wide receiver Dortch, safety Cameron Glenn and cornerback Essang Bassey. Colbourn led the team in rushing with 904 yards and seven touchdowns and will get the bulk of carries again this season. Dortch led the team in reception yards with 722 and had nine touchdowns. He will be the teams' go-to receiver and will help ease the transition of the new quarterback. Glenn led the team in tackles last season with 98, including three for loss and picked off two passes. Bassey showed his ball-hawk skills with three interceptions to go along with 75 tackles.
The schedule: Favorable. Wake Forest non-conference schedule is a joke and Notre Dame and Clemson are at home. Back-to-back road games at Florida State and Louisville will be tough.
My take: The Deamon Deacons return enough firepower on offense to overcome a leaky but experienced defense and should be bowl-eligible for the third-straight year by seasons' end.