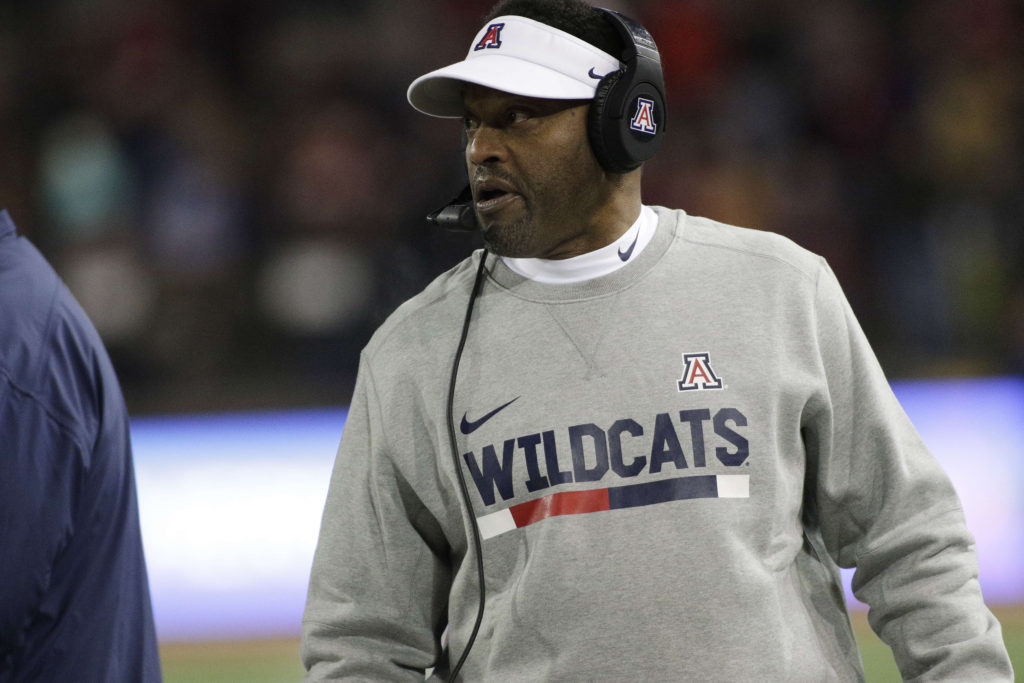 Offensive-minded Kevin Sumlin walked into a good situation with his new coaching gig. He inherits a Heisman trophy candidate at quarterback, a group of experienced receivers and a defense that returns nine starters. Junior Khalil Tate might be the best dual-threat quarterback in the nation and should be excited about how Sumlin plans to use his unique skill set this fall. Last years' Wildcats team was inconsistent with seven wins during the regular season, but needed new direction after dropping four of their last five games and ended the season on a three-game losing streak. Now that there is a breath of new life in Tucson everyone is feeling optimistic about the new era and ready to get the 2018 season started.
Team strengths: The offensive firepower. The Wildcats led the Pac-12 in scoring, rushing and total offense last season and return eight starters. Tate and running back J.J. Taylor helped put together a ground attack that ranked No. 3 nationally, with 309.3 yards per game. The two combined for 2,258 yards and 17 rushing touchdowns. Tate did a great job of distributing the ball around and four returning players had at least 19 catches or more and two or more receiving touchdowns. There's no reason not to believe the offense won't do much of the same in Sumlins' spread attack.
Team weaknesses: The defense. Although the Wildcats defense returns nine out of 11 starters from last season it still was a horrendous year. The Wildcats defense ranked dead-last in the Pac-12 in pass yards per game and 119th nationally in total defense. In the last four losses of the season the defense gave up an average of 44.2 points. The good news about 2018 is Arizona has nowhere to go but up defensively.
Players to watch: Quarterback Tate, wide receiver Shun Brown, tight end Bryce Wolma, linebacker Tony Fields II, cornerback Lorenzo Burns. Tate racked up 3,002 total yards and 28 touchdowns by himself and keeps defensive coordinators up late at night trying figure out how to prepare for him. Brown led the team in receptions and receiving touchdowns and returned two punts for touchdowns. Wolma caught 28 balls for 241 yards and two scrores as a true freshman last season. Field II led the team in tackles in 2017 with 104, including 7.5 for loss, five sacks and an interception. Burns led the defense with five interceptions and tallied 81 tackles, including 3.5 from behind the line of scrimmage and a sack.
The schedule: Favorable. Arizona has a chance to be 4-0 heading into a key divisional showdown at home against USC. The road games are winnable. The best part is Arizona avoids powerhouses Stanford and Washington from the north division in 2018.
My take: This team will be fun to watch and it'll be interesting to see what Sumlin does with this offense and Tate. The defense is experienced and can't do anything but get better. I'd be shocked if the Wildcats aren't bowling by seasons' end.