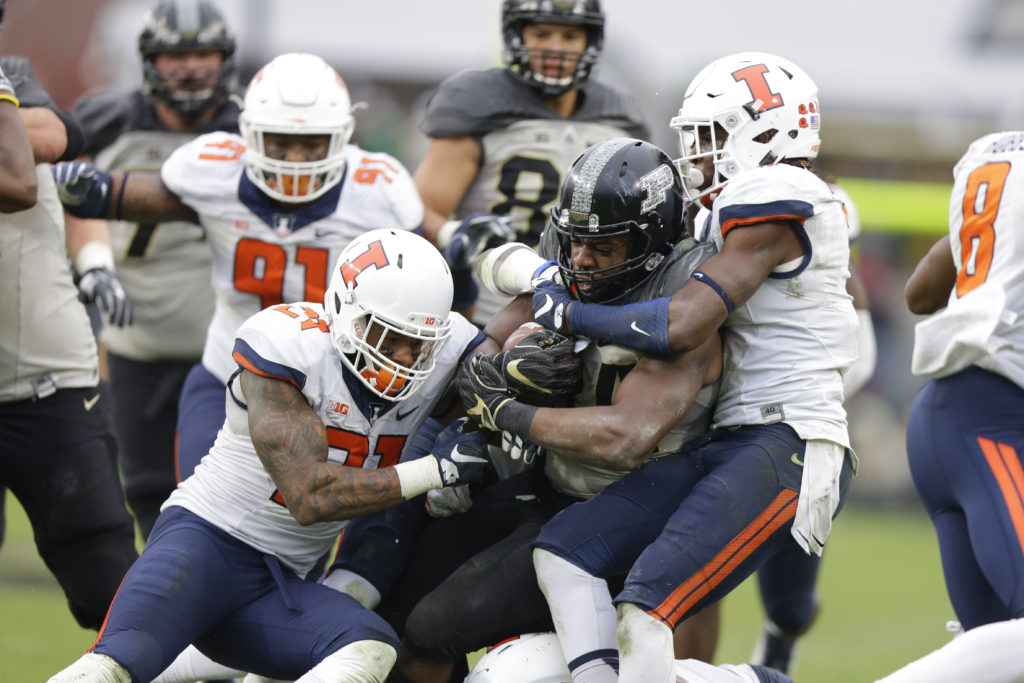 What a magnificent turnaround job head coach Jeff Brohm did last season by inheriting a 3-9 team and doubling the win total during the regular season, followed by a bowl win. The noticeable change from the 2016 Boilermakers team to 2017 was the miraculous improvement on defense. The team went from giving up 38.3 points per game in scoring defense to 20.5, which ranked 24th nationally. This year however, is a different story with several new faces in the front seven, but the secondary is experienced. On offense the two top quarterbacks are recovering from injuries they suffered last season. Senior David Blough dislocated his ankle against Illinois and junior Elijah Sindelar tore his ACL, but played through his injury to close out the season. Both signal-callers have a different skill set. Blough is a pro-style quarterback with a strong arm, while Sindelar is more of a dual-threat and can make plays with his feet. My guess is Brohm will experiment with both players early on this season and whoever commands the offense better will take the reigns for the rest of the year. There are four running backs capable of starting, led by veteran Markell Jones, but no one in the backfield really scares defenders.  Purdue is short on experience after losing two of its top three receivers from a year ago and have no legitimate deep threat at wideout. The tight ends are the bright spot for the Boilermakers' offense and will look to stretch the field on opposing defenses.
Team strengths: Offensive line, tight ends and defensive secondary. The Boilermakers' offensive line has multiple players with experience. Projected starters Grant Hermanns, Eric Swingler, Shane Evans, Kirk Barron and Matt McMann have all combined for 53 career starts. Senior Cole Herdman and junior Bryce Hopkins form one of the best tight end duos in the Big 10 and you can count on them to improve on their production. The two combined for 45 catches, 680 yards and six touchdowns last season and will be huge targets for the quarterbacks to throw to. Free safetyNavon Mosley and strong safety Jacob Thienenman are the veterans in the secondary and will be the playmakers for the defense this fall. Both had two interceptions apiece last season.
Team weaknesses: Defensive front seven. Purdue finished 29th nationally against the run last season, but this year only two starters in the front seven return. Teams with veteran offensive linemen will be able to move the ball on Purdue without much of a push and that spells for disaster in a physical, run-heavy Big 10.
Players to watch: Quarterbacks Sindelar and Blough, wide receiver Rondale Moore, safety Thieneman. Sindlear got inserted into the lineup mid-season and performed well, throwing for over 2,000 yards and had 18 touchdowns passes and only 7 interceptions. I can see Brohm using him more in quarterback designed run plays because of his mobility. Blough is the veteran with 6,029 pass yards for 44 touchdowns and 33 interceptions in his career. Look for him to not take anything for granted this fall and give it his all whether he's the starter or not. Moore was the top recruit for Purdue in 2017 and after what he displayed in fall camp, he's considered the best playmaker on offense. Thieneman is the teams' leading returning tackler. He had 80 stops, five behind the line of scrimmage and two sacks. Look for him to be the leader of this defense in 2018.
The schedule: Not too bad. Purdue plays its first four games at home before traveling to Nebraska. Ohio State, Iowa and Wisconsin also visits West Lafeyette. The only likely loss on the road will be at Michigan State.
My take: What can Brohm do for an encore? Purdue improved drastically on wins, defense and turnovers in his first season, but duplicating that success in year two will be too much for this team. Still, with a favorable schedule and a few breaks along the way expect the Boilermakers to compete and win enough games to become bowl-eligible for a second straight year.