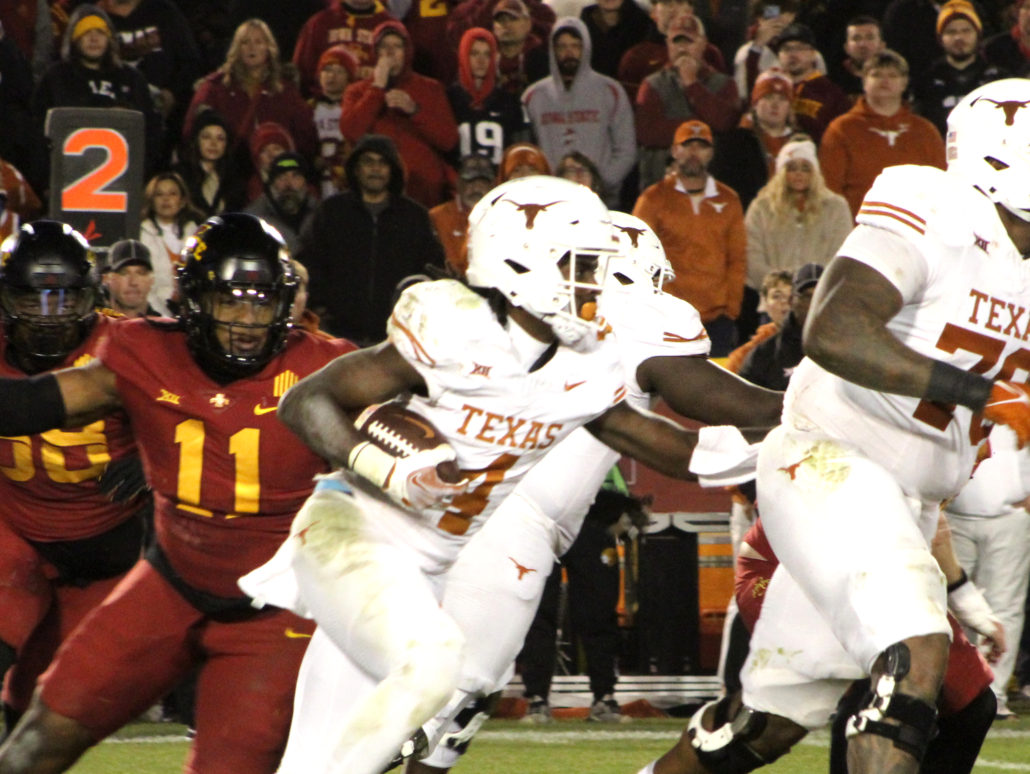 AMES, Ia. — After star running back Jonathon Brooks tore his ACL against TCU, Coach Steve Sarkisian put his trust in the true freshman at Iowa State, and he didn't disappoint.
CJ Baxter took that next man up mentality to another level, as he carried the ball 20 times for 117 yards in the 26-16 victory over the Cyclones, which were both season-highs. It's obvious Baxter is living up to his five-star billing, and his teammates feel he's just cracking the surface on his potential.
Quarterback Quinn Ewers was in awe of Baxter's performance, and felt he handled himself like a seasoned veteran, instead of a wide-eyed freshman.
"We all know what he's capable of, especially how young he is," Ewers said. "Him coming in with the poise, being as comfortable as he was, and not being too quick on cuts and following blocks, it's cool to see."
Baxter knows all about the history of the running backs at Texas, and what comes with the territory of playing the position. From Earl Campbell, to Ricky Williams and even most recently Bijan Robinson, they set the bar high for the program. Baxter just wants to deliver on the hype, and Sarkisian is letting him spread his wings this fall.
The Orlando native has looked promising up to this point. After all, Baxter rushed for his first touchdown against Baylor. He also generated a rushing score in victories over Houston and Kansas State. That's why Baxter was ready for Iowa State, and showcased his talents to the rest of the Big 12.
"I felt like it was no pressure at all, everybody was telling me that I had to fill J.B.'s role," Baxter said. "The running back room we all have something different to offer, and I offered what I had."
Baxter appreciates Brooks' mentorship, and showing him the ropes of what it means to be a Longhorn running back. It reminds him of when he was in high school, and learned how to play the position from teammate Isaiah Connelly.
"A lot of people don't know, but my journey in high school is very similar to what I'm going through now," he said. "My freshman and sophomore year I didn't play much running back, but my junior year is when I really started to learn the position."
Being the starting running back for Texas means being the most trusted person on the field. Which is why Baxter is constantly working on his hands, blocking and diving deeper into the playbook. The No. 7 Longhorns have one game left of their Big 12 farewell tour, and it's going to be at home on Senior Day.
Baxter just wants to build off his noteworthy performance, and he's riding a big wave of momentum as Texas prepares to host Texas Tech. The six-foot-one, 218-pounder already raised eyebrows around the league with his explosiveness, and the fans want to see more. Although Baxter is hungry, he's remaining humble and wants to continue soaking up all the knowledge that Brooks can provide him.
"Everything I've been through since I've been here, going through injuries, and J.B. taking over that number one spot, just learning from him, everyday he preaches new things to me."