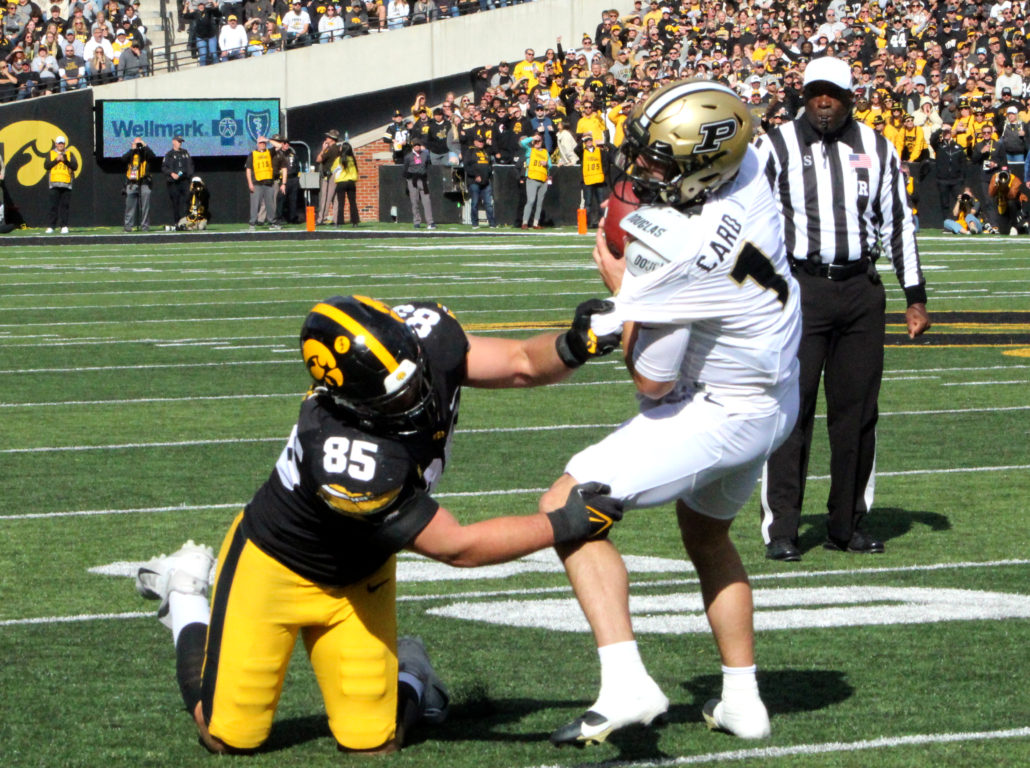 IOWA CITY, Ia. — The Hawkeyes are currently atop the Big Ten West standings with two games left on the schedule.
Coach Kirk Ferentz understands how important it's going to be for Iowa to finish strong down the stretch. So he's leaning on some of his veterans to carry the team to the finish line. Senior defensive lineman Logan Lee happens to be one of those individuals. He's been a Hawkeyes since 2019, and all of his experience, production and leadership has paid off this fall.
Lee's mentality is all about work ethic. The Illinois native is also a versatile defender, who can make plays from the interior or out on the edge. Ferentz admires Lee's contribution to a unit that currently ranks eighth nationally in total defense. After all, Lee has generated 43 tackles, including four for loss and two sacks this fall.
The six-foot-five, 291-pounder anchors Iowa's defensive line, and always sets the tone up front. Lee is having an All-Big Ten caliber type of campaign, and Ferentz feels the best is yet to come. He persevered through some rough times, and now Ferentz has witnessed everything come full circle for Lee.
"Just came with an unusual maturity, and he's been a good guy that way," Ferentz said. "He's like a lot of guys, going through the hardships, he's had injuries, surgeries, which again people forget about what these guys go through physically."
Lee has put up impressive numbers as a Hawkeye, with 146 career tackles, and eight sacks. Iowa has fielded some talented defensive linemen through the years, and Lee's the latest edition. His toughness as a defender has raised several eyebrows in the locker room. Ferentz knows everything is coming to fruition for Lee, so he couldn't be more happier for him.
"The hard work involved coming back from rehab, he's done all that," he said. "Always had a great attitude, and it continues to grow, great leader."
Lee showcased his talents in the victory over Purdue. The former four-star prospect racked up a season-high, 10 tackles, and two sacks. Not to mention he tallied six stops at Penn State, and five in last week's shutout victory over Rutgers.
"It's been fun to watch him go from a guy who's a little bit robotic and mechanical early in his career to being a really good football player and a really good defensive lineman," the 68-year old coach said. "He missed a lot of time, playing catch-up, but, boy, he's played really well now for a couple of years."
Lee will definitely be needed against Illinois this Saturday. The Fighting Illini beat the Hawkeyes last season, and Ferentz has an opportunity to kill two birds with one stone this time around. It's going to be Senior Day so Ferentz wants to send players like Lee off on a high note, and clinch the West during the process.
Most importantly, this could potentially be Lee's last time playing at Kinnick Stadium in front of the Hawkeye faithful. Lee could very well follow in the footstep of Lukas Van Ness and declare for the NFL Draft. Regardless of what Lee decides, Ferentz appreciates everything he's done for the program through the years, and fully supports him with his future endeavours.
"We'll miss him on a lot of levels, his leadership, besides being a great player."