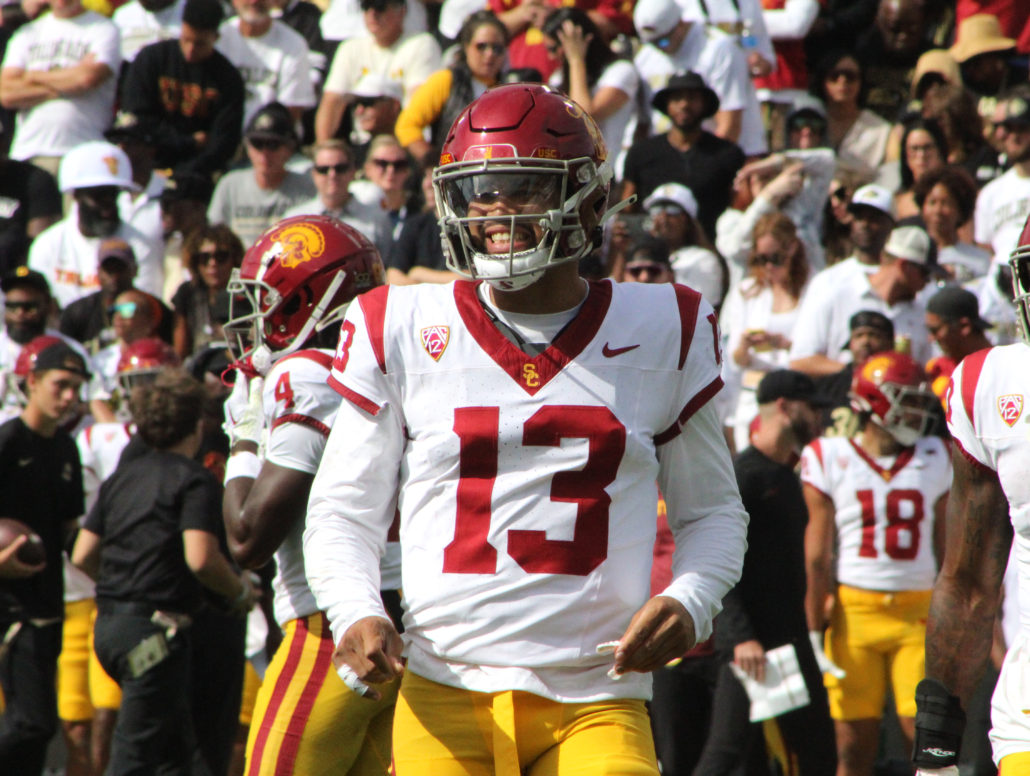 It's no mystery that everyone is expecting the junior quarterback to be the top pick in the 2024 NFL Draft, which leaves a lot of uncertainty about his future with USC.
Caleb Williams accomplished so much in two seasons as the Trojans' starter. It's hard to argue against that when he won the Heisman, set single-season school records for passing yards and touchdown tosses, and led USC to the Pac-12 Championship Game last year.
However, his 2023 campaign didn't go as planned. After all, USC started out the season No. 6 in the AP Poll, but fell out of the rankings last month. College football fanatics are looking at the Trojans as the biggest underachievers this fall.
Although Williams did a fantastic job of making Lincoln Riley's offense one of the nation's best, Alex Grinch's leaky defense ultimately prevented Williams from leading the team to the promised land. USC got off to a hot start though, and won its' first six games. Several of those contests were shootouts, and Williams astonished the crowd with his heroics. Notre Dame exposed USC's offense, and that's when the downward spiral started.
Now the Trojans have lost four of their past five games, Grinch has been fired and the team really has nothing to play for. Which is a far cry from where Williams had USC at this point last season. Unfortunately, the critics are going to judge Williams' legacy solely on the fact that he never won a conference title, or made a Playoff appearance.
USC (7-4) will play its' last game of the regular season against crosstown rival UCLA Saturday, and it's going to be Williams' 22nd birthday. Not to mention it will be Senior Day for the Trojans, and a perfect opportunity for Williams to leave a lasting impression on the fans.
Regardless of whether it's a win or loss for USC, all eyes will be on Williams and what he decides to do afterwards. In today's game, several high-caliber, draft-eligible players sit out the postseason, especially if their team isn't in the Playoffs or a New Year's Six bowl.
Despite the fact that Williams has several millions worth of NIL deals, he has nothing left to prove at the collegiate level, and the lure of the NFL Draft will be hard for him to pass on. Williams already raised eyebrows after he made it public about his demands on a percentage of ownership with whatever franchise that selects him.
The Washington D.C. native is the real deal though, and will immediately upgrade an NFL roster. Critics will question Williams' maturity, considering what he wrote on his fingernails against Utah. There's no denying he has passion for the game, and competitive spirit, which should carry him a long way at the next level.
That's why it'll be a complete shocker if Williams decide to return to USC for his senior season. So Trojan fans need to appreciate what Williams accomplished at the program, and support him with his future endeavours. All that matters now for USC, is Williams having an opportunity to go undefeated against the Bruins.