Keon Coleman astonishes Seminole fans following amazing debut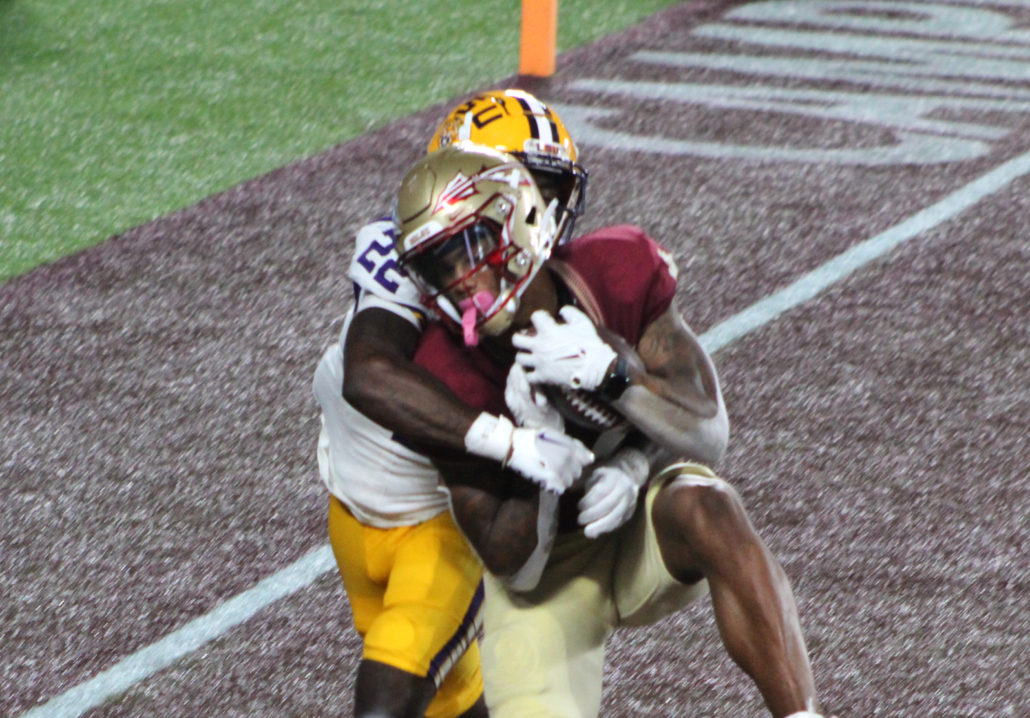 ORLANDO — The former Michigan State wideout couldn't have asked for a better debut with Florida State.
After all, Keon Coleman delivered on the hype after he caught a touchdown in the first, second and third quarter in Sunday night's 45-24 victory over LSU. Coleman was a monster in one-on-one matchups, and couldn't be contained. There's nothing like being able to do damage underneath the coverage, and have the ability to take the top off a defense.
Coleman displayed both of those qualities against the Bayou Bengals. He's proud that he had the opportunity to compete with his teammates against a quality opponent from the almighty SEC.
"I'm grateful for my teammates, getting to show them the hard work that we have been putting in the whole summer is paying off and getting to show a glimpse of what I can do, and not only me, just what our whole receiver room and the rest of the team can do," Coleman said. "
His nine catches for 122 yards and three touchdowns were all game-highs. Coleman along with Johnny Wilson form the best wide receiver duo in the ACC, considering they both eclipsed the century mark in receiving yards against LSU. Having a high-caliber gunslinger like Jordan Travis throwing them the ball should do wonders for the offense.
Travis appreciates Coleman's impact on Florida State's offense, and feels their chemistry grows everyday in practice. In return it makes it easier for Travis to communicate with Coleman on the gridiron. That was evident against the Bayou Bengals, considering Coleman was targeted 12 times by Travis.
"He (Coleman) always has energy, and you love playing with guys like that and playing for guys like that because he's just a great person," Travis said. "He's a great athlete, a great player, and he works so hard."
The All-Big Ten performer thought his outing was bittersweet because he's a Louisiana native. Coleman's family and friends are from there and fans of LSU. Still, he had to take care of business for his team regardless of who he played.
"I mean, I took it as a game, I get to go out and just do what the Lord has blessed me to do, just play football and be able to have fun with it and take every game as its own and just go out there and try to get the W," he said. "But it added a little salt to the wound, because that's my home state, a lot of my family are fans of them, but I ain't so much of a fan of them, I'm a Seminole now."
The six-foot-four, 215-pounder's athleticism is going to take him far in the ACC this fall. Not to mention Coleman played basketball for the Spartans early on in his collegiate career. He's a natural at getting separation from defensive backs, and snagging the ball out of the air during clutch moments.
The former four-star prospect finished sixth in the Big Ten in receiving yards last season. Coleman also went over 100 yards receiving against Washington, Michigan and Indiana. So there's no denying Coleman has picked up where he left off. Now he's ready to make his mark with the program, and set the ACC on fire. Which is why Travis can't wait to get Coleman more touches.
"I'm so proud of him and I envisioned all this last night, everything, him making big plays."