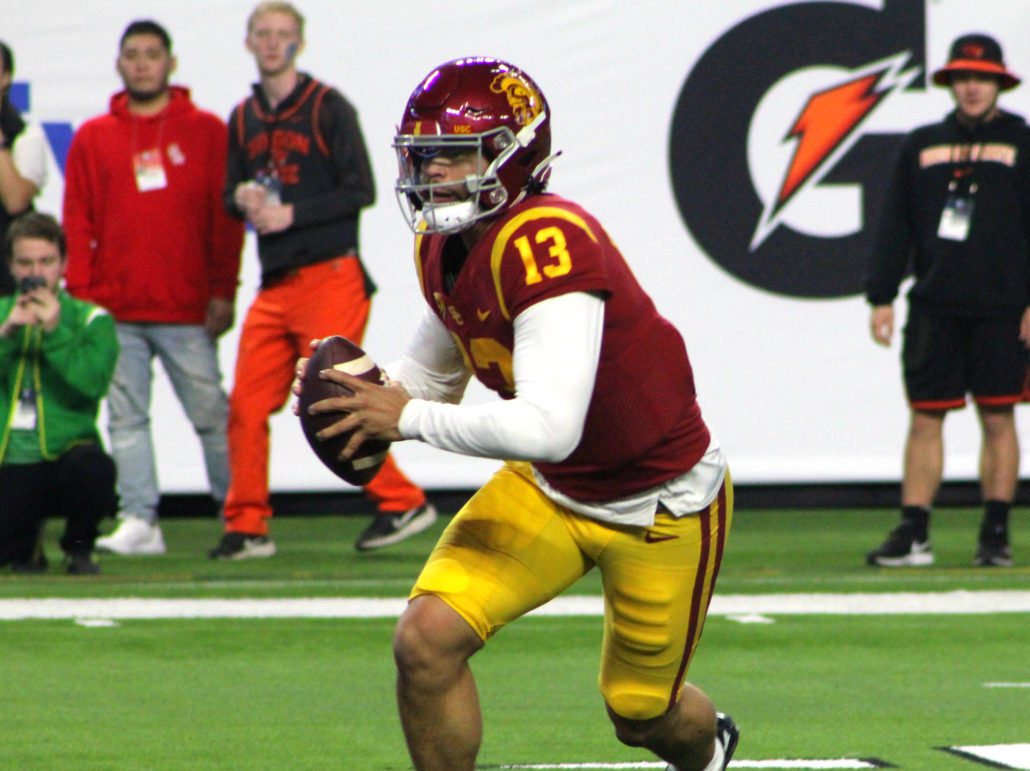 This upcoming season the USC quarterback will attempt to accomplish something that's only been done once throughout the history of College football.
Caleb Williams' junior campaign will likely be one of the most anticipated individual seasons for several reasons. After all, he has a clear-cut path to become the first two-time, Heisman Trophy winner since Ohio State's Archie Griffin accomplished that feat back in 1974-75.
Everyone knows this will be his final season of College football, considering Williams is already projected to be the top pick in the 2024 NFL Draft. USC surfaced at No. 6 in the preseason AP Poll last week. And that's going to add more pressure on Williams to get the Trojans to the promised land.
Although Williams led USC to an 11-1 start last season, it wasn't enough to win a Pac-12 Title, or clinch a Playoff berth. The Trojans actually ended the season on a two-game losing streak. Still, Williams became the program's eighth Heisman Trophy winner.
The Washington D.C. native set a single-season, school record, with 4,537 passing yards. Not to mention his 42 touchdown passes led the entire FBS. On top of that he ranked first in the Pac-12, and fifth nationally in passing efficiency. Williams also won the Maxwell, and was a first-team, AP All-American.
That doesn't mean he's complacent, because USC left a lot of plays on the field last year. Williams had nothing to do with Utah converting the two-point conversion at Rice-Eccles Stadium. A pulled hamstring in the first half of the Pac-12 Championship Game kept Williams from winning the rematch.
The former five-star prospect was criticized heavily for the fingernails fiasco. Because of it many fans now view him as the villain of College football. Regardless, Williams is all about sticking it to his haters. The target on his back is bigger than ever before, but he knows what comes with the territory of being the big man on campus.
Williams still has an arsenal of weapons to throw the ball to, despite losing wideout Jordan Addison to the NFL. Landing 1,000-yard receiver Dorian Singer from Arizona was huge. Returning receivers Tahj Washington, Mario Williams and Brenden Rice combined for 129 receptions, 2,027 yards and 15 touchdown catches last season.
There's no denying the Trojans may have one of the nation's best aerial attacks again. However, Williams can only take the team so far if the defense continues to be a liability. There's no excuse for USC losing when it's averaging over 40 points per game.
The entire nation is expecting Lincoln Riley to field a well-oiled machine in his second year. So a lot of responsibility will fall on Williams' shoulders. Still, he has an opportunity make history this fall, and put an exclamation point on the Trojans' final season in the Pac-12. The schedule is manageable too.
It'll be a complete shocker if USC isn't 6-0 when it strolls into South Bend to take on Notre Dame. The only other tough road clash will be at Oregon. Williams also gets to play Utah, Washington and UCLA at home. Getting the primetime spotlight in week zero will be beneficial for the gunslinger, and the Trojans.
All eyes will be on Williams against San Jose State this Saturday, and a chance for him to pad his stats to get a head start on the competition in the Heisman race.