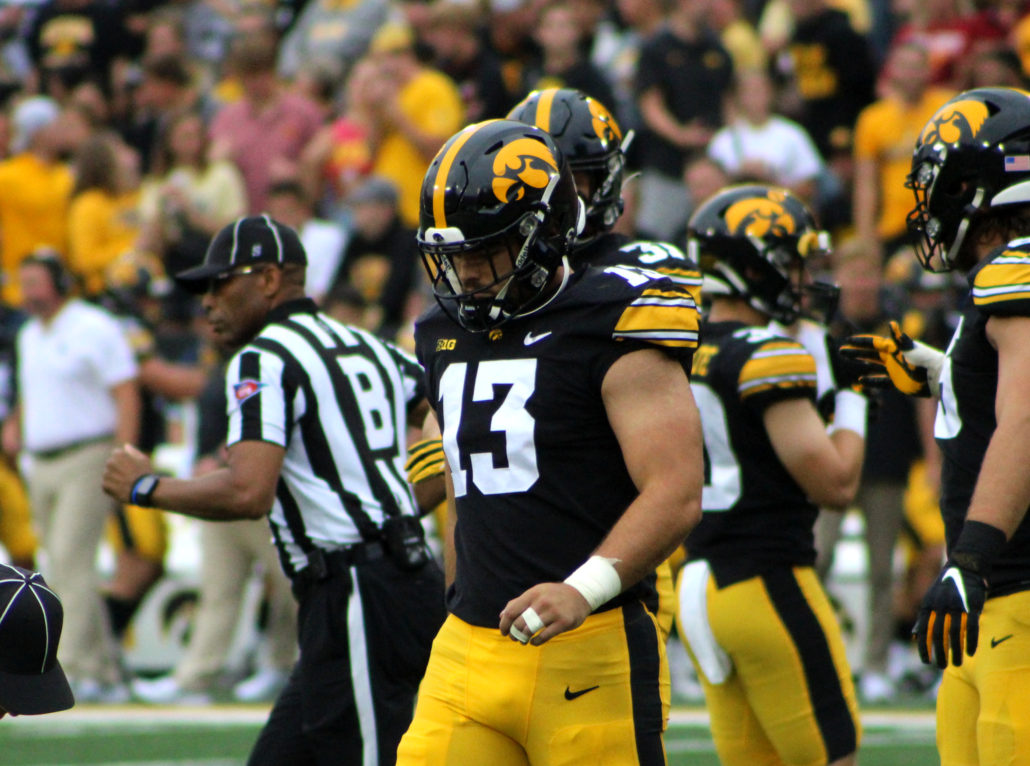 IOWA CITY, Ia. — He's one of a handful of sixth-year seniors on the team, and wants to end his Hawkeye career on a high note this fall.
Joe Evans is one of the most productive players Iowa has returning on its' defense. After all, he ranked second on the team in sacks last season. Evans recognizes that he's one of the big men on campus, and understands the responsibilities that comes with the territory.
Leaders have to keep their teammates in line on and off the field. Evans was able to effectively do that after he earned the respect of his teammates. So he's not surprised by his overall influence. Now he's looking to take his leadership to the next level.
"I try to help them out with anything and everything I can, it doesn't even have to be about football, Evans said. "With school work, with their social life, just things that made me successful here, I try to push onto them."
Iowa is projected to have one of the deepest defensive lines in the country. The pundits could care less that the Hawkeyes lost an NFL first round pick from last year's unit. Part of Evans' leadership is blocking out the outside noise though, and keeping everyone focused. The hunger for more is the motto. And Evans has implemented that in the younger defensive linemen to strive for.
"For me I just try to lead by example, by going out every single day and giving it my all," he said. "Some of the older guys, we have defensive line meetings at 4 everyday just to try to get those guys going a little bit."
Although the Hawkeyes haven't put on the pads yet, Evans is anticipating on chirping in a few helmets. Still, he's encouraged by the defense up to this point, and feels the best is yet to come. For a player that didn't have no stars behind his name out of high school, Evans was able to generate 8.5 tackles for loss and 6.5 sacks last season. Those numbers could've earned him All-Big Ten honors, so it's something he's striving for this fall.
Iowa's defensive line is as close as it has ever been since Evans arrived in Iowa City. The six-foot-two, 252-pounder is confident that's going to help down the stretch, and in times of adversity. In Evans mind, that's what makes the unit so special.
"I think we're so close, it really is a brotherhood in there," the defensive end said. "Just speaking for myself, I would have everyone's back, and if they need anything I'm going to be there for them, and I feel like everyone has my back too."
Fall camp is still a few weeks away, but Evans and his teammates are grinding hard daily. Leading is an everyday job, and Evans can rest easy after practice knowing that he's carrying out those tasks by the best of his abilities.