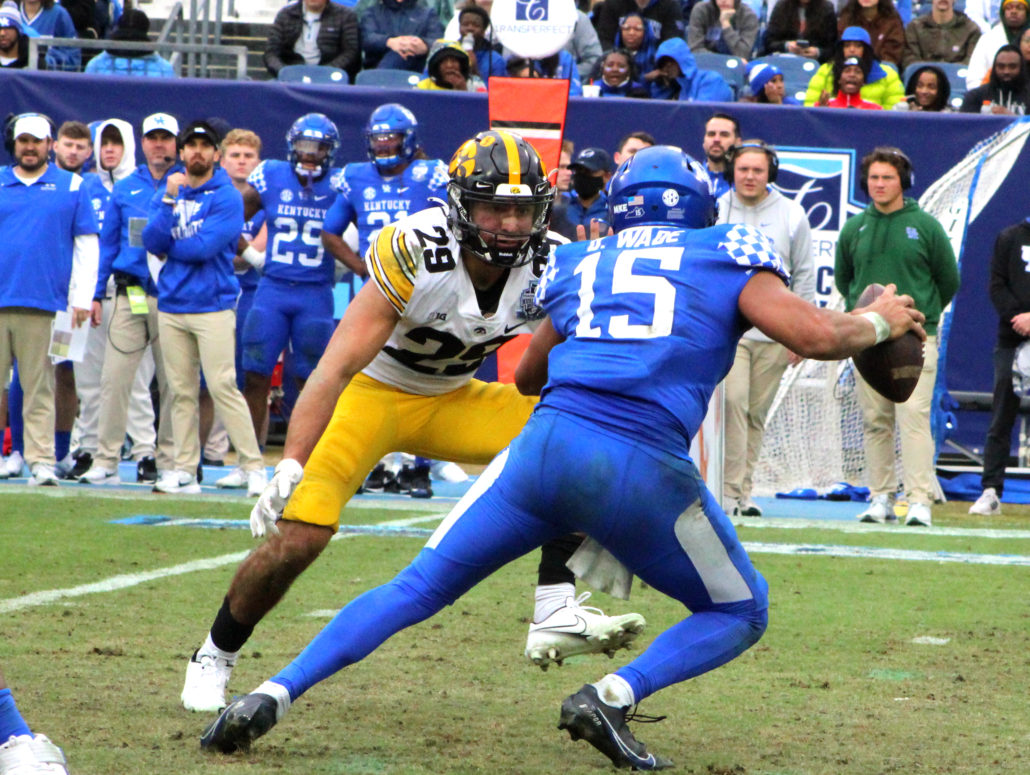 IOWA CITY, Ia. — Iowa's senior safety comes from a household where soccer, or better known as fútbol, is king.
A place where watching the World Cup, cheering for Mexico and eating red enchiladas is basically tradition. There's nothing like the way the event brings the entire family together. However, Sebastian Castro introduced his family to another sport as a young boy.
Castro and his brother noticed their talent for playing football in their adolescence, and they never looked back. The more the two had their hands on the pigskin, the better they got, and that's when Castro's family became more familiar with the sport. After all, Castro playing football brought a level of excitement, and a sense of togetherness with everyone, just like the World Cup did.
"Growing up, football wasn't the main sport, but me and my brother got into football at a young age, so we kind of brought that into the family," Castro said. "Now they're understanding what it means to me."
Being from the Chicago area, where baseball and basketball rules, Castro still kept his foot on the pedal with football, and eventually became a three-star prospect out of high school. He signed with Iowa in 2019, while his brother played for a Chicago area NAIA school, and later retired from the game.
Now the entire family has rallied around Castro's senior campaign. Although Castro has played mainly as a backup up to this point, he's coming off his best season yet. The 5-foot-11, 205-pounder tallied 33 tackles, including three for loss in 2022. Castro left a lasting impression in the Music City Bowl victory over Kentucky, when he tied a season-high, five total tackles, and recorded his only sack of the year.
He's riding that wave of momentum into fall camp, and his family couldn't be more excited for him.
"They see how dedicated I am to this game, but they don't really understand sometimes," he said. "They don't know what I'm going through, and how much it does for my energy and focus."
Castro is a versatile defensive back too, who excels in run support, as well as pass coverage. With Riley Moss in the NFL now, the returning veterans in the secondary must rise to the occasion for the defense. Castro looked very promising as a underclassmen, and everything is coming full circle for him to be a starter this fall.
The secondary also contains ballhawk Cooper DeJean, who earned All-Big Ten honors last season. Defensive Coordinator Phil Parker is a former defensive back, and works closely with the group, so Castro trusts he'll put him in the right place to be successful.
That's something his family back in Chicago will truly enjoy. So the anticipation for the Hawkeyes' upcoming season is through the roof. Castro is determined to make the most out of it. At the end of the day he knows his family will be rooting for him the same way they do when the the World Cup is on. And that brings a smile to Castro's face.
"It's something that we all share a passion for."