Ranking the Big 12's best Coordinators of 2023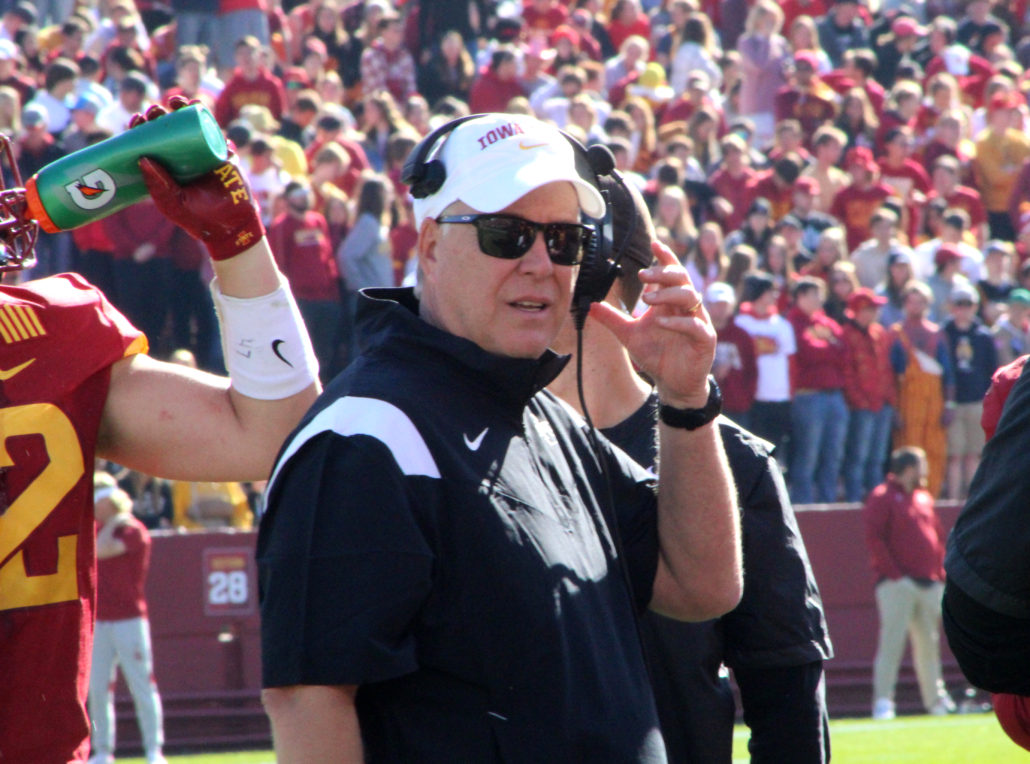 They are the backbone of their respective teams.
However, Coordinators are somewhat the unsung heroes because the head coaches hog all of the glory when it comes to victories on the gridiron. Regardless of the matter, these assistants impact the game on both sides of the ball. Now they're all looking to establish themselves this fall in a revamped Big 12, which will consist of 14 teams.
And the fans can't wait to see how it all plays out.
14. Chad Scott, OC, West Virginia: The Florida native has been an assistant in the Big 12, ACC and SEC. Scott works closely with running backs, and orchestrated West Virginia's backfield last season. He was also the Mountaineers co-Offensive Coordinator from 2019-21. West Virginia averaged 171.5 rushing yards per game in 2022, which ranked seventh in the Big 12 and 52nd in the FBS. The Mountaineers recorded 24 rushing touchdowns. Now Scott will be taking on a bigger task, and calling the plays on his own this fall. West Virginia averaged 399 yards per game of total offense last year, but in a league that's filled with so much firepower, Scott will need more production from his unit.
13. Doug Belk, DC, Houston: The 35-year old has been orchestrating the Cougars' defense on his own since 2021, Belk was part of a tandem for two seasons prior to that. He was also West Virginia's Cornerback Coach for two seasons, so he has experience in the Big 12. In 2021 he fielded one of the nation's best defenses. Houston ranked first in the AAC and sixth in the FBS in total defense that year. However, everything plummeted in 2022 under his watch. The Cougars finished 105th nationally in total defense. Not to mention Houston allowed 32.1 points per game, which ranked 112th in the FBS. No doubt he'll have his work cut out for him this fall, because the Big 12 will field some high-flying offenses.
12. Matt Powledge, DC, Baylor: The Texas native is very familiar with the Big 12, considering he was the Bears' co-Defensive Coordinator 2020-21. Powledge also works closely with the safeties. The 36-year old spent last season co-orchestrating Oregon's defense. Under his watch, the Ducks ranked fourth in the Pac-12, and 71st in the FBS in total defense. It was an improvement for Oregon's defense, which ranked eighth in the league in yards allowed in 2021. Powledge was solid at Baylor. In 2021 Baylor allowed 18.3 points per game, and finished second in the Big 12, and 10th nationally in total defense. If he can get the Bears' defense to perform at that level again, they'll win more games.
11. Darin Hinshaw, OC, UCF: The 51-year old has five years worth of experience in the SEC as a Coordinator. Hinshaw is all about the aerial attack, and works closely with the quarterbacks. He made an immediate impact calling the plays for UAB last season. The Blazers improved from 74th nationally in total offense in 2021, to 33rd in 2022. Hinshaw used running back DeWayne McBride effectively, who led the nation in rushing yards per game. UAB even scored 47 offensive touchdowns, and averaged 30.1 points per game under Hinshaw's watch. Now Hinshaw will be working with a lot of offensive talent in dual-threat gunslinger John Rhys Plumlee and running back RJ Harvey.
10. Bryan Nardo, DC, Oklahoma State: The Ohio native made a name for himself over the past decade in the FCS and Division II ranks. Linebackers are Nardo's specialty, so he knows how to get crafty with blitz packages. Last season was his lone year as Gannon's Defensive Coordinator, and he made huge strides for the unit. Gannon allowed 393.3 yards per game in 2021, but improved to 287.4 under Nardo's watch. Life after Jim Knowles was hard on the Pokes' defense in 2022, and the unit struggled mightily. Oklahoma State ranked 10th in the Big 12 and 115th in the FBS in total defense. So if Nardo can have the same impact in Stillwater that he did at Gannon, the Pokes will raise eyebrows.
9. Joe Gillespie, DC, TCU: The 52-year old orchestrated Tulsa's defense for three seasons before he arrived in Fort Worth. Gillespie's specialty is linebackers. Not to mention Gillespie's defense finished fifth in the AAC in yards allowed per game during his last campaign with the Golden Hurricane. TCU ranked ninth in the Big 12 and 119th nationally in total defense in 2021. However, under his watch the Horned Frogs improved to fifth in the conference, and 95th in the FBS in total defense. TCU also improved from ninth to sixth in scoring defense. Gillespie is why linebacker Johnny Hodges was named the Big 12's Defensive Newcomer of the Year, while three other Horned Frog defenders got drafted.
8. Aaron Roderick, OC, BYU: The Utah native has been orchestrating the Cougars' offense for the past two seasons. Roderick was BYU's Passing Game Coordinator and Quarterback Coach for three years prior to that. He even molded signal-caller Zach Wilson into the No. 2 overall pick in the 2021 NFL Draft. BYU averaged 33.1 points per game in 2021, which ranked 29th in the FBS. Last year the Cougars' offensive production dropped to 31.3 points per game, which ranked 44th nationally. However, BYU still ranked in the top-40 nationally in each of the past two seasons in total offense, including 17th in 2021. Now Roderick will try to revive veteran gunslinger Kedon Slovis' career this fall.
7. Kyle Flood, OC, Texas: The former Rutgers Head Coach has been orchestrating the offense in Austin for the past two seasons. Flood improved the Longhorns' offensive production from 424.4 yards per game in 2021, to 429.5 last year. Texas' offense finished 64th nationally in total offense with Mike Yurcich and Herb Hand at the helms in 2020. However, under Flood's watch the offense ranked 47th in FBS in yards per game in 2021, and 35th last season. Flood's biggest challenge will be replacing the production in the backfield from dynamic duo Bijan Robinson and Roschon Johnson. He'll still have weapons to operate with in All-Big 12 wideout Xavier Worthy and tight end Ja'Tavion Sanders.
6. Collin Klein, OC, Kansas State: The former Wildcat quarterback made an immediate impact during his first season of calling the plays for his alma mater. Under Klein's predecessor Courtney Messingham in 2021, Kansas State ranked ninth in the Big 12, and 95th in the FBS in total offense. However, under Klein's watch the Wildcats finished sixth in the conference, and 41st nationally in total yards per game. Not to mention Kansas State ranked second in the league in rushing offense because Klein knows how to pound the ball effectively. The 33-year old also works extensively with quarterbacks. It's no mystery Klein is a big reason why Will Howard had strong performances down the stretch.
5. Jeff Lebby, OC, Oklahoma: The 39-year old arrived in Norman with a bunch of hype last season. And rightfully so, considering he fielded a potent offense at Ole Miss in 2021. Lebby was able to deliver in terms of production. After all, the Sooners improved from 451 yards per game in total offense under Bill Bedenbaugh's and Cale Gundy's watch, to 474 with Lebby's direction. However, Oklahoma wasn't as effective at scoring touchdowns, and dropped from 39.1 points per game in 2021, to 32.8 last season. Lebby was effective with the way he used quarterback Dillon Gabriel, and made Eric Gray a 1,000-yard rusher. So much so, Gabriel was named the Big 12's Offensive Newcomer of the Year.
4. Bryan Brown, DC, Cincinnati: The Mississippi native orchestrated Louisville's defense over the past four seasons, and fielded his best unit in 2022. The Cardinals tied for first in the ACC, and ranked 11th nationally in scoring defense. Not to mention Louisville finished fourth in the conference, and 24th in the FBS in total yards allowed per game. Brown's other notable campaign with Louisville was in 2020, when the team finished 39th in the FBS in scoring defense. The Big 12 will be a new challenge for the 39-year old though. Still, Brown is looking to keep the wheels rolling for a Bearcat squad that has finished in the top-20 nationally in scoring defense in each of the past four seasons.
3. Zach Kittley, OC, Texas Tech: The 31-year old did wonders at Western Kentucky in 2021. That year the Hilltoppers ranked first in Conference-USA, and second in the country in scoring and total offense. Kittley's success carried over with the Red Raiders last season. Texas Tech finished seventh in the Big 12, and 56th nationally in total offense under Sonny Cumbie in 2021. However, under Kittley's watch the Red Raiders improved to second in the conference, and 22nd in the FBS in total offense. Texas Tech also improved from 30.3 points per game in 2021, to 34.2 last year. Now Kittley is in year two of leading the offense at his alma mater, so everything should operate smoother.
2. Andy Kotelnicki, OC, Kansas: He spent seven seasons as Buffalo's Offensive Coordinator before he landed in Lawrence in 2021. Although the Jayhawks finished dead last in the Big 12, and 113th nationally in total defense during Kotelnicki's first season on the job, that quickly changed in year two. Not only did Kansas rank fourth in the Big 12 and 32nd in the FBS in total offense, but it also averaged 14.8 more points per game than it did the year prior. Kotelnicki increased the Jayhawks' offensive production from 324.4 yards per game in year one, to 438.6 last season. He even molded quarterback Jalon Daniels into an All-Big 12 performer, and was a big reason why Kansas won six games.
1. Jon Heacock, DC, Iowa State: The Ohio native is the Big 12's longest-tenured assistant, who's arguably one of the best Defensive Coordinators in today's game. Heacock has also remained consistent throughout the years. Although the Big 12 isn't known for elite defenses, Heacock annually fields one of the league's best units. Iowa State has finished in the top-three of the Big 12 in scoring defense for the past five seasons, including first in 2018 and 2022. Heackock even molded Will McDonald into one of most feared defenders in the conference, and Iowa State's highest NFL Draft pick since 1973. Heacock will keep the Cyclones humming on defense this fall, but the offense must improve drastically.