Ranking the ACC's best quarterbacks of 2023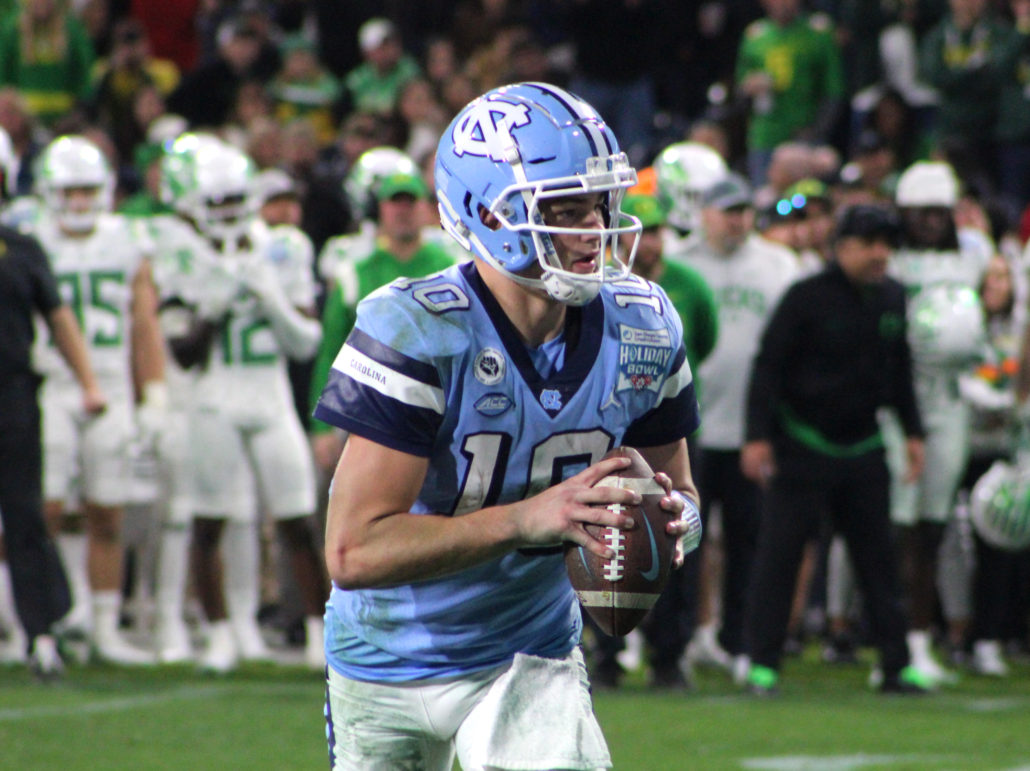 On a national landscape it's known as a basketball conference, but the ACC will field some of the nation's best quarterbacks in 2023.
There will be some familiar faces in new places, with a couple of gunslingers transferring to schools in the same league. Not to mention a couple of darkhorse Heisman candidates. Clemson still rules the ACC with an iron fist, but Florida State is looking like true contenders, and North Carolina will be a top-20 team entering the season.
It should all make for some great football this fall, and these quarterbacks will be on the frontlines.
14. Anthony Colandrea, Virginia: The former three-star prospect was an early enrollee for 2023, and competed in spring ball. Colandrea looked very promising in the Cavaliers' spring game, and will be vital in Tony Elliott's second season. The Florida native completed 13 of his 20 passes in the first half of the spring game. Colandrea battled with Tony Muskett, who showed off an impressive arm, and competed nine of his 12 passes for 127 yard and a touchdown. There's going to be more growing pains this fall, and Elliott may play musical chairs with Colandrea and Muskett, but Virginia's aerial attack should be better. After all, the Virginia threw seven touchdowns and 12 interceptions in 2022.
13. Mitch Griffis, Wake Forest: The Virginia native played behind Sam Hartman last season, but threw for 348 yards, five touchdowns and an interception. Griffis has a strong arm, and surprising mobility. He passed for 328 yards and three touchdowns in the opening victory over VMI. Griffis had a touchdown pass in the win over Army. The 5-foot-11, 192-pounder also threw for a touchdown at Louisville. Griffis played solid in the Demon Deacons' spring game. The former three-star prospect passed for 315 yards and two touchdowns. Griffis connected with Donavon Greene and Taylor Mornin for a score. However, he was sacked six times in the contest, which raises a level of concern up front.
12. Haynes King, Georgia Tech: The former four-star prospect spent the past two seasons at Texas A&M. King threw for 1,520 yards, nine touchdowns and nine interceptions during that span. Last year he threw for 364 yards and three touchdowns against Sam Houston, which were both season-highs. King passed for 253 yards, two touchdowns and an interception against Alabama. Not to mention he registered 279 passing yards and a score against Florida. King competed with Zach Gibson and Zach Pyron over the spring. He completed 13 of his 22 passes for 276 yards and three touchdowns in the Yellow Jackets' spring game. Meanwhile Gibson threw for 106 yards, and Pyron generated 103.
11. Grant Wells, Virginia Tech: The West Virginia native had a rough campaign with the Hokies last season. Virginia Tech finished 13th in the ACC, and 103rd in the FBS in passing offense. Not to mention Wells endured some growing pains. He ranked 98th nationally in passing efficiency after he generated 2,171 yards, nine touchdowns and nine interceptions, including four in the opening loss at Old Dominion. However, Wells had a promising performance against Wofford, when he threw for 314 yards and two touchdowns, which were both season-highs. The six-foot-two, 212-pounder completed 12 of his 18 passes for 148 yards and scored two total touchdowns in the Hokies' spring game.
10. Emmett Morehead, Boston College: The former three-star prospect played behind Phil Jurkovec, but started four games in 2022. Morehead threw for nine touchdowns and five interceptions in those contests. The six-foot-five, 240-pounder had his bright moments, and passed for a touchdown at Florida State. Morehead threw for 330 yards and four touchdowns against Duke, which were both season-highs. The Californian followed up that outing with 330 yards in the victory over NC State. There were some growing pains too, like his three interceptions in the shutout loss to Notre Dame. Morehead completed 14 of his 25 passes for a touchdown and two interceptions in the spring game.
9. Cade Klubnik, Clemson: The former five-star prospect threw for 697 yards, two touchdown and three interceptions as a true freshman last season. Klubnik played mostly behind D.J. Uiagalelei, but put together some promising performances. He was able to get his feet wet in the opening win over Georgia Tech, and passed for a touchdown. Klubnik threw for 279 yards and a score in the victory over North Carolina. The Texas native recorded a season-high, 320 passing yards in the Orange Bowl against Tennessee, but was picked off twice. Klubnik completed eight of his first nine passes in the Tigers' spring game. Not to mention he finished the event with 190 passing yards.
8. Brennan Armstrong, NC State: The Ohio native played the past five seasons at Virginia, and left as the program's all-time leader with 9,034 passing yards, and 58 touchdown tosses. Armstrong broke the school's single-season record, when he passed for 4,449 yards in in 2021. He also set the Cavaliers' single-game record with 554 passing yards against North Carolina that year. His production declined last season though, and Armstrong only threw seven touchdowns, and was picked off 12 times. However, Armstrong completed 14 of 28 passes for 127 yards, with a pair of interceptions in the first half of the Wolfpack's spring game. His ACC experience will be vital for NC State.
7. Tyler Van Dyke, Miami: The Connecticut native has started for the past two years with the Hurricanes. During that span Van Dyke threw for 4,766 yards, 35 touchdowns and 11 interceptions. However, he regressed last season, and only played in nine game because of injuries. Not to mention Van Dyke ranked 70th in the FBS in passing efficiency. Coach Mario Cristobal fired Offensive Coordinator Josh Gattis because of Van Dyke's struggles. Now the gunslinger will be operating under Shannon Dawson, who helped Houston finish 25th nationally in total offense in 2022. Dawson worked closely with quarterbacks, and helped Clayton Tune pass for 40 touchdowns. Van Dyke should benefit big time.
6. Phil Jurkovec, Pittsburgh: The former four-star prospect threw for 5,183 yards, 35 touchdowns and 17 interceptions over the past three seasons at Boston College. However, Jurkovec battled through injuries, and his production declined after a stellar 2020 campaign. He had some bright outings last year, including a season-high, 320 pass yards in the victory over Maine. Jurkovec recorded three touchdown passes apiece against Rutgers and Louisville. The hometown kid competed with Christian Veilleux and Nate Yarnell over the spring. Jurkovec completed five of his seven passes for 51 yards in the spring game. His production, experience and leadership is what the Panthers need.
5. Jack Plummer, Louisville: The former three-star prospect has had a long journey, and will be one of the most experienced gunslingers in the ACC this fall. Plummer threw for 3,405 yards, 26 touchdowns and 10 interceptions in three seasons at Purdue. Last year he registered a solid campaign at California, with 3,095 passing yards, 21 touchdown tosses and nine interceptions. Plummer played for Brohm when he was a Boilermaker, so there should be a smooth transition. After all, Plummer completed 10 of his 13 passes for 130 yards and two touchdowns in the Cardinals' spring game. With Plummer's arm and familiarity with Brohm's scheme, he could potentially set the ACC on fire in 2023.
4. Garrett Shrader, Syracuse: He passed for 1,170 yards, and eight touchdowns as a true freshman at Mississippi State. Over the past two seasons with the Orange, Shrader has thrown for 4,090 yards, 26 touchdowns and 11 interceptions. Shrader has dangerous mobility, with 1,225 yards on the ground, and 23 rushing scores during that span. Last year he led Syracuse to a 6-0 start, and its' first winning campaign since 2018. Shrader  threw for 1,433 yards, rushed for 300, and scored 17 total touchdowns during that span. The Charlotte native generated a season-high, 330 pass yards in the bowl game against Minnesota. Shrader underwent surgery on his right arm and missed spring ball.
3. Riley Leonard, Duke: Last season he led the Blue Devils to nine wins for the first time since 2014. Leonard threw for 328 yards and two touchdowns in the opener against Temple. He passed for 324 yards and a touchdown at Kansas. Leonard recorded 391 yards through the air, and four touchdown tosses in the victory over Wake Forest, which were both season-highs. The Alabama native displayed dangerous mobility against North Carolina, and rushed for 130 yards and a score. Over the final three games of the regular season Leonard combined for 943 passing yards, and scored 11 total touchdowns. Leonard completed 19 of his 28 passes for 154 yards, and two touchdowns in Duke's spring game.
2. Jordan Travis, Florida State: The Florida native is coming off a stellar campaign. Travis threw for 3,214 yards, which was seventh-best in a single season at Florida State. He led the ACC in passing efficiency. The former three-star prospect turned it up a notch over Florida State's final seven games, with 1,807 passing yards, 14 touchdown tosses and two interceptions during that span. Travis helped Florida State close out the year on a six-game winning streak. His 418 passing yards in the bowl win over Oklahoma were a season-high. For his heroics he earned second-team, All-ACC honors. Travis completed nine of his 14 passes for 99 yards, a touchdown and an interception in the spring game.
1. Drake Maye, North Carolina: The 20-year old set a single-season school record with 4,321 passing yards as a redshirt freshman in 2022. Maye led the ACC in passing yards and completion percentage. Not to mention he tied for first in touchdown tosses. His 38 touchdown passes were also a Tar Heel record. Maye ranked 18th nationally in passing efficiency. The former four-star prospect led North Carolina to a 9-1 start. Maye threw for a season-high, 448 yards against Wake Forest. The six-foot-four, 225-pounder had three touchdown tosses in the Holiday Bowl against Oregon, and ended his stellar campaign with first-team, All-ACC honors. He threw for two scores in the spring game.