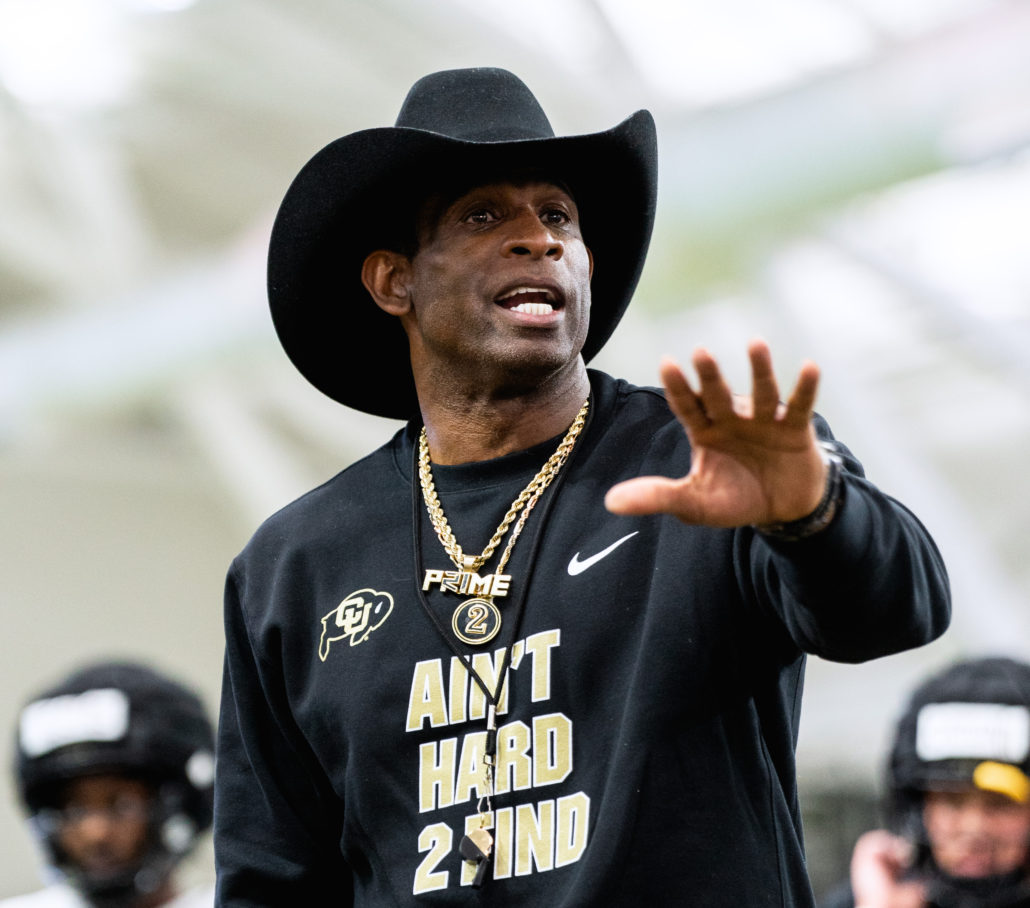 BOULDER, Co. — There's a buzz surrounding the Colorado football program that's reminiscent of the early 1990's.
That's when the Buffaloes were a perennial top-15 team, and the Big 8 was the premiere conference of the sport. Those glory days are long gone though, and the fans have witnessed nearly three decades of mediocrity. However, there's a new sheriff in town, and he's determined to put Colorado back on the map.
Coach Prime's name ring bells because it carries swagger, success, integrity and leadership. He raised several eyebrows after he accepted the job back in December. Now the national spotlight is back on the program, so it's been all work and no play.
Not only has the Hall of Famer revamped the Buffaloes' roster and coaching staff, but he's building a foundation of winning during the process. And he believes that starts from the top with the Athletic Director, all the way down to the fans.
Now that spring ball is in session this week, it's evident Coach Prime is all about change. First off, the players aren't wearing numbers on their jerseys during practice, and that's because of Coach Prime's old school mentality.
"You have to earn stuff, ain't nobody giving you nothing," Coach Prime said. "We got kids that ain't played a snap, and want to be No. 1, but what No. 1 meant for us back in the day was the fact that you were that one."
Coach Prime is definitely not a fan of dividing practice because of spring break, and feels it sabotages team chemistry. Regardless, he's rolling with the punches and making adjustments on the fly. Coach Prime is a firm believer that familiarity builds success. Which is why he brought several key contributors from last year's Jackson State team that went 12-0 during the regular season.
The headliner is his son Shedeur Sanders, who's competing to be Colorado's starting quarterback, and former five-star prospect Travis Hunter. Not to mention Coach Prime brought six of his assistants from Jackson State to Boulder, including Tim Brewster, Brett Bartolone and Kevin Mathis. It also helps that Offensive Coordinator Sean Lewis and Offensive Line Coach Bill O'Boyle worked together at Kent State.
Coach Prime even assembled one of the best classes from the transfer portal, which included first-team, All-Sun Belt tight end Seydou Traore. So the Buffaloes aren't exactly starting over from scratch. There's a lot to accomplish with the the Black and Gold spring game still a few weeks away. Coach Prime understands that all starts with his quarterback room.
Sanders will continue his workouts with Hunter, and they're ready to pick up where they left off. Meanwhile Coach Prime also wants the rest of the team operating with tempo over next few weeks. Colorado's offense will go as far as Sanders can take it, so Coach Prime understands his signal-caller's maturation process is going to be vital.
"Consistency, it's a new offense," he said. "It's his (Sanders) third offense in three years, so understanding the new concepts of the offense, and getting to know the receivers."
Coach Prime is determined to put the entire team in shape, and check every box over spring ball. That means he's monitoring the communication between his staff and players, as well as strength and conditioning. In his mind, it's going to take a team effort in order to get to the promised land.
"This is a total commitment of effort of unification to win, it's not just us on the field," the 55-year old said. "Everybody in this building got to understand that we are winners."
All eyes are going to be on Folsom Field for the spring game, and ESPN is going to broadcast the event. Coach Prime is welcoming the exposure because it builds notoriety, and helps with NIL deals. The fans are expecting Coach Prime to do wonders in a short period of time, but he doesn't feel any pressure.
As a matter of fact he has enjoyed his time in Boulder, believes the city is a hidden gem and couldn't have thought of a better way to start his tenure. The community has embraced him, and there's nothing like having the support from everyone.
"There's no way driving into this school, and this facility, and not be excited to come do what we've been blessed to do, and I absolutely love it."