Jammie Robinson preparing to unleash his skills on the NFL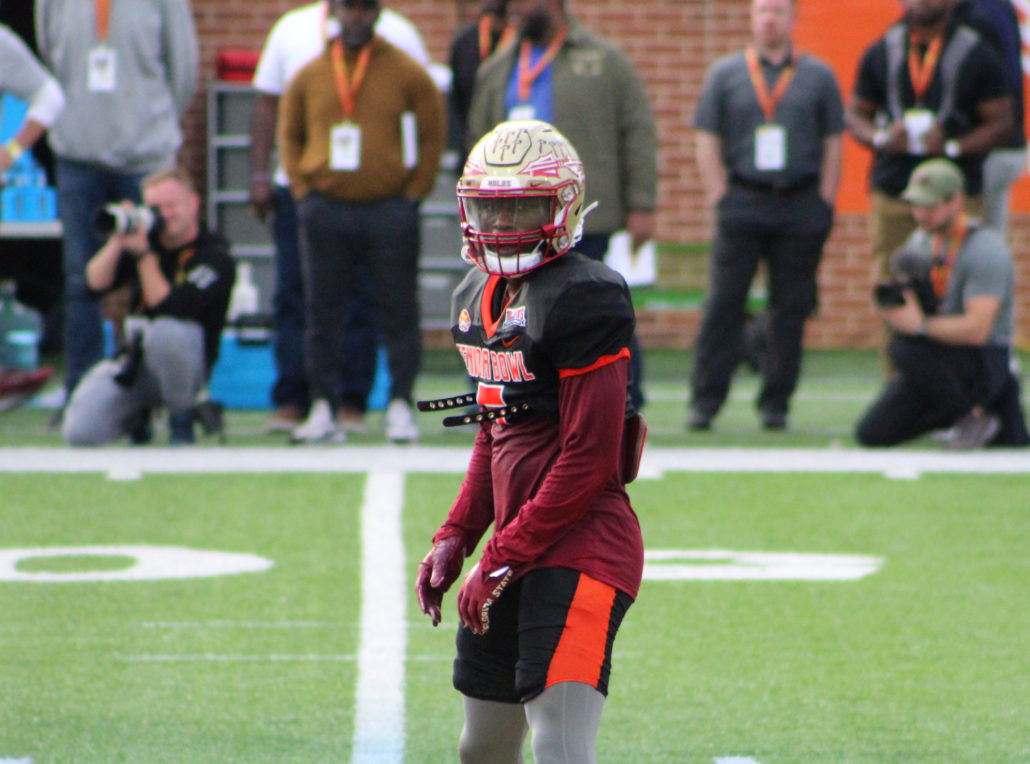 MOBILE, Ala. — Florida State's star safety has enjoyed a solid week of competition at the Senior Bowl, and believes he's ready for the pros.
After all, Jammie Robinson is a confident individual when it comes to his athletic prowess on the gridiron. Not only has he led the Seminoles in tackling for the past two seasons, but Robinson also picked off five passes during that span, and earned back-to-back, first-team, All-ACC honors.
The former four-star prospect is as versatile as safeties come, with the way he's a ballhawk in coverage, and able to provide run support when needed.
"I'm the best safety out here right now," Robinson said. "Just being able to cover, being able to be in the post, blitz off the edge, and being a team leader, that's what I pride myself on."
The only knock Draft analyst are putting on Robinson is his size. He's only 5-foot-10, and weighed in at 194 pounds earlier in the week. Robinson also had the smallest arm length and wingspan of any defensive back that participated at the Senior Bowl.
Still, what he lacks in size he makes up in physicality and natural instincts. Robinson is always around the ball, can fly from sideline to sideline, and has the speed to blanket an entire side of a field. And he's never afraid of contact and loves competition.
Robinson could've easily opted out of Florida State's bowl game like several others, but instead he decided to suit up. The Georgia native left a lasting impression too, with a jaw-dropping, 13 tackles and a sack in the contest. He was eager all week for Senior Bowl practice because he was matching wits with the best of the best. Robinson also wanted to soak up some NFL knowledge.
"Being able to be coachable, be a student of the game and learn different schemes, because in the NFL everybody has different schemes and techniques," he said. "That was my main thing, just to be the best version of myself."
Robinson is proud of the legacy he left behind at Florida State. The state of the program is better than when he arrived. Most importantly, Robinson played a vital part in the Seminoles' 10-win campaign last season. Robinson can't thank Coach Mike Norvell enough for what he taught him and plans on applying that at the next level.
"Coach Norvell and our Defensive Coordinator Adam Fuller, they had a plan for me when I first got there," the 22-year old said. "Just being able to utilize me in different ways."
Norvell's coaching staff made Robinson the swiss army knife on defense, and molded him into the versatile defender he is today. So he's always going to be representing for Seminole Nation on his path to the NFL. The Scouting Combine is less than a month away, so the process to the Draft continues. In the meantime Robinson is going to continue to train like no other, and strive for success.
"I'm humble at the end of the day, I know my talent will speak for itself."