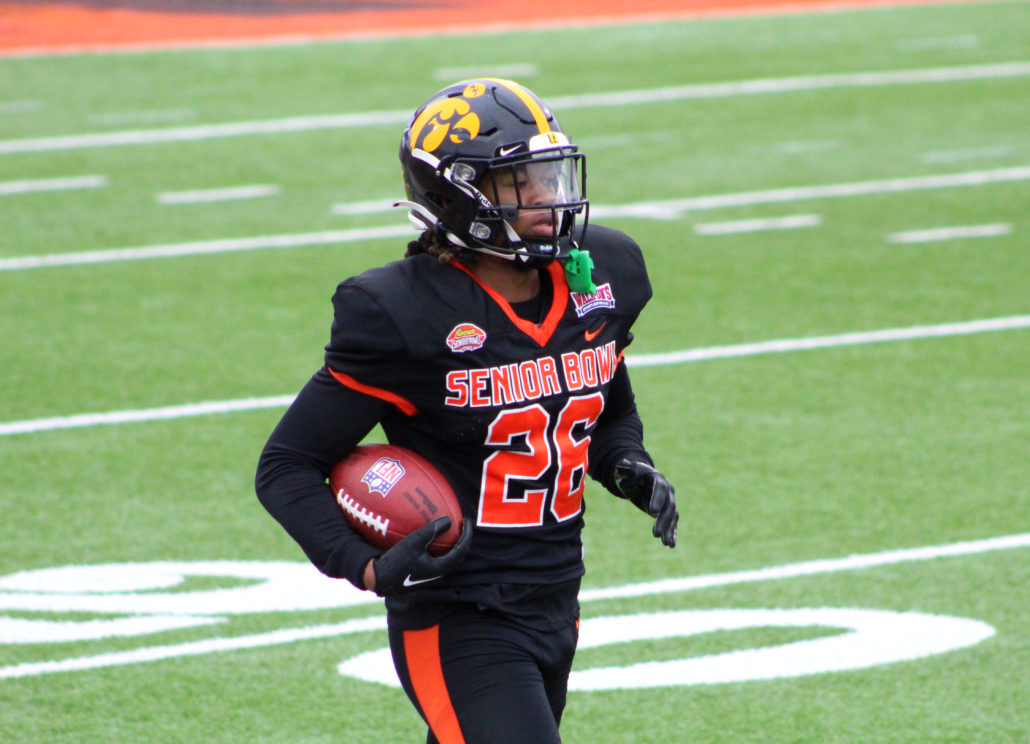 MOBILE, Ala. — The Iowa safety is enjoying his path to the NFL Draft, and plans on having a positive impact in the Senior Bowl Saturday.
Kaevon Merriweather provided plenty of fireworks with his big hits and game-changing plays last season. So much so, that he capped off his senior year with second-team, AP All-American honors. Although he opted out of the Hawkeyes' bowl game, Merriweather has carried the momentum he generated throughout practice this week.
After all, he's embracing being in the spotlight and playing with the best of the best. Merriweather is joined by teammate Riley Moss, and they're both trying to make their mark with the NFL scouts.
"It feels pretty good, just the opportunity to come out here and put the pads on again, wear my college jersey and represent Iowa for the last time," Merriweather said. "It's just fun to come out here and compete with everybody, just to be in the same circle as these players is an honor."
The Michigan native felt he should've got more All-Big Ten consideration instead of just Honorable Mention for the campaign he had. Which is why he's not taking anything for granted. However, Merriweather was glad that he finally got the recognition he deserved being nabbed an All-American.
"It's just a testament to the work I put in over the past couple of years," he said. "Just to watch it all come to fruition feels good."
Merriweather's journey is far from over though. Once the Senior Bowl is done with, he'll start preparing for the NFL Scouting Combine. He's embracing going up against some familiar faces in practice like Nebraska's Trey Palmer and Michigan State's Jayden Reed.
The former three-star prospect is six foot and weighed in at 207 pounds. Although Merriweather isn't the biggest or fastest safety competing at the event, he trusts that Iowa's Defensive Coordinator Phil Parker has made him NFL-ready.
"At Iowa we play a pretty complex defense, so I think I'm a pretty smart safety," the 23-year old said. "All the checks we put in over the past couple of years, all the pressure Coach Parker puts on his safeties, we really have to be the smartest players on the field."
Merriweather is confident that he'll excel playing free or strong safety at the next level because of his versatility. There's no denying he has great instincts, and always seems to be around the ball. He even picked off three passes and returned a fumble for a touchdown in 2022.
Merriweather was a general in Iowa's secondary, but what separates him from the rest of the pack is that he takes pride in his physicality and leadership. He considers himself a locker room guy and always holds himself accountable.
The NFL admires individuals with great character, and Merriweather fits the bill. The defensive back also feels like he has always handled himself with class, and is well-respected by his peers. He learned how to be an ideal student-athlete from playing under the longest-tenured coach in the FBS in Kirk Ferentz.
He's a balk hawk, but there are areas of Merriweather's game that he wants to improve in, like man-to-man coverage. He played mainly in the slot at Iowa. Above all, Merriweather just wants Hawkeye fans to be proud of the legacy he left behind.
"I bleed black and gold, and just want to see the best for the University and all that entails with it, I think that I gave the program everything I had."