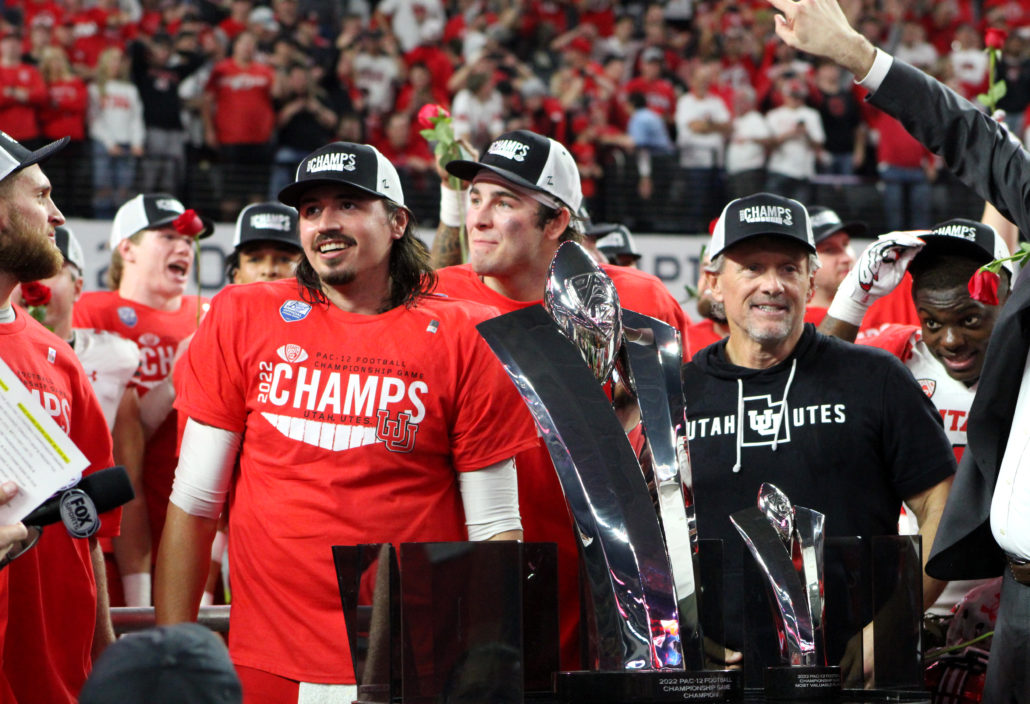 LAS VEGAS, Nev. — Throughout the week all of the talk was about USC being one win away from reaching the Playoffs, and very little about the reigning Pac-12 Champs.
It didn't matter though, because the Utes made beating a team twice in one season look easy. After all, Utah smashed USC 47-24 in front of a crowd of 61,195 at Allegiant Stadium. Coach Kyle Whittingham was able to kill two birds with one stone by winning his second-straight Pac-12 Title, and shattering USC's dreams of postseason glory during the process.
However, it didn't start off pretty for Utah. USC scored on its' first three drives of the game, including two touchdowns. The Utes were even down 17-3 midway through the second quarter. Whittingham's boys backs were against the wall, but they never panicked, and a light bulb eventually came on.
Running back JaQuinden Jackson punched it in the endzone, and quarterback Cameron Rising connected with wideout Money Parks for a four-yard touchdown to tie the game up at halftime. At that point, all of the momentum had shifted to the Utes' side. Utah's defense hunkered down too, and put some hits on Trojan gunslinger Caleb Williams. It left him gimpy for the rest of the game, which Whittingham noticed, and took advantage of. It was like the defense smelled blood in the water in the second half.
The Utes came out and scored 10 points in the third quarter. Rising hooked up with Parks again, but this time it was for a 57-yard touchdown. From that moment, it was clear to everyone in the building that Utah was mauling USC up front on both sides of the ball. And that's what Whittingham expected his team to do all week.
"We owned the third down, we were much better in that and I think that was a big key to the game," Whittingham said.
Utah looked more physical while USC (11-2) played finesse, and that showed in the trenches. All Coach Lincoln Riley could do is watch as his defense failed to get stops. And once the fourth quarter rolled around, the Utes had no problem pouring it on the Trojans. USC's defense started missing tackles left and right, and Utah scored 20 unanswered points.
Williams and the rest of the Trojans' offense couldn't answer the bell once the Utes started lighting up the scoreboard. And Whittingham credits his defense for making that happen. There's no denying a hobbled Williams, an abysmal rushing attack and a leaky defense doomed USC. And Whittingham made sure Utah exposed all of those weaknesses down the stretch.
"That really was the difference in the fourth quarter, was our fourth quarter pass-rush," he said. "That's how you put a game away, a strong running game and a fourth quarter pass-rush, we had both those tonight."
Utah (10-3) averaged more yards per play and finished with six more first downs than USC. Although Rising took a huge hit from a Trojan defender that knocked his helmet off, he was still named the MVP of the game for his heroics. And rightfully so, considering Rising completed 22 of his 34 passes for 310 yards and three touchdowns.
"Yeah we talked about imposing our will tonight," Rising said. "That's really what we wanted to go out and do, throwing those guys that ball there, they're going to prove a point."
Jackson finished with 105 yards on the ground and two scores. It was Jackson's second-straight game of eclipsing the century mark in rushing yards. Not to mention he has rushed for five touchdowns during that span. Wide receiver Jaylen Dixon generated a team-high, six catches for 55 yards and a score.
On defense safety Cole Bishop led the Utes with nine total tackles. Linebacker Mohamoud Diabate added eight stops and two sacks. Edge rusher Gabe Reid also put Williams to the turf twice and safety RJ Huber picked him off. The unit looked totally different in the second half, thanks to adjustments by Whittingham and Defensive Coordinator Morgan Scalley.
"The tackling wasn't real sharp at the beginning of the game, the 63-year old coach said. "We knew those few assignment errors that we made early could be corrected and were corrected."
Now the Utes are Rose Bowl bound again, so Whittingham plans to keep growing his hair out for good luck. His team just played the ultimate spoiler role, and now Ohio State owes Utah a favor. Regardless, at the end of the day Whittingham is still the king of the Pac-12 until someone snatches the red carpet from under him.