Chris Klieman refusing to overlook a bowl-bound Jayhawk team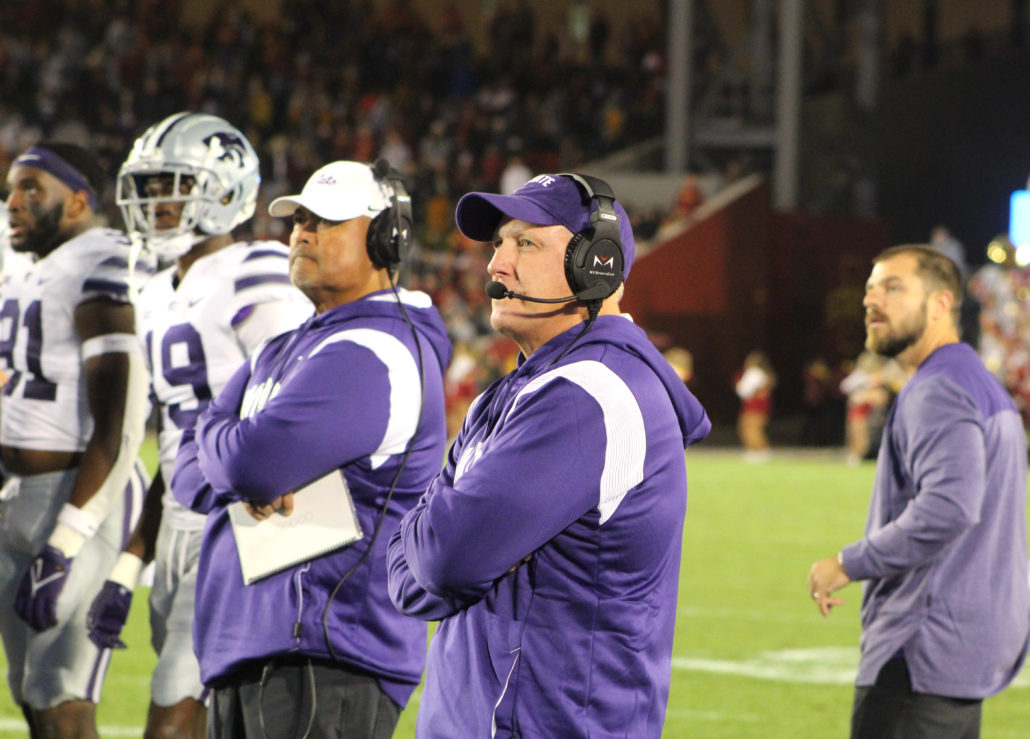 MANHATTAN, Kan. — Kansas State is one win away from clinching a berth in the Big 12 Championship Game.
Standing in the Wildcats way is a familiar foe, and one that they haven't lost to since 2008. However, Coach Chris Klieman knows he'll be going up against a new and improved Kansas squad. After all, the Jayhawks are bowl eligible for the first time in 13 years and have one of the best offenses in the Big 12.
Although the Wildcats have outscored the Jayhawks 128-34 over the past three meetings under Klieman, he's still anticipating a fierce battle Saturday under the lights.
"I don't know their roster, but they're playing hard and they're believing, and they do have talented players without question," Klieman said. "They've played inspired, them getting to a bowl game I know was huge for the program."
Klieman is well aware that Kansas has lost five of its' last six games. Still, Klieman has a lot of respect for Lance Leipold and the direction he has the Jayhawks headed.
There's no denying Leipold's squad would love nothing more than to play spoiler, by snapping a 13-game losing streak to the Wildcats and keeping them from advancing to the Title Game. And that's why Klieman is keeping his players focused on the task at hand.
"I know that this is kind of the potential cherry on top for them with this game, because they're already bowl eligible, so they don't have anything to lose," he said.
Kansas' explosive offense has caught Klieman's attention. The Jayhawks are averaging 34.8 points per game, which ranks third in the Big 12 and 27th in the FBS. Not to mention Kansas was able to keep up those numbers with quarterbacks Jalon Daniels and Jason Bean lined up behind center.
Daniels is dynamic with his arm and legs and Bean is the seasoned veteran, but Klieman knows both can hurt defenses in different ways. And he's planning on seeing both gunslingers, especially Daniels.
"He (Daniels) causes a lot of problems because he can throw it exceptionally well, he can run it, extend plays and does a little bit of everything," the 55-year old coach said. "He makes everybody around him better, and I would say the same thing about Bean."
The Jayhawks have a gimmick offense, which confuses defenses with pre-snap motions and misdirection plays, so Klieman feels it's important for his defenders to keep their eyes open. It's no mystery this is the biggest game of the season for Kansas State (8-3), and it's going to be an emotional one because of Senior Day.
Klieman really wants this victory, but been downplaying the pressure that comes with the territory. Regardless, he has a plethora of veteran players on his roster, who are just as hungry.
Quarterback Will Howard has thrown for five touchdowns and one interception over the past two games. Running back Deuce Vaughn has eclipsed the century mark in rushing yards in six games this fall. Veteran receivers Malik Knowles, Phillip Brooks and Kade Warner are all sure-handed, and never afraid to come through in the clutch.
On defense the Wildcats have arguably the best player in the Big 12 in Felix Anudike-Uzomah. He leads the conference with 7.5 sacks and should keep Daniels and Bean on their toes. Kansas (6-5) is no pushover though, so something has to give. And it's still any given Autumn Saturday in Klieman's eyes, especially when there's a trip to Jerry's World on the line for his team.
"I know they've been beaten the last couple of weeks, but they're a good football team and it should be a heck of a battle here on Saturday."