Will Howard's maturation process finally coming full circle this fall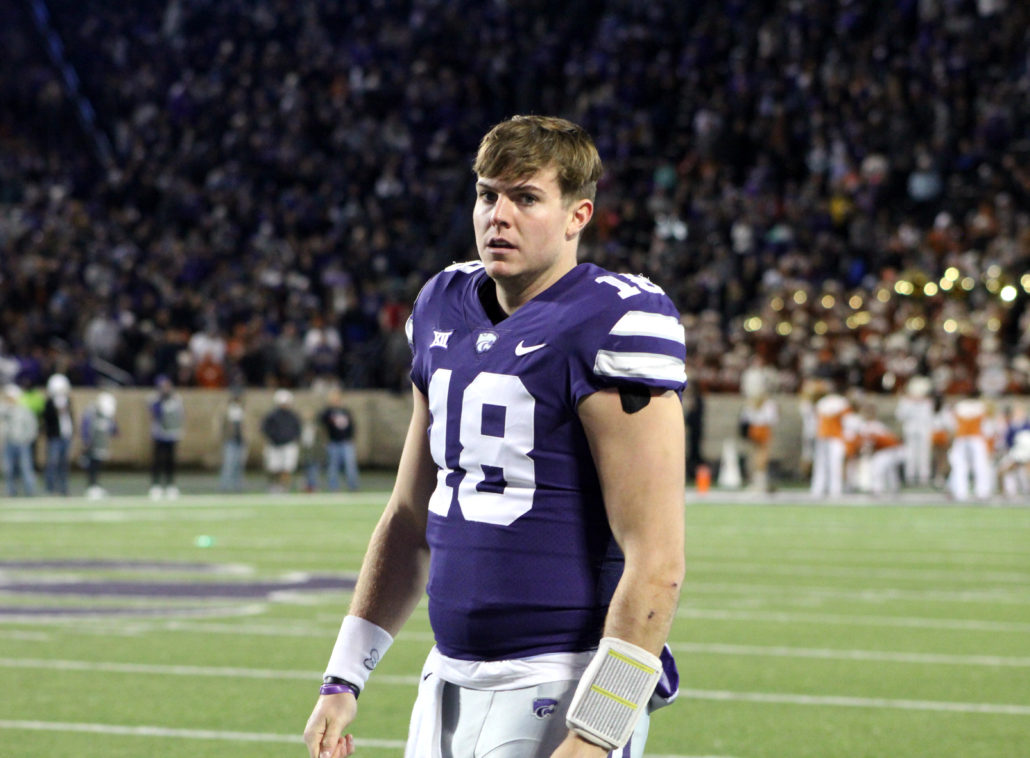 MANHATTAN, Kan. — As a true freshman the Kansas State quarterback was thrown to the wolves and had to learn quickly.
The speed and physicality of the game made Will Howard look like a deer in headlights in the pocket. So there were some growing pains. The former three-star prospect started most of the 2020 season, while Skylar Thompson was injured, and got valuable experience.
However, Howard finished that year with eight touchdown passes and 10 interceptions. It was a humbling campaign for him, and his confidence took a dive. As a true sophomore he was basically the third-string quarterback, and threw one touchdown.
Although Coach Chris Klieman played musical chairs with Howard and Jaren Lewis, the gunslinger learned leadership qualities from Thompson, and how to respond to adversity. It's obvious Howard has applied all of it to his game this fall as a junior. And after Adrian Martinez got sidelined with an injury against TCU, Howard took advantage of his opportunity.
He put together a promising outing, with 225 yards through the air, two touchdowns and an interception in the loss to the Horned Frogs. Howard's teammates, coaching staff and fans knew after that game that he was a new and improved gunslinger. Now Howard feels he's just cracking the surface of his potential with leading Kansas State's offense.
"I feel like my first two years here I kind of forced some things, would get jacked up in the pocket and made decisions that I really didn't need to," Howard said. "I feel like I've done a good job of taking things one step at a time, and not trying to force things into windows that I didn't have."
The Pennsylvania native had his coming out party in the blowout victory over Oklahoma State. Howard completed 21 of his 37 passes, for 296 yards and four touchdowns, which were all career-highs. The jaw-dropping performance made Wildcat fans jump on his bandwagon.
Which is why it was a head-scratcher to many that Klieman decided to start Martinez against Texas. Still, Howard showed his skills weren't a fluke when he filled in for Martinez in last week's win at Baylor. Howard completed 19 of his 27 passes for 196 yards and three touchdowns.
For him to come off the bench and lead the Wildcats to victory in a hostile environment caught Klieman's attention. So much so, that he nabbed Howard as his starter at West Virginia this Saturday.
"Will (Howard) is going to be the guy, this is his football team," Klieman said. "I'm excited for Will, everybody knows Will is playing at a high level."
After all, Howard has thrown for 717 yards, nine touchdowns and an interception in three of the last four games. The six-foot-five, 235-pounder believes the game has slowed down for him now. Howard knows the offensive scheme like the back of his hand, thanks to three years in the system. Regardless, he knows there's still plenty of room for improvement.
"I definitely want to be better with my feet, I feel like the past two years I've been able to hurt guys with my feet a little more," he said. "I kind of want to be able to show that, be a little more dynamic in the run game, and not be seen as just a pocket passer or a stiff guy."
Kansas State (7-3) is No. 15 in this week's Playoff rankings. Not to mention the Wildcats have a firm hold on that No. 2 spot in the Big 12 standings. If Kansas State wins out it'll clinch a berth in the Big 12 Championship Game for the first time under Klieman.
Howard understands there's going to be a lot of responsibility placed on his shoulders, and all he wants to do is carry the team to the finish line. So practice is going to be intense for the Wildcats this week in preparation for the Mountaineers. And Howard is at ease, knowing he's going to be the starter in a pivotal conference clash.
"Definitely a big mindset adjustment, but it's a little different when you actually know, and more calming in a way when you can prepare and get the No. 1 reps."