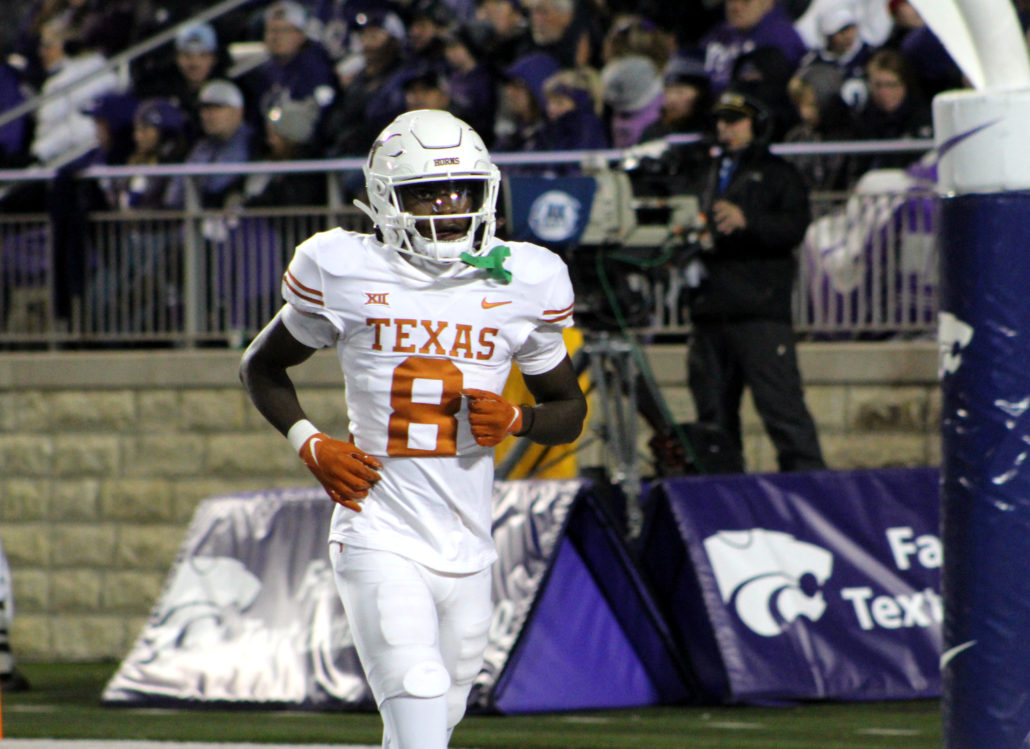 MANHATTAN, Kan. — The Texas wideout is having a spectacular campaign this year, and continues to make life easier for his quarterback.
Quinn Ewers understands the value Xavier Worthy brings to the Longhorns' offense. After all, Worthy has the speed and athleticism to run circles around defenders. And he can stretch the field on opposing secondaries. Worthy led the conference in touchdown catches and earned first-team, All-Big 12 honors last season as a true freshman.
And now Worthy has pretty much picked up where he left off this fall. The Californian has been on a tear over the last six games. He has a jaw-dropping, nine touchdown receptions, including two in last Saturday's victory at Kansas State. Ewers has great chemistry with Worthy on the gridiron, and he's in awe of the receiver's success in Big 12 play.
"X is a very special player, who has a great IQ of the game and understands the game," Ewers said. "He understands the game plan in terms of the playbook, and he's just a great overall players."
There's no denying that, considering Worthy leads the Big 12 with 12 touchdown catches, and is tied for eighth in the FBS in 2022. Not to mention Worthy needs two more touchdown receptions to break Jordan Shipley's single-season record, which was set back in 2009.
The former four-star prospect has put up video game numbers in two seasons as a Longhorn. Worthy caught 14 passes against Kansas last season, which was third-best by a Longhorn in a single game. His 261 receiving yards against Oklahoma in 2021 was second-best in a single game.
That's mind-boggling because Worthy doesn't have the ideal size of an elite receiver. However, what the six-foot-one, 164-pounder lacks in stature, he makes up for with explosiveness. And that's a quality Ewers appreciates.
"As a quarterback it's awesome to have guys like him," he said. "You got to give a lot of to that guy for the way that he practices, and the way that he prepares."
The 19-year old is making a strong case to be a finalist for the Biletnikoff Trophy, which is awarded to best wide receiver in the country. Worthy's 20 touchdown catches through 21 games is nothing short of phenomenal. Defenders basically have to pick their poison facing the Longhorns' offense. Rather it's defending Bijan Robinson against the run, or Worthy against the pass, Ewers knows it's a tall task.
Texas (6-3) is currently in that No. 2 spot in the Big 12 standings, so the stakes are higher. And the offense may need even more production from Worthy to finish strong down the stretch. Defenses will likely try to double cover the true sophomore with a corner and safety in hopes of slowing down the Longhorns' explosive plays.
TCU's defense is up next for Ewers and Worthy, which should be a great litmus test. The Horned Frogs are 95th in the FBS in pass defense, so Ewers should be licking their chops. Worthy could potentially have a field day against the Horned Frogs secondary. And that's mind-boggling, because he has already raised several eyebrows across the conference.