Adrian Martinez confident Wildcats will rebound after third loss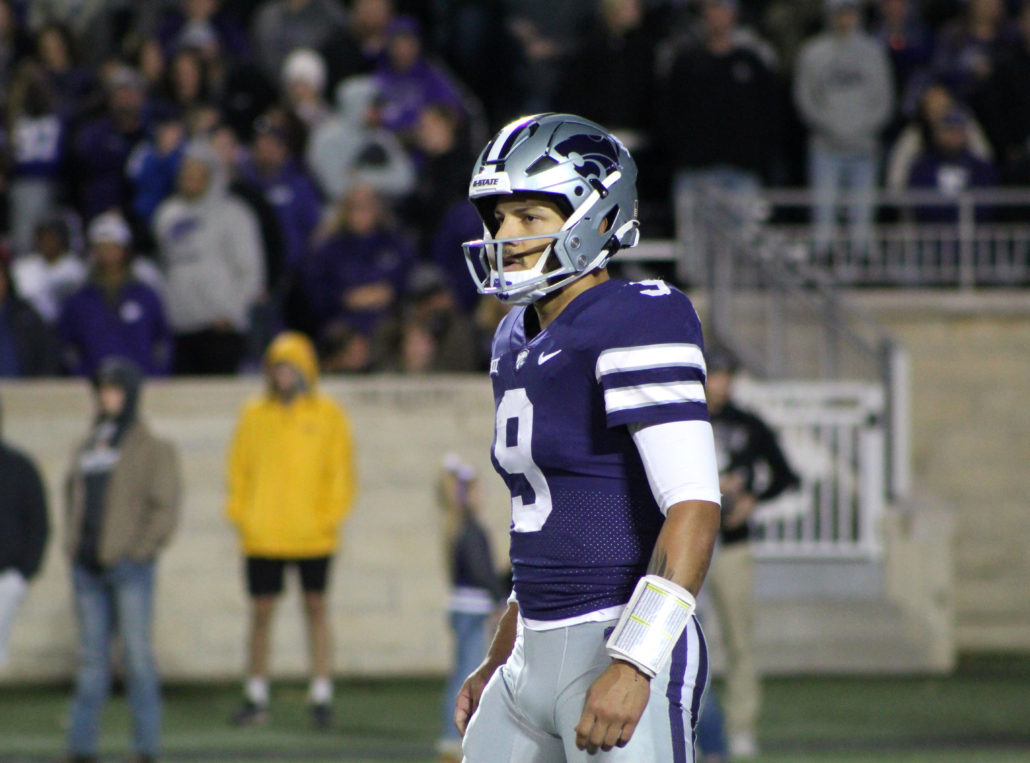 MANHATTAN, Kan. — Kansas State's quarterback was glad to back in the lineup against Texas despite it resulted in a losing effort.
After all, it was the first time Adrian Martinez had played since the first half of the TCU game. In hindsight he expected a little rust in 34-27 loss. However, the Wildcats' sluggish start on defense forced Martinez to answer the bell. And that wasn't an easy task, considering the Longhorns scored a touchdown on each of their first three drives.
Still, Martinez responded by leading the Wildcats on two scoring drives on their first two possessions of the game. He gained more confidence with every snap, and once the Californian settled in, it seemed like he didn't miss a beat.
"It felt like it might have been a month since my last real game," Martinez said. "So a little bit at first in all honesty, but I felt like I was able to get in that groove pretty quickly and felt confident in what we were doing."
Regardless of the effort by Martinez and the offense, Kansas State was still down by three touchdowns at halftime. There's no denying the players had their backs against the wall, but they came out a different team in the second half. The Wildcats' defense held the Longhorns' offense scoreless in the third quarter. Martinez took advantage and pulled the team within a touchdown in the fourth quarter.
The signal-caller was proud that his teammates displayed heart persevered, when they could've folded under pressure. A crowd of 51,216 watched the Wildcats battle back. And Martinez felt they showed a never say die mentality.
"I think it definitely speaks to the character of this team, there's no quit in us, and there definitely won't be after this
game," he said. "We're going to come back even stronger and that's really the trend that's happened this year so far."
After every loss this season the Wildcats have responded with a win. Martinez has no reason to hang his head, considering  he threw for a season-high, 369 yards against Texas. However, Martinez is disgusted that he didn't take better care of the football.
Kansas State (6-3) fumbled the ball three times, but only lost one, which was committed by Martinez. It was the most critical turnover of  the game, and one Martinez wishes he could have back. The former four-star prospect also threw his first interception of the season.
So he understands it's going to take an intense week of practice to get the offense back on track. The offense looked unstoppable against Oklahoma State with Will Howard behind center. And some fans wondered why Howard didn't get some snaps, when the offense stalled at times.
It's always humbling accepting the blame, but Martinez wants to be the solution to the current issue.  And his supporting cast feels the same way. Running back Deuce Vaughn is disappointed the offense didn't execute like expected, but he still has complete faith in Martinez as Kansas State's starter.
"He (Martinez) has a sense that we're behind him, that's one of the things that doesn't have to be spoken," Vaughn said. "He's out there trying to make plays for us to go and win this football game in crunch-time situations."
Kansas State is currently in a three-way tie in second place with Texas and Baylor in the Big 12 standings. It's unfortunate that the Longhorns hold the tiebreaker over the Wildcats. Although the Wildcats no longer control their own destiny, they'll still be in a great position if they win their remaining three games. It all starts with a road clash against the Bears in week 11.
The time has come for Martinez to bring his veteran experience and leadership to the locker room. And the signal-caller believes he has what it takes to carry the Wildcats to the finish line.
"I have ultimate faith in our guys to bounce back and be better next week."