Ranking the Big 12 quarterbacks approaching week 10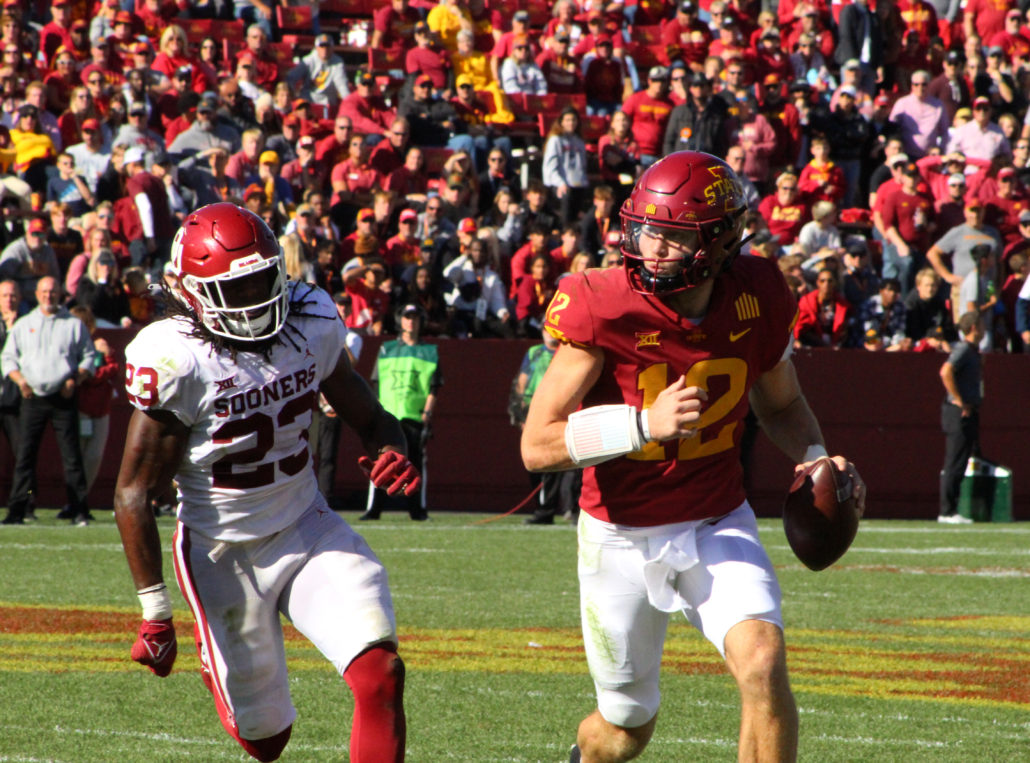 Everything starts to take shape in the month of November.
The Big 12 has had solid play from its' quarterbacks all season long. One has his team in the Playoff race, while a couple of others have their squad in the Big 12 mix. Most teams have four games left, so nothing is set in stone.
That means these individuals can change the narrative on their respective season for better or worse.
10. Hunter Dekkers, Iowa State: He's had a rough campaign in his first season as Iowa State's starter. The Cyclones are the only Big 12 team winless in conference play. The good news is Dekkers is third in the Big 12 and 24th in the FBS in passing yards. The bad news is he leads the league in interceptions. Dekkers has been picked off four times over the past two games, including three last week against Oklahoma. The former four-star prospect has had three outings in which he threw at least two interceptions. So much pressure has been put on Dekkers' shoulders because of Iowa State's abysmal rushing attack. The Cyclones are last in the Big 12 and 119th in the FBS in rushing offense. With four games left on the slate, Dekkers can improve his numbers. Iowa State needs a Big 12 victory though.
9. JT Daniels, West Virginia: The former USC Trojan and Georgia Bulldog has had a tough transition in the Big 12, despite the preseason hype. Daniels started out solid through the first six contests. However, his performance on the field has dwindled over the Mountaineers' two-game losing streak. Daniels has thrown four intercepting during that span, including three against Texas Tech. He's currently ninth in the Big 12 and 87th in the FBS in passing efficiency. Daniels' seven interceptions are the second-worst among Big 12 signal-callers. Not to mention West Virginia has lost three of its' last four games. The Mountaineers are decent overall on offense. However, Daniels has to be more consistent, in order for West Virginia to finish strong down the stretch. After all, Coach Neal Brown's job depends on it.
8. Behren Morton, Texas Tech: He has started the last three games for the Red Raiders, and put up encouraging numbers. Morton threw for a season-high, 379 yards, two touchdowns and an interception against Oklahoma State. The former four-star prospect also had a rushing score against the Cowboys. Morton followed up that performance with 325 yards through the air and two touchdown tosses in the victory over West Virginia. However, Morton is coming off his worst performance of the season. The Texas native only completed 11 of his 34 passes, and was picked off three times in the loss to Baylor. Donovan Smith is still an option for Coach Joey McGuire if he wants to play musical chairs with the two gunslingers. Morton appears to have the momentum at the moment, but Smith has experience on his side.
7. Jason Bean, Kansas: The former three-star prospect has stepped up for the offense with Jalon Daniels on the sidelines. Over the past three games Bean has been pretty consistent with his numbers. He completed 16 passes and threw over 200 yards in each contest. Bean threw four touchdowns apiece against TCU and Oklahoma. The former North Texas Mean Green scored two touchdowns against Baylor. Kansas needs one more victory to become bowl eligible for the first time since 2008. So there's a lot of pressure on Bean to get the Jayhawks to the finish line, with Daniels still dealing with a shoulder injury. Bean will have opportunities to accomplish that feat with four games left on the slate. It all starts with an Oklahoma State team that got crushed in week nine, so Kansas needs to take advantage.
6. Blake Shapen, Baylor: He has kind of been forgotten about because Baylor is currently in the middle of the pack of the Big 12 standings. Shapen's numbers are still decent though. The Louisiana native is third in the conference and 34th in the FBS in passing efficiency. Shapen has 13 touchdown tosses and five interceptions on the season. threw for a season-high, 345 yards against Oklahoma State. The six-foot, 200-pounder passed for 326 yards and two touchdowns at West Virginia. Coach Dave Aranda likes to pound the ball on offense, but Shapen knows how to deliver a great ball when his number is called. Not to mention Baylor is third in the Big 12 and 15th in the FBS in scoring offense averaging 38.2 points per game. Shapen is finding a groove and looking to close out the regular season strong like he did in 2021.
5. Quinn Ewers, Texas: The former five-star prospect has been a spark to the Longhorns' offense since his return. Ewers threw for 289 yards and a season-high, four touchdown tosses in the Red River Rivalry victory. He followed up that performance with three touchdown tosses in the win over Iowa State. Although Ewers threw for a season-high, 319 yards and two touchdowns at Oklahoma State, he was also picked off three times. Texas' offense is putting up great numbers with Ewers behind center though. The Longhorns scored 49 against the Sooners, and 34 against the Pokes. However, it's going to take another stellar performance from Ewers in order for Texas to pull out a victory at Kansas State in week 10. If Ewers can accomplish that, the Longhorns will take that No. 2 spot in the Big 12 standings.
4. Spencer Sanders, Oklahoma State: The Texas native leads the Big 12 in passing yards. Sanders threw four touchdowns apiece against Central Michigan and Arkansas Pine-Bluff. His 406 yards through the air against the Chippewas were a season-high. Sanders also has eight rushing scores, including two apiece in three different games. The former four-star prospect threw for 391 yards in the victory over Texas. However, Sanders is seventh in the Big 12 and 72nd in the nation in passing efficiency. He has been picked off in five of the Pokes' eight games this fall. Sanders is coming off a season-low, 147 passing yards in the blowout loss at Kansas State. His leadership will be put to the test with how the offense responds against Kansas. Everyone is expecting the Pokes to show last week's defeat was a fluke.
3. Dillon Gabriel, Oklahoma: The former Central Florida Knight has made his presence felt in the Big 12 this fall. Gabriel is second in the Big 12 and 17th in the FBS in passing efficiency. He threw for 330 yards and four touchdowns against Kansas State. Gabriel got injured against TCU and missed the Texas game. However, he returned to the gridiron with a vengeance, and threw for a season-high, 403 yards and scored three touchdowns in the victory over Kansas. The Hawaii native followed up that performance with a gutsy win at Iowa State, in which he threw for 148 yards and a score. With Gabriel at the helms Oklahoma scored 45 points against UTEP, 49 against Nebraska and 52 against Kansas. If Gabriel can help his team win their remaining games, the Sooners can climb back in the Big 12 race.
2. Adrian Martinez, Kansas State: Although the former Nebraska Cornhusker is last in the Big 12 and 90th in the country in passing efficiency, he has yet to throw an interception this season. Martinez does a lot of his damage with his legs though, and leads all FBS quarterbacks in rushing yards and touchdowns on the ground. The Californian got injured early against TCU and been sidelined ever since. However, during Martinez's absence, backup Will Howard has filled in nicely. Howard threw for 225 yards and scored two touchdowns against the Horned Frogs. He followed up that outing with the best performance of his career. Howard passed for 296 yard and four touchdowns in the blowout victory over Oklahoma State last week. It's unclear who Klieman plans on starting against Texas this Saturday.
1. Max Duggan, TCU: Everything has come full circle in his final season as a Horned Frog. Duggan is having a Heisman-worthy campaign. Not to mention he has TCU No. 7 in the Playoff rankings. The Council Bluffs native is first in the Big 12 and fourth in the nation in passing efficiency. Duggan is a warrior and plays with that never say die mentality. Which is why he has led the Horned Frogs to multiple comeback wins this year. He threw for 390 yards and five touchdowns against Tarleton, which were both season-highs. Duggan has three touchdown tosses each against SMU, Oklahoma, Kansas State and West Virginia. The Horned Frogs are averaging a jaw-dropping, 44.2 points per game, which is third in the country. There's a bullseye on TCU now, so Duggan has to keep his teammates focused.