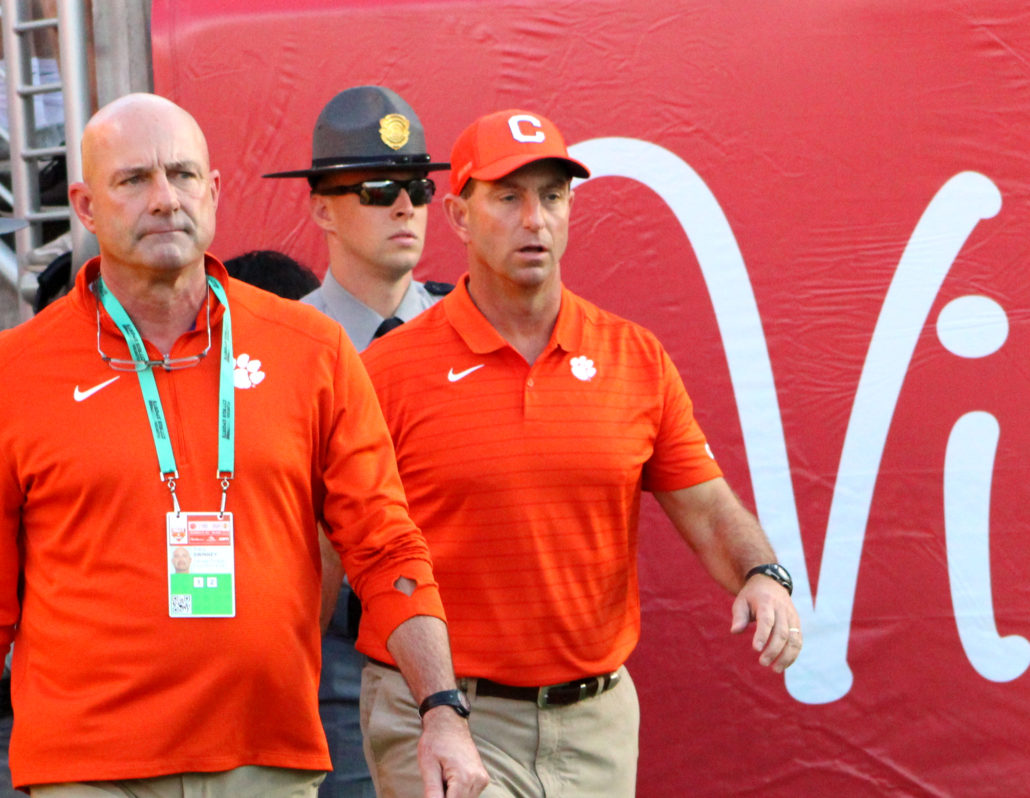 The Playoff Committee raised several eyebrows across College football when they released their first rankings of the season Tuesday evening.
Clemson landing at No. 4 had a lot to do with it, considering its' ranked over undefeated Michigan and TCU. Coach Dabo Swinney is no stranger to a little controversy when it comes to his team being in the Playoff mix.
After all, the Tigers are one of a handful of teams that have had the most appearances in the rankings, since the Playoff era began. Not to mention Clemson has won two National Championships and multiple ACC Titles under Swinney. So there's no denying recent history and brand had a lot to do with the Tigers' ranking.
It's no mystery the ACC is down this season, despite having five teams in the Playoff rankings. However, besides the Tigers, the other four conference teams are ranked 17th and below. Swinney's boys are one of six undefeated teams and they have a clear-cut path to postseason glory as long as they win out.
The Tigers have only beat three ranked teams up to this point. And that has the naysayers frowning upon their No. 4 spot. Clemson beat Wake Forest when it was ranked 21st in the country, NC State when it was 10th and Syracuse last week when it was 14th. It helps the Tigers' resume that the Committee have all of those teams in their initial rankings.
Clemson's four remaining games are very winnable too. Notre Dame is starting to surge. And that should help boost Clemson's strength of schedule. Swinney's squad needs to beat Notre Dame worse than Ohio State did though. Louisville and Miami have underachieved this fall, but have a combined record of 9-7. Clemson has won seven-straight over South Carolina. The Tigers hasn't lost to their in-state rival since 2013.
Clemson (8-0) is fourth in the ACC and 27th in the FBS in total defense, allowing 334.5 yards per game. The Tigers are stingier when it comes to allowing points, and ranks third in the league and 21st in the country in scoring defense. The defensive line is arguably the best in the country. There's a plethora of All-ACC caliber players and future NFL Draft picks in the unit.
Which is why it has been so hard for opponents to run on the Tigers. Clemson's defense is only allowing 87.9 rush yards per game, and just five touchdowns on the ground all season. Still, Clemson's offense is what has everyone skeptical of its' ranking. Quarterback DJ Uiagalelei got benched in last week's narrow win over Syracuse, and true freshman Cade Klubnik had to carry the team to the finish line.
Regardless of the matter, Swinney is back to ruling the ACC with an iron fist and that's what has caught the Committee's attention. Being in the driver's seat and controlling their own destiny is something the Tigers are used to. There's still a lot of football left to be played though. At the moment Clemson fans have to be pleased with where their team stands after the first Playoff rankings.