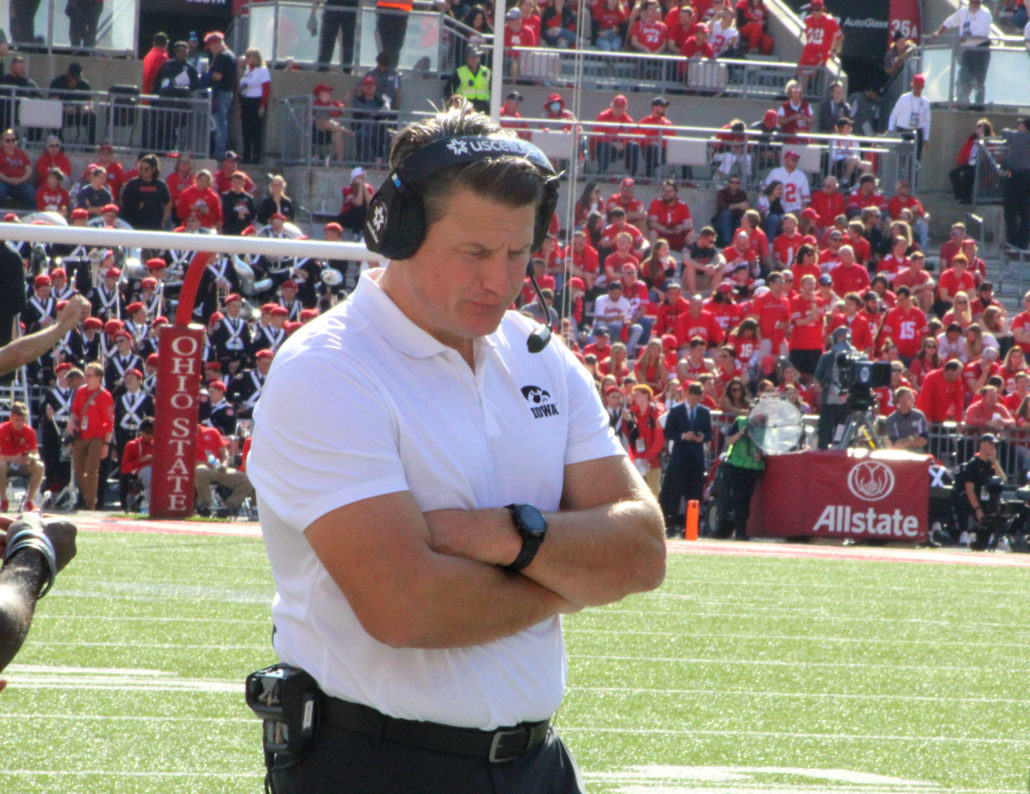 COLUMBUS, Ohio — It's no mystery that Iowa's offense is at a all-time low.
And the numbers don't lie. The Hawkeyes are dead last in the entire FBS in total offense.
All of the unit's weaknesses got exposed in a major way at Ohio State Saturday. Six turnovers, no offensive touchdowns and scoreless in the second half pretty much sums up Iowa's performance on that side of the ball.
The Buckeyes limited the Hawkeyes to 158 yards of total offense, which was their second-lowest output of the season. Ohio State's defense also generated five sacks. For a second-straight game, the offense failed to find the end zone.
Fans are livid with Iowa's offensive production, and Coach Kirk Ferentz can feel the pressure to make changes. After all, Ferentz raised several eyebrows when he decided to bench quarterback Spencer Petras and inserted Alex Padilla.
A reporter asked Ferentz during his post game press conference if he'd consider making staff changes for the remaining five contests. And he quickly downplayed the question.
"I've never done that in my career and don't plan on starting it right now," Ferentz said. Our approach has always been to address what's out there, see what we can do to improve and it's been consistent for almost 24 years now."
His son Brian is Iowa's Offensive Coordinator, and fans believe that entire situation is nepotism at its' finest.
Several fans have called for Brian's job, and criticized him on social media. Others believe he should just stick to something simpler like coaching the offensive line.
However, Brian works closely with the quarterbacks and that position has been a nightmare for Iowa this fall.
Although the Hawkeyes had an extra week to prepare for the Buckeyes, Petras still threw an interception on the first play of the game. He also fumbled the ball away. Not to mention an Ohio State defender picked Petras off and returned it for a touchdown before he finally got benched.
Padilla was thrown to the wolves in front of a crowd of nearly 105,00 fans. He obviously wasn't ready for the moment and committed two additional turnovers for the offense.
Fans are demanding answers and something has to give. Regardless of the matter, Ferentz continues to stick to his word, even with the offense being a complete embarrassment in 2022. And he refuses to let outside influences persuade his decision.
"Nobody does everything perfect, never been in that situation," he said. "Certainly you never play perfect, you never coach perfect."
Iowa (3-4) is in jeopardy of having a losing season for the first time since 2012, if the offense can't turn the corner. Having no running game, poor protection from the offensive line and spotty quarterback play is a bad recipe while navigating through the Big Ten meat grinder.
Still, Ferentz is optimistic about the adjustment the rest of the way, and he plans on keeping his staff intact during the process.
"I think we got a good offensive staff, I think we got good leadership and we're just going to keep pushing forward."