Jonathan Smith confident his Beavers have arrived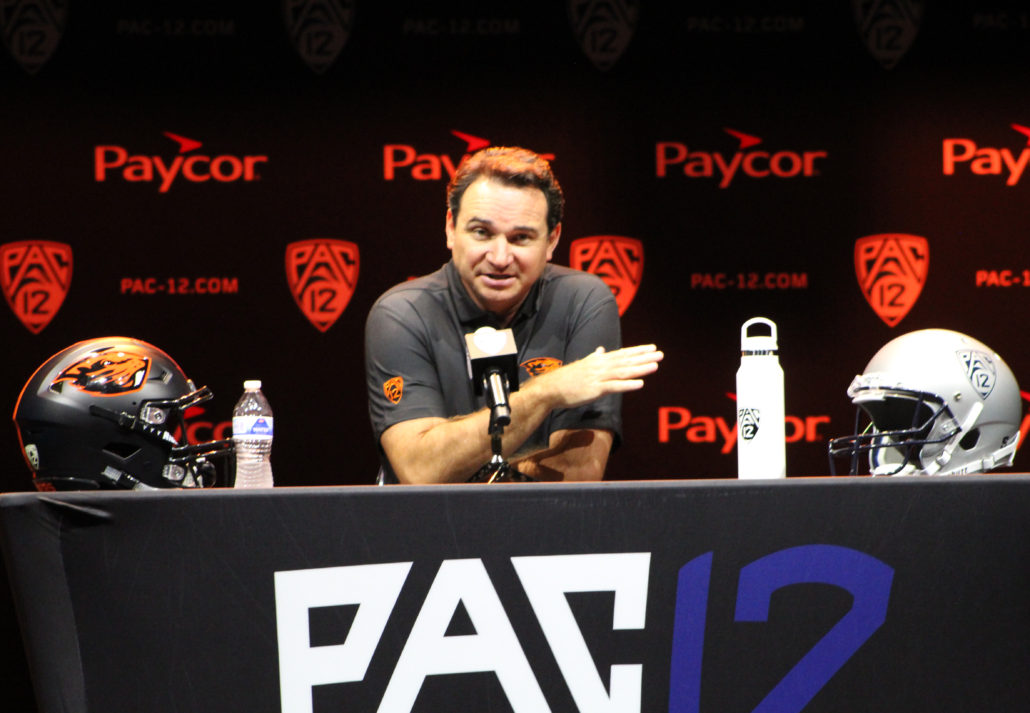 LOS ANGELES — Last season the Oregon State Coach finally got his alma mater over the hump.
Jonathan Smith led the Beavers to their first winning campaign since 2013. It was also the first time since 2012 that the program finished with a winning record in conference play. Not to mention Oregon State was the only Pac-12 team that defeated Utah in 2021.
Smith is looking to build on last year's momentum, and returns some key pieces, including quarterback Chance Nolan. The former Juco got off to a fast start, with 847 yards passing yards, nine touchdowns and two interceptions through through the Beavers' first four games. Smith believes Nolan is just cracking the surface on his potential, and is in awe of his maturation process.
"What I love about Chance is how competitive he is and I think he displays that in his style of play," Smith said. "Being competitive in the pocket, but also extending the play, getting some extra yards and gaining first downs."
Having safety net Luke Musgrave helps Nolan also, considering the tight end hauled in 22 passes last year. Tre'Shaun Harrison was Oregon State's second-leading receiver and now he's poised to to fill the void Tevon Bradford left behind. Running back Trey Lowe contributed in the passing attack also, with 22 catches out of the backfield.
Smith knows everything starts with the big boys up front though, and the Beavers' offensive line is very experienced. The unit only allowed 14 sacks over the last 13 games, which tied for seventh-best in the country.
However, Smith will have to find a replacement for 1,000-yard rusher B.J. Baylor, who's now on the Green Bay Packers roster. And the coach is excited about the depth in the running back room.
"We do pride ourselves on being able to run the football," he said. "Now we're counting on another guy or two stepping up into that role this year, and I think we've got some guys that can do it."
The rushers who've been on Smith's radar in fall camp are Lowe, Deshaun Fenwick and true freshman Damien Martinez. Fenwick is the bruiser, who backed up Baylor, and finished second on the team in carries and rushing yards. His 127 yards on the ground and two touchdowns at Washington State, were both season-highs. Lowe is the all-purpose back, with soft hands and Martinez dazzled the staff throughout spring ball.
On the other side of the ball is where Smith is expecting the biggest improvement, despite losing All-Pac-12 performer Avery Roberts, who was the heart and soul of Oregon State's defense. Smith is expecting a smooth transition though, because of the talent and depth in the linebacker room.
"I do think we have some up-and-comers that have played the inside linebacker position for us, one of them being Omar Speights, who is really right next to him (Roberts)," the 43-year old coach said. "He'll be a three-year starter this fall, had close to a hundred tackles this last season and we're counting on Omar taking a huge step in that role."
The Beavers are also loaded with experience on the defensive line and in the secondary. So Smith is expecting his defense to improve. Just anything to be better than ninth in the league in total defense.
It took four seasons, but Smith has brought some credibility back to the program. Now Smith is ready to prove last season's success was no fluke. It only adds more motivation after the Beavers were No. 5 in the preseason Pac-12 media poll last week.