Ranking the ACC's best coaches of 2022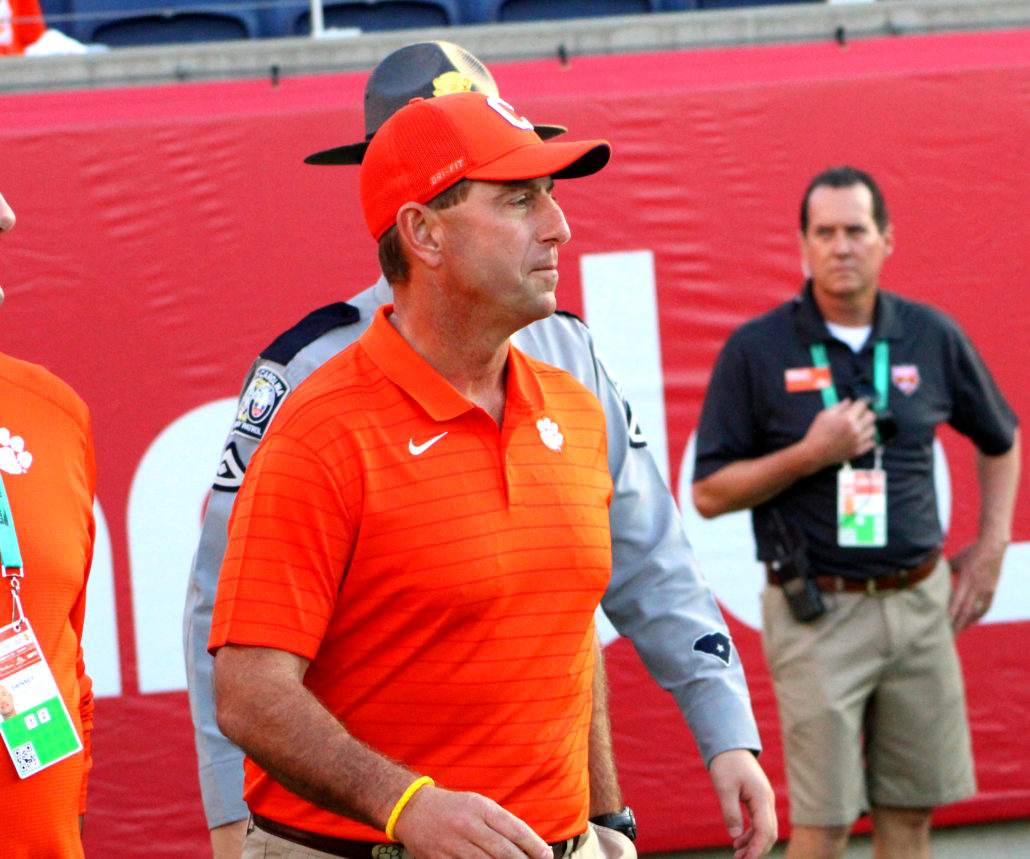 It's not just a basketball conference.
The ACC is full of solid football coaches, including two future Hall of Famers. The addition of Mario Cristobal at Miami brings more credibility to the league also. Out of the 14 teams, four of them will have new faces patrolling the sidelines. For years Clemson has been the 800-pound gorilla on top of the conference, but now the ACC is full of parity.
With a plethora of elite quarterbacks returning in 2022, the ACC has a chance at landing at least one team in the Playoffs. Regardless, these 14 coaches are poised to add to their legacies this fall and bring respect back to the league.
14. Geoff Collins, Georgia Tech: The former linebacker was a defensive assistant in the SEC for several years before he became Temple's head coach. Collins spent two seasons with the Owls and generated a 15-10 record, which included a bowl victory. However, the hometown kid's success didn't follow him to Georgia Tech. After three-straight years of three-win campaigns with the Yellow Jackets, Collins is 9-25 overall, including a 7-18 mark in ACC play. It's tough following a legend like Paul Johnson, but Collins has a lot of work to do to get Georgia Tech back competitive. After the Yellow Jackets lost four of their final five games, and got shutout at home, Collins has nowhere to go, but up. Something has to give with the offensive scheme though, after Georgia Tech finished 92nd in the FBS in total yards per game.
13. Mike Elko, Duke: The former safety has an Ivy League background, and spent several seasons as an assistant at the FCS level. Elko was a Defensive Coordinator at Wake Forest for three years, so he has experience in the ACC. Not to mention his defenses improved every season he was in Winston-Salem. Elko orchestrated Notre Dame's defense for one season before spending the past four years at Texas A&M. College Station is where Elko made a name for himself. The Aggies finished ninth in the FBS in total defense in 2020, and 14th last season. Elko has a knack for developing his players. Over the past four years Texas A&M has had eight defenders drafted. Now Elko is replacing David Cutcliffe, who was the ACC's longest-tenured coach. Elko will have Duke more physical, and the schedule is favorable in 2022.
12. Dino Babers, Syracuse: The 61-year old has a coaching background that dates back nearly 40 years. Babers is a former Hawaii running back, who was an assistant for several seasons in the Pac-12 and Big 12, before he became a  head coach at Eastern Illinois. He spent two seasons with the Panthers, and stockpiled 19 victories, plus two OVC Titles. Babers' two-year tenure at Bowling Green ended with 18 wins and a MAC Championship. However, Babers' success didn't follow him to Syracuse. The Hawaii native put together a 10-3 campaign in 2018, but that was his highest mark after six seasons on the job. The Hawaii native is 33-43 overall with the Orange, including a 15-35 mark in ACC play. Syracuse also ended 2021 on a three-game losing streak. No doubt Babers needs to get his team to a bowl this fall.
11. Tony Elliott, Virginia: The Californian was an architect as Clemson's Offensive Coordinator for the past seven seasons. During that span Elliott helped groom quarterbacks Deshaun Watson and Trevor Lawrence into National Champions. Not to mention Elliott won the Frank Broyles Award as the nation's top assistant coach in 2017. He has an eye for talent, and recruited Travis Etienne, who became Clemson's all-time leading rusher, and a first round NFL draft pick. The 42-year old has spent his entire coaching career in the state of South Carolina. However, Elliott's time with Clemson as a player and an assistant will help with being a first-time head coach in the league. Inheriting All-ACC gunslinger Brennan Armstrong gives Elliott options on offense, and should make his first year a smooth transition.
10. Brent Pry, Virginia Tech: He was the right man for the job after the Hokies parted ways with Justin Fuente. Pry is a Pennsylvania native, who started out as a Graduate Assistant at Virginia Tech. The 52-year old knows the DMV area like the back of his hand, which will be vital in recruiting against the likes of Maryland and Virginia. Not to mention Pry's hometown is only a five hour drive from campus. Pry was James Franklin's Defensive Coordinator at Vanderbilt and Penn State. The Nittany Lions finished third in the Big Ten in total defense in 2020, and fourth last season under Pry's watch. Hokie fans will be expecting Pry to have that type of impact in Blacksburg, especially after their team finished 78th in the FBS in total defense last year. Virginia Tech is a sleeping giant and Fuente didn't leave the cupboard bare.
9. Mike Norvell, Florida State: The Texas native was an Offensive Coordinator at Pittsburgh and Arizona State before becoming Memphis' head coach. During Norvell's four-year tenure with the Tigers, he generated a 38-16 record and won a AAC Title. However, Norvell hasn't sustained that same success with the Seminoles. He's been having an uphill battle cleaning up the mess left by Jimbo Fisher and Willie Taggart. Even Deion Sanders has snatched players out of Florida State's backyard in recruiting. Over the past two seasons in Tallahassee, Norvell has registered an 8-13 record, including a 6-10 mark in ACC play. Although Norvell improved Florida State's win total from year one to year two, the program still suffered a fourth-straight losing campaign. Norvell is slowly turning the corner and won four of his last six ACC games.
8. Jeff Hafley, Boston College: The 43-year old has spent time as a defensive assistant in the NFL, Big East and Big Ten. Hafley's specialty is defensive backs. He also helped orchestrate Ohio State's defense in 2019, when the unit allowed only 13.7 points per game. Hafley replaced Steve Addazio and has led Boston College for the past two seasons. During that span he has compiled a 11-11 record, including a 7-11 mark against ACC opponents. Although Hafley led the Eagles to a winning season in 2020, the team has lost six of their last eight games overall. However, Hefley improved the Eagles' defense from year one to year two. Boston College catapulted from 73rd to 28th in the FBS in total defense last season. With a healthy Phil Jurkovec behind center, the Eagles could potentially make a run in the Atlantic.
7. Scott Satterfield, Louisville: The former Appalachian State quarterback spent several years as an assistant at his alma mater before he became the school's head coach. Satterfield racked up 51 victories and won a Sun Belt Title during his six-year tenure with the Mountaineers. He wound up being Louisville's consolation prize after it failed to lure in Jeff Brohm from Purdue. After three seasons with the Cardinals, Satterfield has posted an 18-19 record, including a 12-14 mark against ACC foes. During that span Satterfield only had one winning campaign, which was his first season with the program. The Cardinals have lost four of their last six games. However, Louisville finished 21st in the FBS in total offense, and returns dynamic quarterback Malik Cunningham. Satterfield could be poised for his best season yet.
6. Mack Brown, North Carolina: He's the oldest coach in the ACC, but still has plenty of tread left on his tires. Brown's coaching resume dates back to the early 1970's. The 70-year old's first head coaching gig was at Appalachian State in 1983, when he led the school to a 6-5 record. Brown later coached three seasons at Tulane and won 12 games during that span. His first stint at North Carolina is what put him on the map. Brown stockpiled 69 victories through a 10-year tenure with the Tar Heels. At Texas Brown became a legend and won 93 games, including three Big 12 Titles and a Natty. The Tennessee native left the broadcasting booth for a second stint at North Carolina, and hasn't missed a beat. The Tar Heels have a 21-17 record over the past three years under Brown's watch, including a 14-12 mark in ACC play.
5. Dave Clawson, Wake Forest: What he has accomplished with the Demon Deacons is nothing less than remarkable. Clawson been patrolling the sidelines at Winston Salem since 2014. During that span the 54-year old has led Wake Forest to 51-48 record. That's mind-boggling, considering the program doesn't have the luxuries and resources of the other ACC schools. Last season Clawson led the Demon Deacons to 11 wins, which was their most since 2006. Not to mention the New York native won his first eight games in 2021, which was the best start in program history. Although Clawson is 26-38 against ACC opponents, he still has led Wake Forest to five winning campaigns. With the return of All-ACC performers Sam Harman, A.T. Perry and a stout defense, Clawson could potentially be fielding his best team yet.
4. Dave Doeren, NC State: The San Diego native's coaching career dates back to the mid 1990's. Doeren was a Defensive Coordinator at Kansas and Wisconsin before he became the head coach of Northern Illinois. In two seasons with the Huskies he stockpiled a jaw-dropping, 23-5 record and won two MAC Titles. Doeren has spent the past nine seasons at NC State, and he's the second-longest tenured coach in the ACC. During that span Doeren has registered a 64-49 record, including a 34-40 mark in ACC play. Leading the Wolfpack to seven winning campaigns, including three bowl victories is a major accomplishment for the 50-year old. Doeren has also won eight of his last 10 games overall, and NC State is looking like legit contenders in the Atlantic in 2022. Having quarterback Devin Leary back is a plus.
3. Mario Cristobal, Miami: The 51-year old started out his coaching career as a graduate assistant at Miami. Cristobal also worked four years under Nick Saban, which expanded his football knowledge. He's coached the past four seasons at Oregon and ruled the Pac-12 with an iron fist. During his tenure the Ducks posted a 35-13 record, including a 25-10 mark against Pac-12 opponents. Not to mention Cristobal led Oregon to back-to-back conference titles, and three-straight appearances in the Pac-12 Championship Game. Cristobal also gained notoriety as an elite recruiter, and lured a plethora of four and five-stars to Eugene. Now the Miami native is back at his alma mater and determined to make The U a national power again. Manny Diaz didn't leave the cupboard bare, and the Canes will be a threat in the Coastal.
2. Pat Narduzzi, Pittsburgh: He established himself as an elite Defensive Coordinator at Michigan State. Narduzzi even won the Frank Broyles Award as the nation's top assistant in 2013. The 55-year old has been with the Panthers since 2015. During that span he has posted a 53-37 record, including a 37-23 mark against ACC opponents. Last season Narduzzi led Pittsburgh to its' first-ever ACC Title. Not to mention quarterback Kenny Pickett won the Johnny Unitas Golden Arm Award, and wideout Jordan Addison landed the Biletnikoff. Narduzzi has delivered five winning campaigns in his seven-year tenure with the Panthers. He'll have a loaded team again in 2022. However, Narduzzi won't have Offensive Coordinator Mark Whipple or Pickett, and Addison entered his name in the transfer portal earlier this month.
1. Dabo Swinney, Clemson: The 52-year old has owned the ACC for nearly a decade. Not only has Swinney captured two National Championships, but he also won a jaw-dropping, seven ACC Titles. Clemson has clinched six Playoff berths and appeared in four National Championship Games under Swinney. Not to mention he's the longest-tenured coach in the league, and one of the country's top recruiters. There's no denying the Tigers had one of the best dynasties of the past decade. Swinney has gone 150-37 during his time with Clemson, including a 98-20 mark against ACC opponents. The Alabama native has groomed the likes of Deshaun Watson and Trevor Lawrence into first round NFL Draft picks. However, Swinney will have his biggest coaching challenge to date, replacing both of his longtime Coordinators in 2022.