Ranking the SEC's best coaches of 2022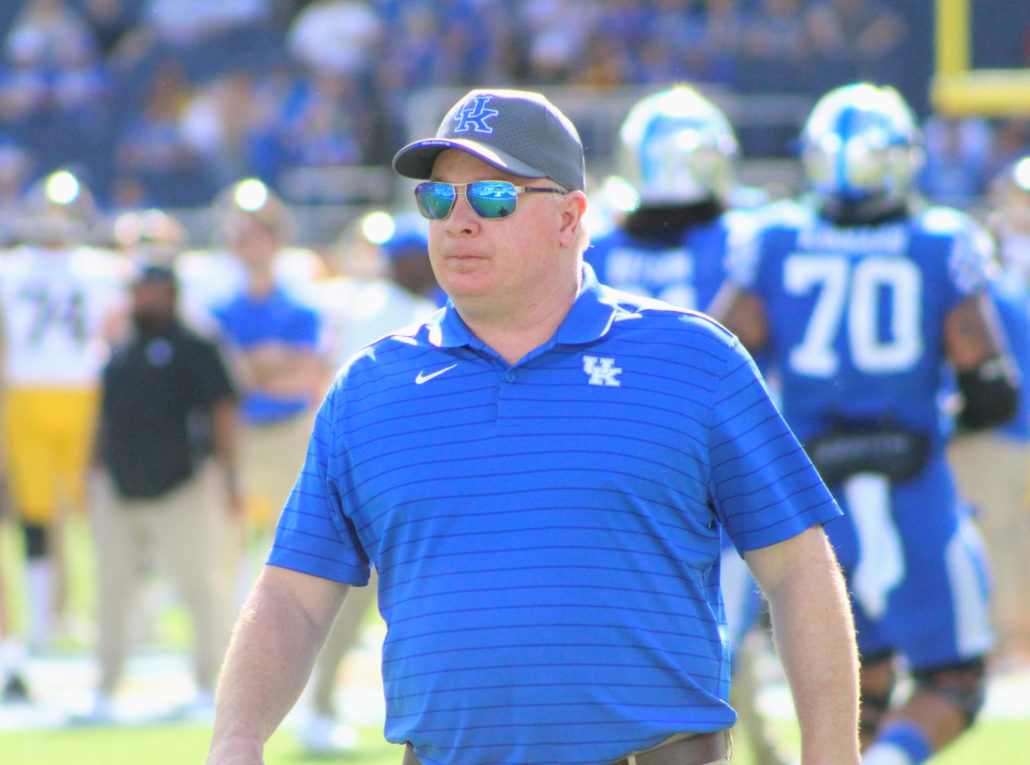 It has the best collection of coaches a Power Five conference could ask for.
With three coaches who've won a National Title, and others who've captured conference championships at other programs, the SEC has star power from top to bottom. One division is the toughest in all of College football, while the other contains the reigning National Champs.
The league takes recruiting, speed, and physicality to another level. Not to mention having these 14 coaches on the sidelines will turn the SEC into the baby NFL in terms of coaching and talent. So much blood, sweat and tears through the years has gained the SEC notoriety as the top conference in the sport.
Now the 2022 season will be one of the most anticipated ones in quite some time because of these 14 individuals.
14. Clark Lea, Vanderbilt: The hometown kid made a name for himself as Notre Dame's Defensive Coordinator for three seasons. During that span Lea's defenses finished in the top-15 every year in points allowed per game. In 2021 Lea led his alma mater to two victories in his first year on the job. Although the Commodores looked improved under the 40-year old, they still went winless in SEC play for a second-straight season. Not to mention Vanderbilt left a fat goose egg on the scoreboard in two conference tilts. The Nashville native's impact on the defensive side wasn't much either. The Commodores finished dead last in the league in scoring and total defense. No coach has been successful at Vanderbilt since James Franklin's tenure, so Lea clearly has his work cut out for him. Still, he's the right man for the job.
13. Bryan Harsin, Auburn: He won 69 games in seven seasons at Boise State, including three Mountain West Titles. However, Harsin's first year on the Plains was very underwhelming. Not only did the Tigers suffer their first losing season since 2012, but Harsin was investigated about his conduct within the program. Auburn also ended 2021 on a five-game losing streak. Three-year starting quarterback Bo Nix transferred after the Tigers finished 11th in the SEC in total offense. In response, Harsin fired Offensive Coordinator Mike Bobo. Austin Davis replaced Bobo, but only stayed on the job for six weeks before Harsin promoted Eric Kiesau in his absence. Harsin replaced Defensive Coordinator Derek Mason with Jeff Schmedding, and landed quarterback Zach Calzada from the transfer portal for a fresh start.
12. Eliah Drinkwitz, Missouri: The Oklahoma native's 2019 season with Appalachian State resulted in 12 victories and a Sun Belt Title. Drinkwitz' success raised some eyebrows, because he was a first-time head coach, and that was his only year with the Mountaineers. However, he quickly found out that the speed, physicality and coaching in the SEC is on another level. After the past two seasons at Missouri, Drinkwitz has yet to deliver a winning campaign. The Tigers have also lost seven of their last 10 SEC games. The 39-year old is an offensive-minded coach, but the numbers Missouri has generated under his watch, is nowhere near what Drinkwitz accomplished at Appalachian State. Drinkwitz had to replace his Defensive Coordinator. Anything helps after Missouri finished 13th in the league in scoring defense last year.
11. Shane Beamer, South Carolina: He's the son of Hall of Famer Frank Beamer, so coaching is in his DNA. Beamer has also been an assistant on both sides of the ball. The South Carolina native won more games in one season with the Gamecocks, than Will Muschamp did in his final two combined with the program. Not to mention Beamer led South Carolina to its' first bowl victory since the 2017 season. It took some time for the 45-year old to adjust to the style of play in the SEC, but Beamer closed out conference action strong. The Gamecocks won three of their final five SEC games, which all transpired in front of the Garnet and Black faithful at William Brice Stadium. Now South Carolina has momentum approaching the fall, after Beamer reunited with former Oklahoma quarterback Spencer Rattler.
10. Billy Napier, Florida: He won a jaw-dropping, 40 games in four seasons at Louisiana-Lafayette. Napier also led the Ragin' Cajuns to their first outright Sun Belt Title in 2021. Although Napier upset a ranked Iowa State team in 2020, he was 0-3 against SEC competition during his tenure in the Sun Belt. Still, his success impressed Florida enough to give him a nod. Under Napier's watch, quarterback Levi Lewis broke single-season passing records and became the Ragin' Cajuns' all-time leader in touchdown tosses. Napier also takes pride in protecting the house. The Tennessee native only lost two home games over his final three seasons, and the Gators could use that intimidating aura at the Swamp again. History shows that assistants who've worked under Nick Saban usually succeed as head coaches in the SEC.
9. Josh Heupel, Tennessee: The former Oklahoma quarterback won 28 games and an AAC Title in three seasons at Central Florida. Heupel proved his success was no fluke in his first year with the Volunteers and generated nine victories in 2021. The 45-year old made an immediate impact in the SEC, as Tennessee finished third in the league, and ninth in the FBS in total offense. Heupel is becoming a quarterback's guru too. After all, he was the Sooners' last signal-caller to win a National Championship, so he knows what's required on the gridiron. In 2017, Drew Lock threw for 44 touchdowns for Missouri under Heupel's direction. His scheme sparked a fire in Hendon Hooker, and the gunslinger ranked first in the league in passing efficiency last season. Now Heupel appears to have the Volunteers a year ahead of schedule.
8. Mike Leach, Mississippi State: He's the Air Raid wizard, who gained notoriety for his infamous aerial attack that revolutionized today's game. Leach is one of three current SEC coaches to lead three different Power Five programs to a bowl game. The California native never suffered a losing season during his 10-year tenure at Texas Tech. Leach stockpiled 86 victories with the Red Raiders, and left as the program's all-time winningest coach. In eight seasons at Washington State, Leach made six bowl appearances. His first two seasons at Mississippi State resulted in two bowls. Leach's Air Raid is starting to take shape in the SEC. Last year quarterback Will Rogers broke single-season school records for completions, passing yards and touchdown tosses. Rogers was also No. 1 in the SEC in passing yards per game.
7. Sam Pittman, Arkansas: The 60-year old has only completed two seasons with the Razorbacks, but clearly has them a year ahead of schedule. Pittman had Arkansas competitive in his first year on the job. The players performed with more passion and discipline than they ever did under Bret Bielema and Chad Morris. However, last season Pittman made a name for himself in the SEC. Not only did the Razorbacks win nine games, but they finished Pittman's second campaign ranked in the final AP Poll for the first time since 2011. Arkansas also won five of its' final six games, including the bowl clash against Penn State. Quarterback K.J. Jefferson blossomed under Pittman's direction, and finished 10th in the FBS in passing efficiency last season. Receiver Treylon Burks became a first round NFL Draft pick.
6. Mark Stoops, Kentucky: The former Iowa defensive back spent time as an assistant in the Big Ten, Big East, Pac-12 and Big 12 before becoming a head coach in the SEC. Stoops is from the legendary Hayden Fry coaching tree. The 54-year-old has built Kentucky into a respectable SEC program. He's also the second-longest tenured coach in the league. Stoops is 59-53 in nine seasons with the Wildcats. Not to mention 33 of his victories happened over the past four years. The Ohio native was the SEC's Coach of the Year in 2018. Although Stoops is 29-45 overall in SEC play, Kentucky still ended last season on a four-game win streak, which is currently the longest in the conference. Stoops has proved he can develop his players to their fullest potential too. A jaw-dropping, 21 Wildcats have been drafted during his tenure.
5. Lane Kiffin, Ole Miss: The Nebraska native is loved by few and hated by many, but has one of the best offensive minds in today's game. He's the son of legendary Defensive Coordinator Monte Kiffin, and been around coaching his entire life. Kiffin is the self-proclaimed Portal King, who's led four different FBS programs to a bowl game. Not to mention he's been a head coach for two NFL franchises. Kiffin won seven games in his lone season with Tennessee. The 47-year old generated 28 victories through three and a half seasons with USC. Kiffin stockpiled 27 wins and two Conference-USA Titles in three seasons at Florida-Atlantic. In his second year with Ole Miss, Kiffin orchestrated a 10-2 campaign during the regular season. The quarterback guru molded Matt Corral into a third round NFL draft pick.
4. Jimbo Fisher, Texas A&M: The 56-year old is one of three current SEC coaches with at least one National Championship. Fisher is arguably Nick Saban's most successful portege, who won three ACC Titles, a Natty, and clinched a Playoff berth with Florida State. It's never easy replacing a legend, but Fisher made the Seminoles a national power again after the late great Bobby Bowden retired. Fisher stockpiled 83 wins in eight seasons in Tallahassee. Not only did he coach a Heisman Trophy winning quarterback, but Fisher also helped Kellen Mond break several school passing records at Texas A&M. Fisher is the only coach to beat Alabama during the regular season over the past two years. The West Virginia native has gone 25-10 in three seasons with the Aggies, including a 16-9 mark in SEC play.
3. Brian Kelly, LSU: All he does is win everywhere he goes. Kelly won two Division II National Championships at Grand Valley State. Not only did he lead Central Michigan to a MAC Title in 2006, but he also orchestrated an undefeated regular season at Cincinnati in 2009. The Massachusetts native had a highly successful 12-year tenure with Notre Dame. Kelly racked up 113 victories with the Fighting Irish and left as the program's all-time winningest coach. Not to mention Kelly led Notre Dame to an appearance in the BCS National Championship Game and made two Playoff appearances. The 60-year old brings instant credibility to Baton Rouge and will have better talent. The SEC West is the toughest division in College football, but it'll work in Kelly's favor when it boils down to a easier path to the Playoffs.
2. Kirby Smart, Georgia: Although the Alabama native is a Nick Saban protege', he's building his own great legacy in the SEC. In six seasons with Georgia, Smart has racked up 66 victories, and gone 42-13 against SEC opponents. Not to mention he's won an SEC Title and a National Championship, plus he played for all of the marbles twice. Although the Bulldogs didn't win a SEC Title or deliver a perfect season in 2021, they was still victorious in the game that mattered the most. Smart finally beat Nick Saban and brought the hardware back home to Athens for the first time since 1980. The 46-year old is arguably the nation's best recruiter and coaches his players up to their potential. Georgia broke the modern day NFL Draft record with 15 players selected this year. And Smart's roster is still loaded with five-star talent.
1. Nick Saban, Alabama: He's a first-ballot Hall of Famer once he decides to retire. Saban is the most successful coach in College football history, with a jaw-dropping, seven National Championships and 10 SEC Titles. The 70-year old has won at least one Natty at two different SEC schools. Saban is a recruiting icon, who revolutionized how to student-athletes are researched, targeted and signed. Ole Miss' Kiffin, Georgia's Smart, Texas A&M's Fisher, Maryland's Mike Locksley, Michigan State's Mel Tucker and Texas' Steve Sarkisian worked under Saban at some point of time in their careers, and he molded them all into better coaches. Alabama has arguably the best dynasty ever in the sport because of Saban. The program has had two Heisman winners and 113 players drafted, including 41 first rounders during his tenure.