Ranking the SEC's best quarterbacks of 2022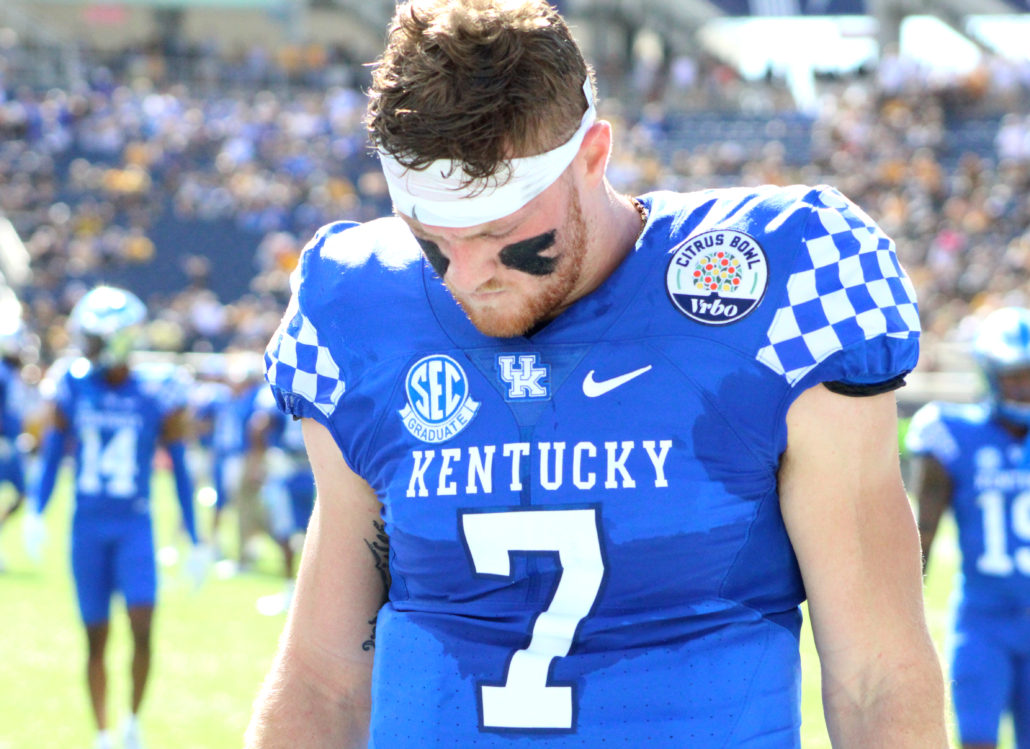 It's the almighty SEC.
There's no denying the league is stacked with elite gunslingers in the top half for the upcoming season. Not to mention several other young signal-callers are ready to prove themselves. In a conference that's synonymous with speed and physicality, the quarterbacks face some of the country's best defenses week in and week out.
Now that 11 of the 14 teams are done with spring ball, the rest of the College football world has an idea of what they have in store for the fall. Although nothing is set in stone yet, these 14 student-athletes are poised to be the face of their respective programs in 2022.
14. Brady Cook, Missouri: The former three-star prospect was Connor Bazelak's backup last season, and played well behind center. Cook completed all five of his passes, including a touchdown toss in the victory over SE Missouri State. He even completed 14 of his 19 passes against Georgia. Cook's best performance was in the bowl game against Army, when he threw for 238 yards and scored two total touchdowns. The six-foot-two, 207-pounder was in a heated battle with fellow St. Louis native Tyler Macon throughout the spring. They combined for 380 passing yards and two touchdown tosses in the spring game. Cook played better as the event went along, and Macon threw two interceptions.
13. AJ Swann, Vanderbilt: The true freshman is an early enrollee, who impressed many with his strong arm throughout spring ball. Coach Clark Lea is back at his alma mater and has three capable starters at quarterback. Mike Ford and Ken Seals split snaps in 2021. Ford finished the year with 1,042 yards through the air, 372 on the ground and scored nine touchdowns. Seals led the team in interceptions. All three showed bright spots during the spring game. Ford dashed for a 56-yard touchdown on the first drive of the contest. Seals led the offense on a nine-play, 55-yard touchdown drive in the second quarter. Swann led a scoring drive to end the first half, and has the highest ceiling of the three gunslingers.
12. Jaxson Dart, Ole Miss: The Utah native put up decent numbers while splitting snaps with Kedon Slovis at USC in 2021. Dart threw for 391 yards and four touchdowns in the victory at Washington State, which were both season-highs. He had 325 passing yards against UCLA, and 248 the following week against BYU. Although Jeff Lebby left to become Oklahoma's Offensive Coordinator, Ole Miss has a suitable play-caller in Charlie Weis Jr., who'll also be directing the quarterbacks. This spring Dart has been in a heated battle with freshman Luke Altmeyer, who backed up Matt Corral as a true freshman last season. Saturday's spring game will provide a measuring stick for both signal-callers.
11. Jayden Daniels, LSU: He's considered one of the best dual-threat quarterbacks in the country. Over the past three seasons at Arizona State, Daniels stockpiled 6,025 yards through the air, 32 touchdown tosses and 13 interceptions. The 21-year old rumbled for 1,288 yards on the ground and 13 rushing scores during that span. Daniels transferred to LSU in early March and is currently in a heated battle with three other gunslingers on Brian Kelly's roster. Myles Brennan, Garrett Nussmeier and Walker Howard are all taking snaps in spring ball. Brennan threw for 11 touchdowns in 2020, Nussmeier had 329 yards through the air last season, and Howard in an early enrollee.
10. Zach Calzada, Auburn: He is the only quarterback in the country to beat Alabama during the regular season since Joe Burrow. Calzada had a promising campaign with Texas A&M last year. The Georgia native stepped in for the injured Haynes King and led Texas A&M to a comeback victory over Colorado. Calzada went 6-4 as the Aggies' starter. The former three-star prospect put up solid numbers in SEC play too, including 1,577 passing yards, 11 touchdown tosses and seven interceptions. Although Calzada didn't play in the A-Game, he participated in non-contact throwing drills and learned the playbook. Signal-caller TJ Finley played decent in his absence, but was inconsistent with his throws.
9. Will Rogers, Mississippi State: Last year he broke single-season school records for completions, passing yards and touchdown tosses. Rogers tied for seventh in the FBS, and second in the SEC with 36 touchdown passes. His 4,739 yards through the air ranked third in the country. Not to mention he was No. 1 in the SEC in passing yards per game. Rogers completed 50 passes for 419 yards at Memphis, which were both season-highs. The Mississippi native's six touchdown passes in the victory over Auburn were also a season-high. Now he's in his third season in Mike Leach's Air Raid system. Rogers completed 25 of his 41 passes for 255 yards and a touchdown in the spring game last Saturday.
8. Anthony Richardson, Florida: The hometown kid gained valuable experience as Emory Jones backup in 2021. He threw for 529 yards, six touchdowns and five interceptions. Richardson also rushed for 401 rushing yards, three touchdowns and averaged a jaw-dropping, 7.9 yards per carry. He's a superb athlete, who can do backflips and dunk basketballs. Not to mention Richardson earned Freshman All-SEC honors. The former four-star prospect looked very impressive in the spring game with his accuracy and explosiveness. Richardson led the Blue team to three-straight touchdown drives and threw for two scores in the first first half. New Coach Billy Napier plans on maximizing his talents this fall.
7. Max Johnson, Texas A&M: He put up impressive numbers over the past two seasons at LSU. There's no denying that when Johnson threw for 3,883 yards, 35 touchdowns and seven interceptions during that span. The former-four star prospect battled Haynes King throughout spring ball and played better in the Maroon and White Game. Johnson displayed dangerous mobility and threw a 40-yard touchdown in the first quarter. However, he struggled with slant passes over the middle, and put a few balls behind the receivers. King showed off his legs, but was picked off over the middle. The Aggies haven't had consistency at the position since Kellen Mond left the building, so Johnson will be vital.
6. Will Levis, Kentucky: Last season he finished sixth in the SEC in touchdown passes, and was first on the team with nine rushing scores. Levis racked up 2,827 yards through the air and led the Wildcats to a 10-3 campaign. The Connecticut native threw for a season-high, 419 yards and four touchdowns in the victory over New Mexico State. Levis also had four touchdown passes in the win over Louisiana-Monroe. His best performance in SEC play happened against Tennessee, when he threw for 372 yards, three touchdowns and an interception. The six-foot-three, 232-pounder picked up where he left off in the spring game. Levis completed seven of his eight throws for 98 yards and two scores.
5. Spencer Rattler, South Carolina: He was supposed be the Heisman favorite entering the 2021 season after a monster campaign at Oklahoma in 2020. Instead Rattler struggled throughout the year and Coach Lincoln Riley eventually benched him for Caleb Williams. It was a far cry from his freshman All-American year, and he needed a fresh start elsewhere. Now Rattler is reunited with Shane Beamer and poised to lead the Gamecocks' offense this fall. The former five-star prospect looked sharp in the Garnet and Black Game. Rattler even completed eight of his 10 passes for 79 yards in the first half of the the contest. If he's back to his original form, the Gamecocks are sleepers in the SEC East.
4. KJ Jefferson, Arkansas: Last season he went from an unknown commodity to a household name in the SEC. Not only did Jefferson finish 10th in the FBS in passing efficiency, but he also led the Razorbacks in carries and rushing yards. Jefferson threw for a season-high, 366 yards in the victory over Georgia Southern. The former four-star prospect also had a season-high, four touchdown passes against Arkansas Pine Bluff. Jefferson lit up Alabama's defense for 326 yards and three touchdown tosses, plus he scored a jaw-dropping, six times against Ole Miss. He steamrolled for 110 yards and a rushing score in the bowl victory over Penn State. Jefferson looked solid throughout spring ball too.
3. Stetson Bennett, Georgia: It's no mystery that his journey has been inspirational to underdogs across the country. Bennett went from being a walk-on, to leading Georgia to its' first National Championship since 1980. He finished 16th in the FBS with 29 touchdown passes. Bennett's 2,862 yards passing yards ranked fifth in the league. Not to mention he finished fourth in the FBS in passing efficiency. The Georgia native stockpiled a season-high, five touchdown tosses against UAB. Bennett threw for a season-high, 340 yards in the SEC Championship Game. Over Georgia's final five games, he had 14 touchdown passes and three interceptions. Bennett was very impressive in the spring game too.
2. Hendon Hooker, Tennessee: The former Virginia Tech Hokie amplified his skills in Josh Heupel's offense last season. Not only did Hooker finish first in the SEC in passing efficiency, but he was third in touchdown tosses and fourth in yards through the air. The six-foot-four, 218-pouder was also a Davey O'Brien Award semifinalist. Hooker threw for 316 yards and four touchdowns in the win over Kentucky. He had three touchdown tosses apiece against Tennessee Tech, Missouri, South Carolina and Alabama. He rumbled for 108 yards and a rushing score against Ole Miss. Hooker torched Purdue in the Music City Bowl, with 378 passing yards and five touchdowns, which were both season-highs.
1. Bryce Young, Alabama: Last season the former five-star prospect became the Crimson Tide's first Heisman Trophy-winning quarterback. Young led Alabama to an SEC Title and National Championship Game appearance. Not to mention he took home the Davey O'Brien hardware. Not only did the California native finish first in the Power Five in passing yards and touchdown tosses, but he came up big for his team in the clutch. Young averaged 369.5 passing yards per game, which ranked second in the league. He threw for a season-high, 559 yards in the victory over Arkansas. Young played decent in Alabama's spring game, and completed 25 of his 46 passes for  333 yards and a score.