Ranking the ACC's best quarterbacks of 2022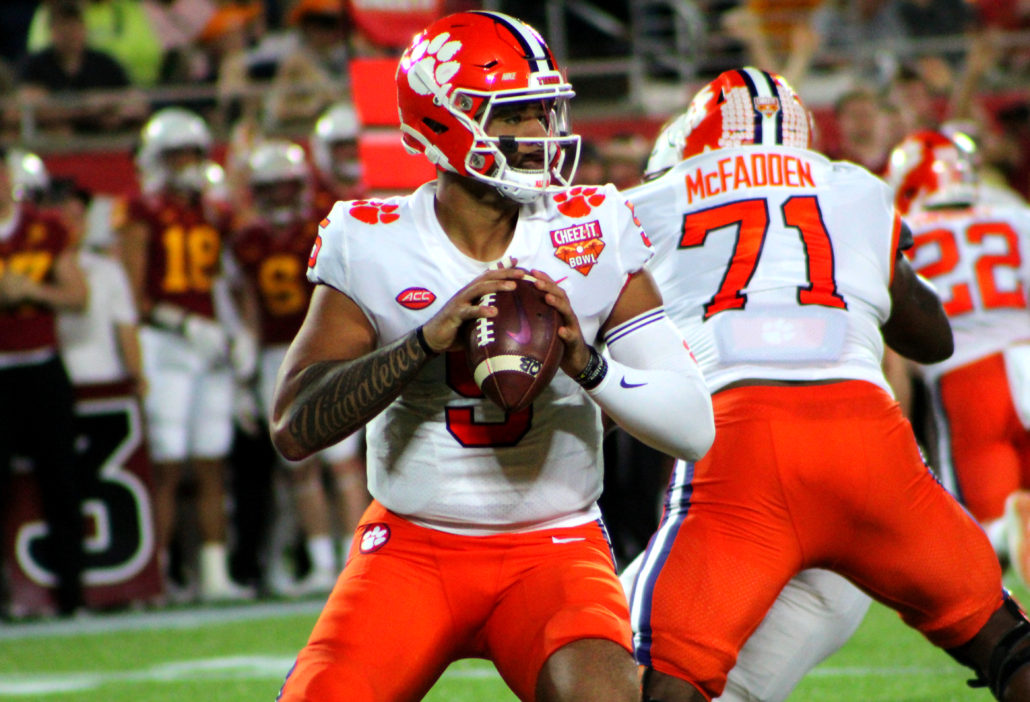 Spring ball is in the books for 13 of the 14 teams, and from top to bottom, the ACC has the best collection of quarterbacks of any Power Five conference in 2022.
From pocket passers, to dual-threat signal-callers, the league has it all and offenses will be fun to watch this fall. These 14 gunslingers are poised to lead their teams this fall in a conference drenched with parity. The season is less than five months away and these programs are all ready to change the narrative that the ACC is a basketball-only league.
14. Jeff Sims, Georgia Tech: The former four-star prospect has two years worth of starting experience with the Yellow Jackets. Sims is a dangerous dual-threat, but has to cut down on the costly turnovers. The Florida native has thrown for 3,349 yards, 25 touchdowns during his time behind center. However, Sims has been picked off 20 times. His dangerous mobility helps him extend plays, and he has stockpiled 864 yards on the ground, to go along with 10 rushing scores. Although Sims has a ton of production and experience, he still struggles with consistency. Not to mention Sims has to learn a new offense without Jahmyr Gibbs around. Georgia Tech's spring game indicated there'll be growing pains.
13. Riley Leonard, Duke: For the first time since 2007, the Blue Devils won't have David Cutcliffe patrolling the sidelines. Not to mention last year's starter Gunnar Holmberg is no longer on the roster. Which is why new coach Mike Elko had Leonard and Jordan Moore battling throughout the spring. Leonard looked promising in the Blue and White Game last Saturday. The former three-star prospect completed 17 of his 27 passes for one touchdown and an interception. Moore displayed great mobility, but struggled throwing the ball. Last season as a true freshman, Leonard saw some ACC action and completed all 13 of his throws for 99 yards against Miami. His only touchdown pass was at Virginia Tech.
12. DJ Uiagalelei, Clemson: The former five-star prospect was supposed to be heir apparent to Trevor Lawrence. However, life after the legend wasn't pretty for Clemson's offense in 2021. Uiagalelei threw for 2,245 yards, nine touchdowns and 10 interceptions in his first season as a full-time starter. It was also the first time since 2014 that the Tigers failed to clinch the Atlantic division. However, Uiagalelei shredded some pounds over the past three months and looked physically fit for the spring game. He completed 10 of his 24 passes for 116 yards in the first half, and didn't look much improved. Now Uiagalelei is going to be in a heated battle with freshman Kade Klubink in fall camp.
11. Grant Wells, Virginia Tech: He was an immediate upgrade to the Hokies' offense because of his production, experience and leadership. Wells threw for 5,626 yards, 34 touchdowns and 22 interceptions over the past two seasons at Marshall. Not to mention he had nine rushing scores during that span, and led the Thundering Herd to back-to-back winning campaigns. The former three-star prospect had a promising performance in the Hokies' spring game last Saturday, and displayed surprising mobility. Wells also threw two long touchdown passes, and led the offense on three scoring drives in the first quarter of the contest. Jason Brown is competing for the job too, but Wells is the better fit.
10. Jacolby Criswell, North Carolina: The Arkansas native served as Sam Howell's backup for the past two seasons. Now Criswell is finally getting an opportunity to replace the record-breaking gunslinger and lead Phil Longo's explosive offense. The former four-star prospect looked magnificent in the Tar Heels' spring game. He showed off his accurate arm and threw two touchdowns in the first half of the contest. North Carolina has two other capable starters in Drake Maye and Conner Harrell, who both had solid performances in the spring game. Criswell seems to have the most chemistry with his pass catchers though. He'll be throwing to Josh Downs, who's arguably the best receiver in the ACC.
9. Jordan Travis, Florida State: The former three-star prospect has thrown for 2,595 yards, 21 touchdowns and 12 interceptions over the past two seasons. Travis proved to be deadly with his legs during that span, with 1,099 yards on the ground, to go along with 14 rushing scores. The six-foot-one, 201-pounder looked decent in the Garnet and Gold game, plus he added muscle mass to his frame during the offseason. Travis had some rough outings in 2021, including three interceptions against Notre Dame. However, he had some bright spots, including five touchdowns in the the victory at North Carolina. Travis doesn't have to split snaps with McKenzie Milton this fall, so his numbers should improve.
8. Garrett Shrader, Syracuse: Although he didn't play in the spring game because of a hamstring injury, Shrader still put together a solid campaign in 2021. He's a decent passer with breathtaking mobility. So much so that Schrader stockpiled 14 rushing scores last season. Shrader rumbled for 137 yards and three touchdowns on the ground at Florida State. The following week Shrader rushed for a season-high, 178 yards against Wake Forest. He racked up 410 total yards and scored five touchdowns in the victory over Virginia Tech. The North Carolina native could potentially be one of the best quarterbacks in the league when he returns. Meanwhile Justin Lamson has looked good in his absence.
7. Phil Jurkovec, Boston College: Eagle fans believe he has the potential to be the program's best gunslinger since Matt Ryan. Jurkovec just needs to stay healthy though. The Pennsylvania native sat two seasons behind Ian Book at Notre Dame before coming to Chestnut Hill. Over the past two years Jurkovec has thrown for 3,472 yards, 26 touchdowns and nine interceptions. His numbers were down in 2021, due to an injured right wrist. The former four-star prospect will also be operating behind a young and inexperienced offensive line this fall, plus the Eagles have a new Offensive Coordinator. Having star wideout Zay Flowers back should help Jurkovec, and he looked solid in the spring game.
6. Kedon Slovis, Pittsburgh: The reigning ACC Champs landed a gem out of the transfer portal to replace the Johnny Unitas Golden Arm Award winner. Although Offensive Coordinator Mark Whipple left for Nebraska, Pittsburgh still has weapons for Slovis to operate with, including the Biletnikoff Award winner in Jordan Addison. Solvis played the past three seasons at USC, where he was named the league's Freshman Offensive Player of the Year in 2019, and earned first-team, All-Pac-12 honors in 2020. Not to mention he threw for 7,576 yards, 58 touchdowns and 24 interceptions during that span. Slovis competed with senior Nick Patti over the spring, but has yet to secure the job.
5. Malik Cunningham, Louisville: Some Louisville fans believe he's a poor man's Lamar Jackson, but there's no denying the signal-caller is the program's best since the Heisman Trophy winner. Cunningham is arguably the nation's best dual-threat quarterback. His numbers back that up too. Cunningham has thrown for 7,619 yards, 61 touchdowns and 23 interceptions over the past three seasons. The Alabama native rumbled for 2,122 yards on the ground, to go along with 33 rushing scores during that span. However, Coach Scott Satterfield wants Cunningham to stay in the pocket more and find open targets on the underneath routes. He threw a nice 12-yard touchdown to Jalen Mitchell in the spring game.
4. Tyler Van Dyke, Miami: The former four-star prospect took over for the injured D'Eriq King last season, and the rest is history. Van Dyke finished the year with 2,931 yards, 25 touchdowns tosses and six interceptions. The Connecticut native threw for four touchdowns against Florida State. He had three touchdown passes apiece against Central Connecticut, Georgia Tech, Virginia Tech and Duke. Although he threw three interceptions in the loss at North Carolina, he bounced back the following week with four touchdown passes in the win over NC State. Van Dyke threw for a career-high, 426 yards in the victory over Pittsburgh. His performance in the spring game was very impressive too.
3. Brennan Armstrong, Virginia: He broke the program's single-season record for passing yards and touchdown tosses in 2021. Not only did Armstrong finish the season with third-team, All-ACC honors, but he also led the league in passing yards. The former three-star prospect threw for a season-high, five touchdowns in the win over Illinois. Armstrong had a career day against North Carolina, when he threw for 554 yards, which was a single-game school record. The Ohio native had over 400 yards passing against Louisville, Pittsburgh and Virginia Tech. Armstrong's mobility is lethal too. New Coach Tony Elliott inherits one of the best gunslingers in the country, which should help with the transition.
2. Sam Hartman, Wake Forest: Anytime a player scores 50 touchdowns in one season, it's a big deal. Hartman put up video game numbers and led the Demon Deacons to an 11-win campaign last season. Hartman's 4,228 yards through the air and 39 touchdown passes, were both single-season school records. Not only is Hartman the Demon Deacons' active career leader in passing touchdowns, but he also earned second-team, All ACC honors. Hartman averaged 302 passing yards per game, which ranked third in the league. Having wideouts A.T. Perry and Taylor Morin back will do wonders for Hartman. The duo combined for 114 receptions, 1,914 receiving yards and 20 touchdown catches in 2021.
1. Devin Leary, NC State: Last year the New Jersey native broke Phillip Rivers' 18-year old school record for passing yards in a single season. Leary's 35 touchdown passes ranked third in the ACC and tenth in the FBS. He averaged 286 passing yards per game, which ranked 15th in the country. Leary was also No. 19 in the FBS in passing efficiency. The six-foot-one, 215-pounder threw for a season-high, 408 yards and four touchdowns against Wake Forest. Leary also passed for four touchdowns apiece in victories over Clemson, Louisville, Florida State and North Carolina. The former four-star prospect picked up where he left off in the Wolfpack's spring game and dazzled the crowd with his throws.