Chris Klieman embracing Adrian Martinez' presence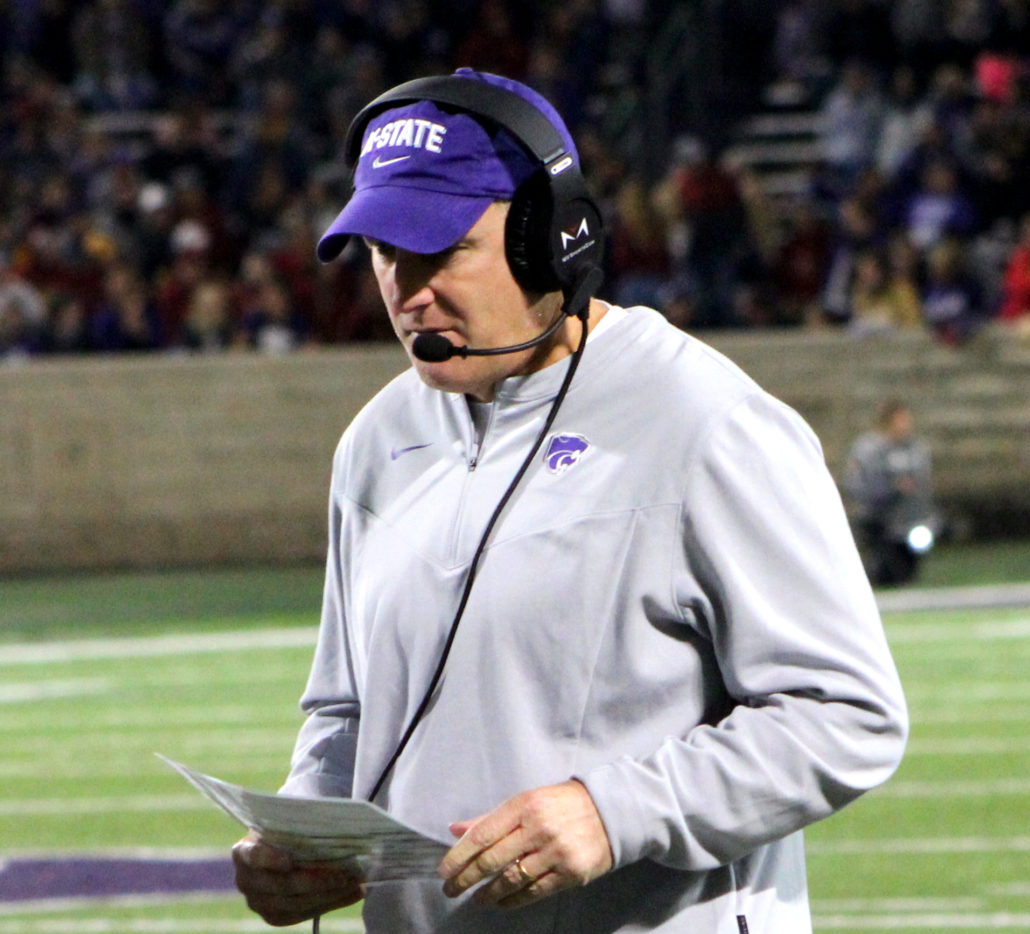 MANHATTAN, Kan. — The Wildcats are in their first week of spring practice, and Klieman is looking for the right quarterback to lead the offense in his fourth season on the job.
Kansas State has momentum after coming off an eight-win campaign, and the right pieces in place for its' offense to make strides in 2022. Not to mention new Offensive Coordinator Collin Klein is installing a quarterback-friendly scheme.
The Wildcats have four quarterbacks competing this spring, including Will Howard, Jake Rubley, Jaren Lewis and Adrian Martinez. The arrival of Martinez has been intriguing for Kansas State fans. After all, he started the past four seasons at Nebraska and is the program's career-leader in total offense.
However, the California native never led the Huskers to a winning season, plus he threw 30 interceptions during that span. Martinez is still recovering from surgery he had on his shoulder late last November. Regardless, Klieman is excited about what the experience, production and leadership Martinez brings to the table.
"Adrian (Martinez) is learning," Klieman said. "He's out there doing all the things that he can."
Although the 22-year old won't be able to participate in throwing drills, he's able to soak up the playbook. Klieman understands it's important for him to build a bond with the other signal-callers, and make that position group stronger.
"He can't throw right now this spring, but he's doing some of the footwork mechanics and run-game things, then visiting with Coach (Collin) Klein," he said. "Adrian's just trying to get up to speed where everybody else is at learning the offense."
Howard is the other quarterback with the most Power Five experience. It's no mystery Kansas State fans are hoping Martinez and Howard can push each other and perfect their craft during the process. The Wildcats will surround them with studs, including All-American rusher Deuce Vaughn and All-Big 12 offensive lineman Cooper Beebe.
Building chemistry with the rest of the offense will be vital for all parties involved. The Wildcats' offense racked up 442 yards and scored seven touchdowns in the bowl victory over LSU. A lot of those players are back and poised to lead the offense to new heights.
Klieman is anticipating Martinez will be a full-time participant in throwing drills by May. He's also going to be closely monitoring Martinez' shoulder.
"I think in April he'll start throwing a little bit more, but we're not going to put him in a spot in a team drill where anybody could bang into him or anything," the 54-year old coach said.
Life after Skylar Thompson starts now for the Wildcats, and the team will go as far as the quarterbacks can take them. Which is why this will be Kansas State's most important spring under Klieman.