Iowa State smothers Texas to become bowl eligible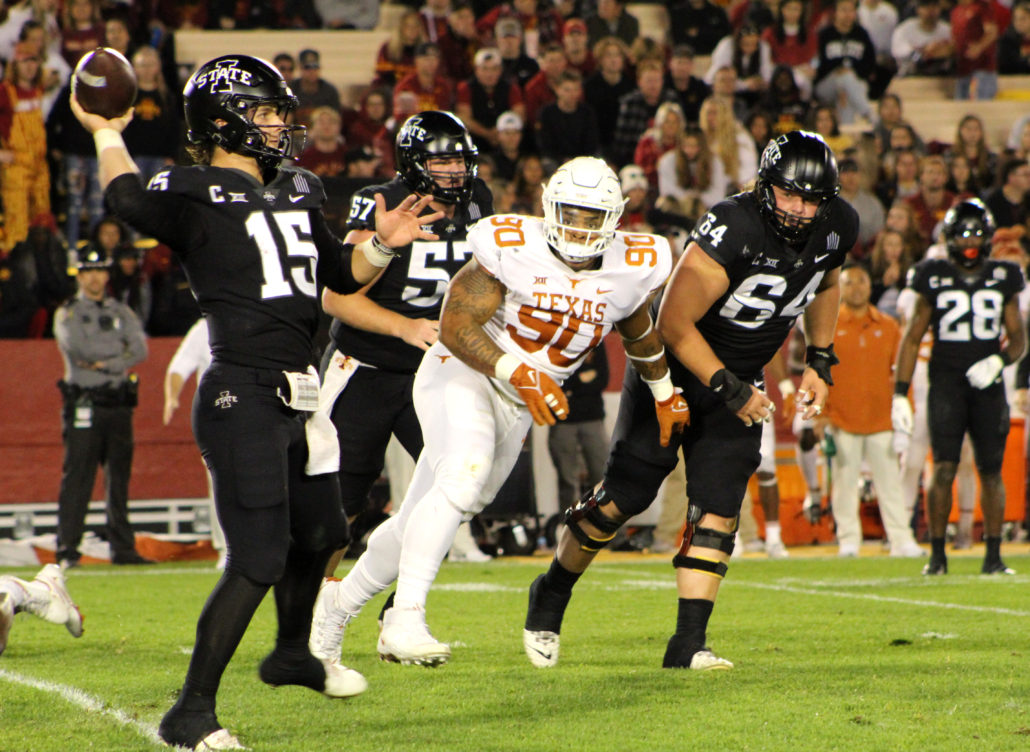 AMES, Ia. — The Cyclones were back in black Saturday night under the lights, and put on a show in front of a sold out crowd at Jack Trice Stadium.
Iowa State scored a season-high, 21 unanswered points in the third quarter and stifled Texas 30-7. Not only did the victory make the Cyclones bowl eligible, but it was also the Longhorns' lowest point total since November of 2017.
Coach Matt Campbell rebounded in a big way after the West Virgina loss. The 41-year old earned his third-straight win over Texas (4-5) and his team is still alive for a Big 12 Championship Game berth.
"Really proud of our kids, I thought the attitude and effort led to a complete football game," Campbell said. "We just kept playing and that's the key to playing good football in November."
Junior running back Breece Hall went over the century mark in rushing for the sixth time this fall. He finished with 136 yards on the ground. Hall had two third quarter touchdowns, including one that put his team up by three scores. The Kansas native has scored a touchdown in every game this season and has 1,121 yards.
Hall also leads the conference in rushing yards, plus he's sixth in the FBS. The All-Big 12 rusher continues to astonish the rest of the College football world, and Campbell knows there's nothing like having a warrior in the backfield.
"Tonight, man, for our team to play great football, he needed to be an A-player," he said. "Yes, his 40-yard run shows all of those things, but I think to me it's everything else Breece did that was really inspiring."
The Cyclones continue to thrive in the second half this season, and are outscoring their opponents 100-37 in the third quarter. Quarterback Brock Purdy completed 27 of his 38 passes attempts for 252 yards, and was only sacked once.
Surprisingly, Iowa State's biggest passing play came from wideout Xavier Hutchinson. After Hutchinson threw a 49-yard touchdown to Tariq Milton, the entire stadium erupted and Iowa State had all of the momentum.
"That was my third time running it, so I didn't get a lot of chances to throw, but I'm just happy he caught it, and I didn't mess up the play," Hutchinson said.
Iowa State dominated in time of possession and dictated the flow of the game. However, it was the Cyclones' defense that really made a statement, especially up front. Campbell's boys were relentless in the trenches and controlled the line of scrimmage.
Defensive ends Will McDonald and Eyioma Uwazurike wreaked havoc off the edge and generated 2.5 sacks apiece. Not to mention McDonald finished with a team-high, six total tackles. McDonald's monster performance helped him surpass JaQuan Bailey in the school record books. Now McDonald is the program's career leader, with 27.5 sacks.
"He (Bailey) taught me mostly everything I know, so I am honored to break his record because he's the one who got me there," McDonald said.
The Cyclones' defense suffocated the Longhorns' offense the entire night and held the unit to a season-low, 207 total yards and 11 first downs. Iowa State was able to generate constant pressure with mainly a three-man rush the entire night. It shouldn't come as a surprise though, considering Iowa State leads the Big 12 in total defense.
Even special teams was solid on the night. Senior kicker Andrew Mevis handled punting duties, and nailed all three of his field goal attempts, including a 51-yarder in the fourth quarter, which put the game out of reach.
Overall, it was a great team effort from Campbell's bunch, and they'll enjoy the lopsided victory. However, Iowa State will quickly have to get back to work with its' next two games on the road, including a rematch from last year's Big 12 Championship against Oklahoma.