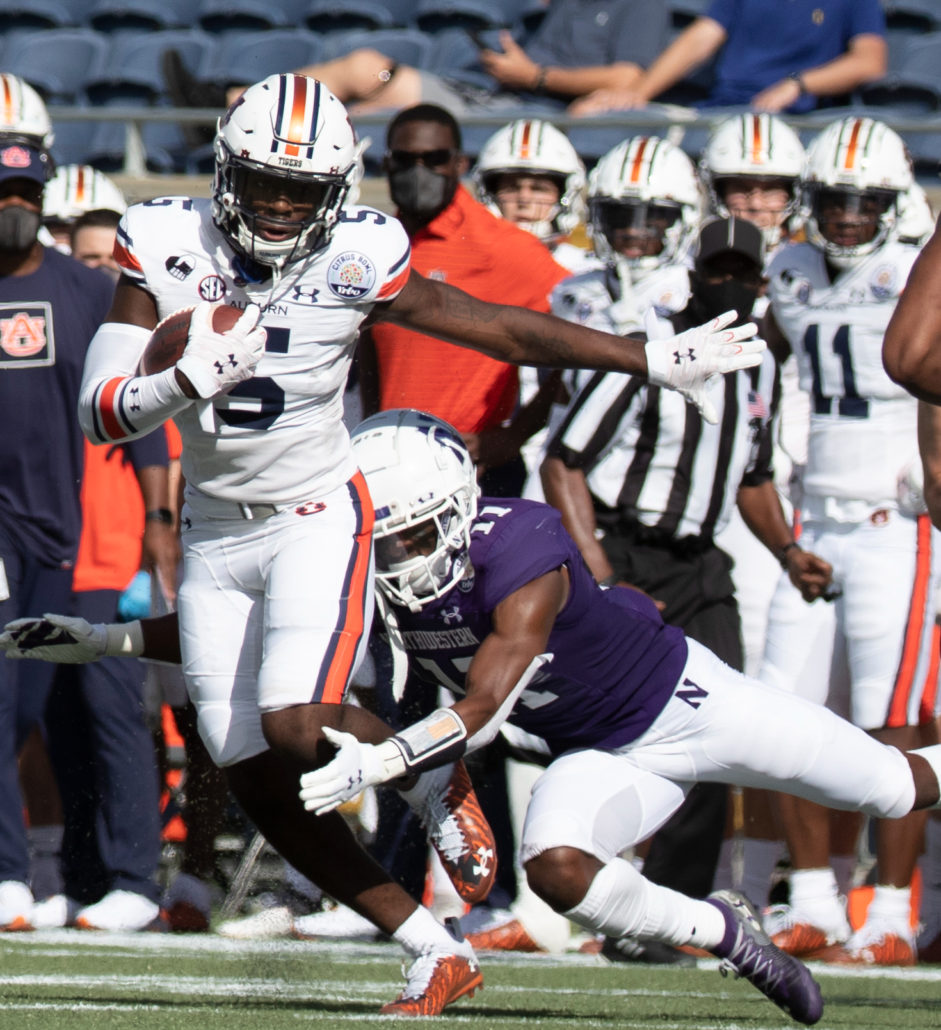 There's no denying Bryan Harsin inherited a talented roster when he accepted the Auburn job after Gus Malzahn's departure.
Harsin couldn't have asked for a smoother transition, jumping from the Mountain West to the almighty SEC. His first campaign with the Tigers is going better than expected. Auburn (6-2) is already bowl eligible, ranked 12th in the AP Poll and like Alabama, only has one SEC loss.
The Tigers are one of four ranked teams from what many consider the toughest division in all of College Football. Having one of the most experienced quarterbacks in the SEC has definitely helped. Bo Nix is playing at an All-SEC caliber level and most of the Tigers' success has come from a surge on offense.
Through four conference games this season Nix has thrown for 1,040 yards and scored seven total touchdowns. Nix has become an architect at extending plays and moving the chains. Everything seems to be coming full circle for the former five-star recruit, thanks to Harsin's assistants. Offensive Coordinator Mike Bobo is a veteran in the SEC and been pushing Nix to the limit in practice every week.
Auburn's offense is starting to resemble Georgia's from 2008, when Bobo called the plays for Mark Richt, with Matthew Stafford and Knowshon Moreno in the backfield. Running back Tank Bigsby is coming off his fourth 100-yard rushing performance of the fall. Bigsby has a rushing touchdown in each of the last three games.
Several receivers are contributing, including sophomore Kobe Hudson, who caught a season-high, six catches for 79 yards in the win over Ole Miss last Saturday. The Tigers are going to be tough to stop with that many weapons on offense and they have a favorable slate leading up to the Iron Bowl.
This is all still Harsin's first rodeo through the SEC, so he's still learning on the job. There's nothing like controlling your own destiny. If Auburn wins out it'll have a rematch with Georgia in the SEC Championship. Traveling to Texas A&M could be a tough outing for Harsin's team though.
However, there's enough experience, leadership and production on offense, plus the Tigers are battle-tested. There's still a lot of football left to be played. The SEC West is shaping up for an epic finish and is still wide open heading into this weekend.
Regardless, Auburn has an opportunity to make some noise down the stretch. An SEC Title and a Playoff berth is not out of the question for the Tigers, just as long as they run the table. It's easier said than done, when Harsin will be matching wits with two coaches who've won a National Championship.
Saturday's matchup will separate the weak from the strong and will be a great measuring stick for how far the Tigers' offense has come. Now it's time for Nix and his crew to show the rest of the country. The Aggies' defense is ranked third in the SEC in total yards allowed.
So Auburn's offense needs to keep the momentum going and make a statement at Kyle Field Saturday.