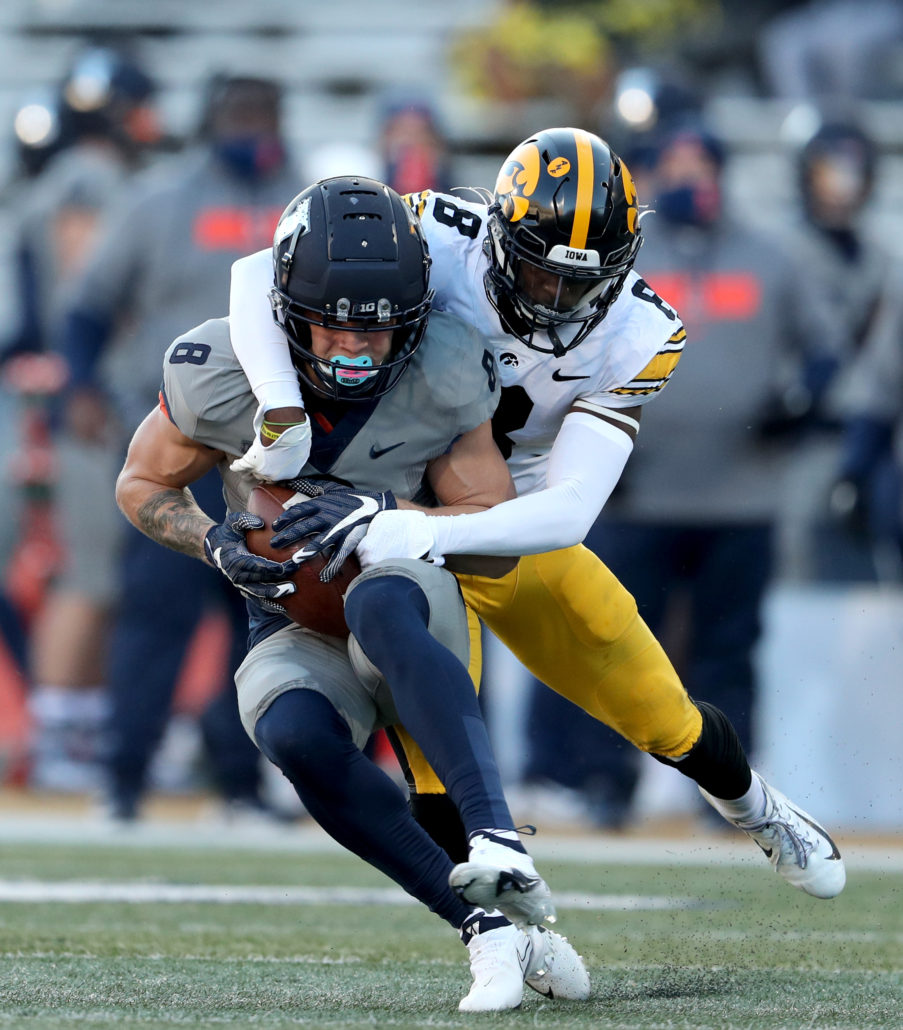 IOWA CITY, Ia. — Iowa's senior cornerback is coming off a monster game and finally getting the recognition he deserves.
Matt Hankins has received several accolades for his performance in the victory over Penn State. His clutch interception sealed it all for the Hawkeyes, and now he's the Bronko Nagurski, Jim Thorpe and co. Big Ten Defensive Player of the Week.
Earning several honors at one time has brought Hankins some notoriety around the conference. After all, the Hawkeyes are the No. 2 team in the country and been winning games with their defense. Hankins happens to be one of the best defenders on the unit, so it's a no-brainer why the rest of the counrty is starting to recognize.
However, Hankins' success doesn't surprise Coach Kirk Ferentz and it didn't happen overnight. Ferentz has watched the Texas native's journey, how he paid his dues and knows the acknowledgement is well deserved. It's been a process, but the former three-star prospect has molded into one of the best defenders in the Big Ten.
Hankins has the experience, production and leadership that it takes to be elite. His teammates look up to him and his coaches trust him. So it's no surprise he usually gets the majority of the votes whenever it comes time to vote for team captains. The fans love his ballhawking skills and how he always sets the tone in Iowa's secondary.
It's like Hankins has become the big man on campus the way his teammates gravitate towards him.
"Everybody on the team really has a high regard and a high respect for him, the way he does things and he's really been team oriented in everything he does, especially with those DB's and the guys on defense," Ferentz said.
The six-foot, 185-pound Hankins has had a very productive career, with 188 tackles and six interceptions. Ferentz thought Hankins could've turned pro after last season. So when he decided to return Ferentz knew Hankins was on a mission.
His 2021 campaign has been remarkable up to this point. Hankins tallied four solo tackles and picked off two passes in the victory over Iowa State. Not to mention he recorded eight stops against Colorado State. The interception against the Nittany Lions was the cherry on top to what he has accomplished through the Hawkeyes' first six contests.
Ferentz believes the best is yet to come for Hankins. With fellow cornerback Riley Moss out for a couple of weeks, Hankins will need to hold down the secondary. Now Iowa (6-0) is approaching the meat grinder of its' conference schedule and will have to turn it up a notch.
A vastly improved Purdue team will be invading Kinnick Stadium this Saturday. Fans are excited to see the Hawkeyes' secondary match wits with the Boilermakers' receivers. Hankins will likely be matching up against Purdue's wideout Demetress Bell, who has three 100-yard games under his belt this fall.
Regardless, the Boilermakers haven't faced a secondary like the Hawkeyes this year. It's a reason why Iowa's defense leads the country with 16 interceptions. Fans can't wait to see what Hankins can do for an encore. In hindsight, Hankins is building a memorable legacy with the program, and he's just cracking the surface in Ferentz' eyes.
"I think it's been a great story and he's kind of the typical guy that we deal with, he wasn't overly heavily recruited, yet he's improved every step of the way and he's played at a high level this year and then last year as well," he said. "So I'm happy to see a guy that works as hard as Matt be rewarded with that kind of recognition."
Sustaining success is never easy and with every win the bullseye on the Hawkeyes jerseys gets bigger. There's no denying Purdue (3-2) will try to pull off the upset, so it's going to be important that leaders like Hankins keep the team focused on the task at hand.