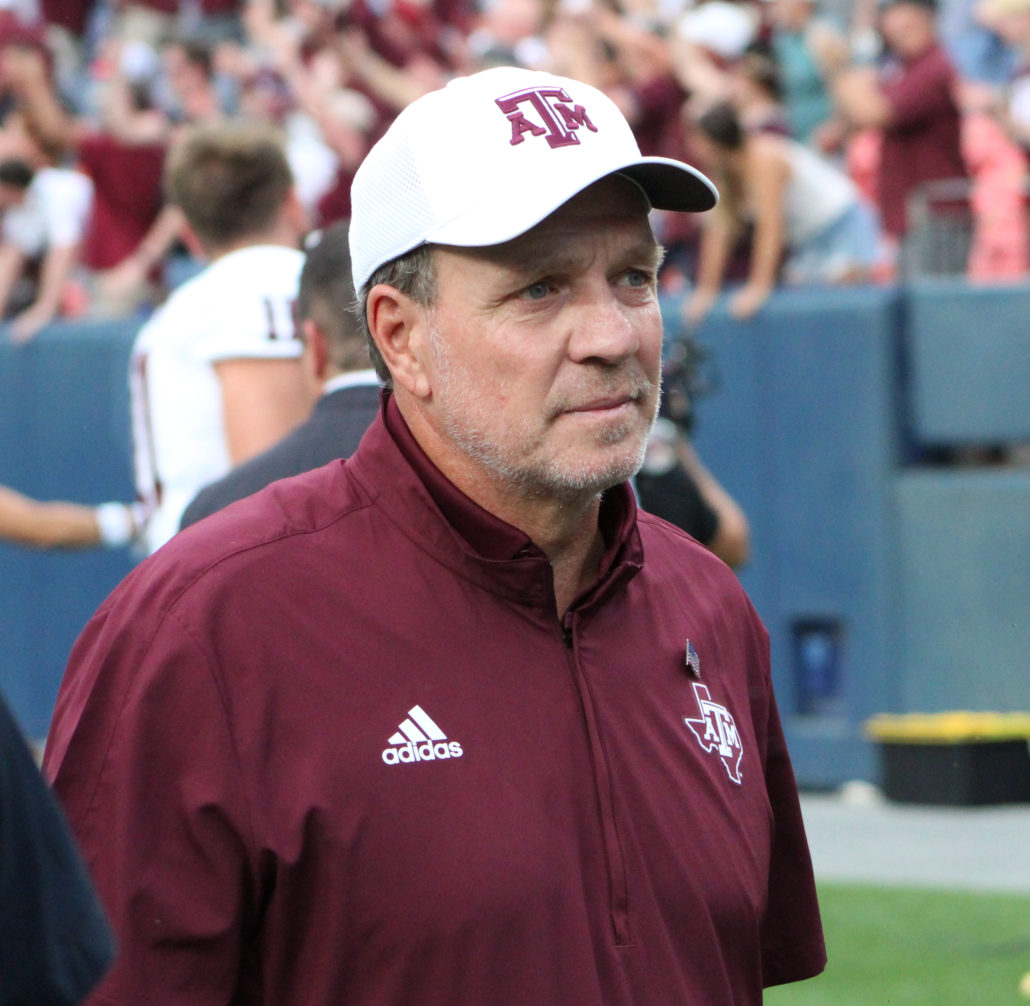 When he talked about beating Nick Saban and the Crimson Tide back in May, no one really took him seriously.
However, after Texas A&M's monumental upset over Alabama Saturday evening, everyone is wondering how Jimbo Fisher accomplished that feat. After all, Fisher became Saban's first assistant to finally beat him, and that includes Kirby Smart, Lane Kiffin and Will Muschamp.
Fisher did the rest of the College football world a favor by taking down the No. 1 power in the game. Not to mention he made it happen on his 56th birthday. It was also the Aggies first win over an AP top-ranked team with Fisher at the helms. Fisher had come up short in his previous four attempts with the program.
It's mind-boggling Fisher was able to win with a backup quarterback in Zach Calzada, who played through an injury and carried his team to the finish line. Calzada caught a lot of heat for Texas A&M's struggles in losses to Arkansas and Mississippi State.
Now Calzada is Texas A&M's first quarterback to beat Alabama (5-1) since Johnny Manziel. It's obvious Fisher and his staff studied film from Alabama's narrow win at Florida last month. Dan Mullen and the Gators showed the rest of the SEC how to keep a game close with the Crimson Tide.
Regardless of the matter, Calzada was able to exploit some of Alabama's weaknesses. Besides shutting down Lane Kiffin's offense, the Crimson Tide's secondary wasn't really tested all season. That's why it's no surprise Alabama allowed a season-high, 285 yards through the air to the Aggies.
Calzada was able to spread the ball around to seven different players, and six of them caught at least two passes. A bunch of speedy receivers and one of the best tight ends in the country in Jalen Wydermyer, proved to be too much for Alabama's defense to handle.
The Crimson Tide also got caught slipping on their kickoff coverage. Devon Achene returned a 96-yard kickoff to the house. Fisher exposed Alabama with solid special teams and an efficient passing game. The rest of the SEC has taken notice and will try to do the same.
The victory was convincing enough to put Fisher's team back in the AP top-25. The Aggies resurfaced at No. 21 and will be riding a big wave of momentum to Missouri next Saturday. Fisher's biggest challenge is making sure there are no lingering hangovers with his players after the victory. The Aggies must remain focused on their next opponent because the Tigers will be looking to pull an upset of their own.
At this point, Fisher and the Aggies should be expecting every opponent's best. Texas A&M (4-2) needs to keep the momentum going and show that defeating Alabama was no fluke. Fisher stirred up the Playoff race for now, but the Crimson Tide only dropped to No. 5 in the AP rankings.
If nothing else, Fisher backed up his words and showed he's worth every penny of his lucrative contract. Fans from around the country feel like they owe him a favor, but at the end of the day, Fisher is just doing his job. It'll be interesting to see what the West Virginia native can do the rest of the season because right now the Aggies have everyone's attention.