Skylar Thompson impresses Chris Klieman in return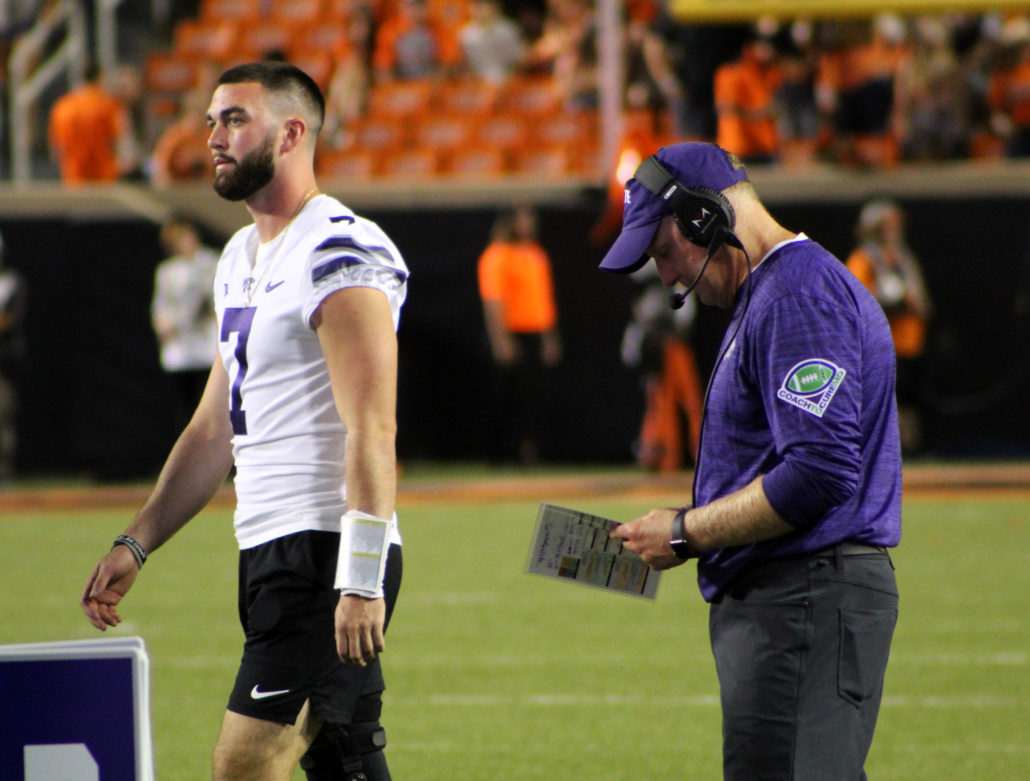 MANHATTAN, Kan. — Although the veteran quarterback missed Kansas State's previous two games, he didn't look rusty in his return against Oklahoma last Saturday.
Skylar Thompson put on another spectacular performance against the Sooners, but came out on the losing side this time around. He's never one to make excuses for himself or settle for moral victories, and Thompson has no reason to hang his head.
After all, the six-foot-two, 220-pounder showed the Sooners and the rest of the Big 12 that he can beat defenses with his arm. Thompson stood in the pocket and made some clutch throws. He finished the game with 320 yards through the air, three touchdowns and no interceptions.
His performance was a big surprise to Coach Chris Klieman, considering he didn't even know if Thompson was going to be available. Klieman watched his signal-caller go through his progressions. Thompson also made the right reads. Most importantly, he was able to stay healthy.
"Well, we talked late in the week when we thought he had a chance to play that he needed to be really smart with what he does outside of the pocket and make sure he knew where his check downs were, make sure he knew where his safety valve receivers were," Klieman said.
Some Kansas State fans feared Thompson was being rushed back onto the gridiron. From the outside looking in, Klieman appeared desperate. However, he would never jeopardize a player's health for a game. Thompson had a solid week of practice leading up to the game and felt like it was his destiny to return against Oklahoma.
The Missouri native is a competitor. So it's no surprise he would be available and ahead of schedule. There's no denying what Thompson means to the Wildcats after he took the offense by the helms and nearly pulled off the upset over the Sooners again. Thompson is a quarterback that makes others around him better. The 24-year old also has the utmost respect from his teammates.
That comes from being tough as nails and playing with passion throughout his career. That's why his teammates always rally behind him. Klieman knows Thompson's leadership is second to none. He witnessed that when Thompson was sidelined with an injury. The signal-caller was able to see the team from a coaching perspective and established more communication with the rest of the Wildcats.
"I think it made him a better player, to be honest with you, on Saturday," he said. "You go back and look at that game that kid played really, really well, and Skylar's a tremendous football player, and we missed him for a couple of weeks."
Kansas State (3-2) will have the week off before resuming Big 12 play against Iowa State at Bill Snyder Family Stadium. During that time Klieman plans on having Thompson build chemistry back the chemistry with the rest of offense. Backups Will Howard and Jaren Lewis both have meaningful snaps under their belt this fall, but they can still learn a lot from Thompson.
"Will (Howard) and Jaren (Lewis) did a nice job, but there's a sixth-year guy that's done this for an awful long time that knows the receivers, knows the offense" the 54-year old said. "I'm excited – even though we suffered a disappointing loss – I'm excited about where we can go with him only probably getting better, but he stayed in the pocket and did a great job continuing to look downfield."
Regardless, with seven games left, Thompson and the Wildcats will have plenty of opportunities to right the ship.