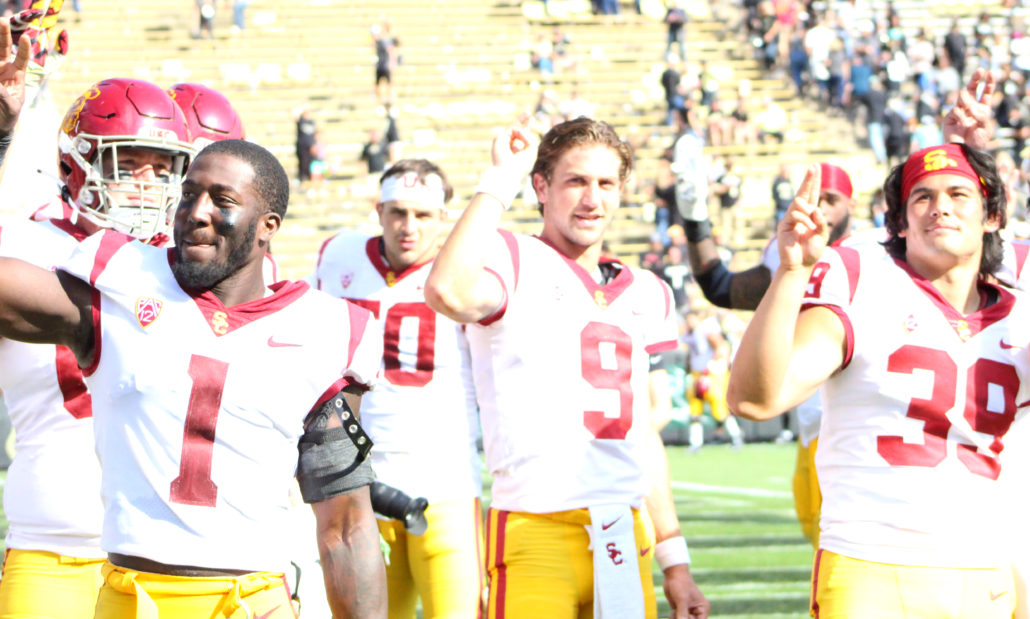 BOULDER, Co. — The Trojans were frustrated with their humiliating loss last week and used it as motivation to dismantle Colorado Saturday afternoon.
The 37-14 road win over the Buffaloes was the second notch under the belt for Interim Coach Donte Williams. Now USC has a winning record again. Not to mention the Pac-12 South is still up for grabs.
A crowd of 48,197 at Folsom Field watched as Williams' team controlled the game from start to finish. USC was never threatened and kept a three-score cushion throughout. Just like in 2019, quarterback Kedon Slovis had another stellar performance in his return to Boulder. He was able to play pitch and catch with his receivers, never got sacked and finished with three touchdown tosses.
Texas transfer Keontay Ingram rushed for a season-high, 124 yards. He even rumbled for a 53-yarder that reminded fans of former USC running back LenDale White, who was in attendance. Wide receiver Drake London dominated with nine catches, and went over the century mark in receiving yards for the fourth time this season.
The Trojans were very balanced on offense, moved the ball with ease and finished with a season-high, 494 total yards.
"That's what we should do, that's what we expect to do," Williams said. "We expect our big time players to step up in big time games and our big-time players stepped up today."
USC's defense allowed a couple of explosive plays through the air, but shut down Colorado's rushing attack. The Buffaloes finished with 80 yards on the ground, their second-lowest rushing total of the season. Jarek Broussard only finished with 60 rushing yards. That's credit to the Trojans' front seven, keeping the reigning Pac-12 Offensive Player of the Year at bay.
USC (3-2) also provided a consistent pass rush on Brendon Lewis the entire afternoon and sacked him five times. Defensive linemen Drake Jackson and Jacob Lichtenstein had two sacks apiece. Williams was impressed with the unit's physicality. Linebacker Kana'i Mauga led the team with eight tackles, including seven solo. Lewis made it easier for the defense by holding on the ball too long in the pocket, but the coverage downfield was stellar all day.
USC also held Colorado (1-4) scoreless in the first and fourth quarter. Even special teams was solid. Kicker Parker Lews nailed three field goals, including a 49-yarder. Williams was proud of the way Lewis delivered in the clutch and has trust in him from long distances.
"Parker has a strong leg , he's built like an inside linebacker," he said. "He just went out there and once again another guy that we expect to make those kinds of kicks and that's why his kickoffs are touchbacks and everything else."
Although it was a convincing Pac-12 win for the Trojans, considering they've never lost to the Buffaloes, Williams emphasized afterwards it was far from a perfect outing. Regardless, a win is a win in Pac-12 play. Williams just wants his players to keep improving and building on their momentum.
"I'm not happy with all the penalties, not happy with some explosive plays and sometimes we'll restart a little bit, but I am glad with the way we controlled the line of scrimmage on defense and offense," the 39-year old coach said.
As sweet as the victory was for Williams, he'll have to keep the Trojans dialed in and focused on their next opponent. Utah had the week off and likely watched Saturday's matchup. Still, USC is starting to heat up at the right time, as a challenging conference schedule looms.