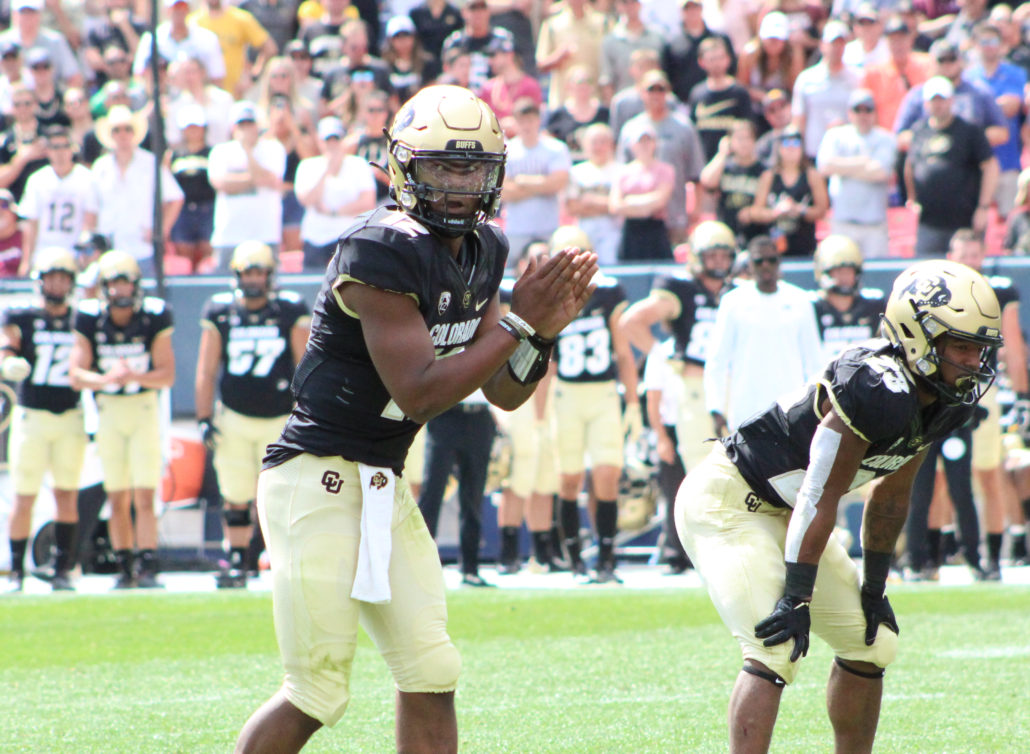 DENVER, Co. — Last week's loss to Texas A&M was a wake up call for the young quarterback.
Colorado's defense played well enough to win the game, but the offense became a liability in the clutch. It was a humbling experience for Brendon Lewis, considering he had to watch another signal-caller take the victory formation. Not to mention it was his first loss as a starter.
The Texas native knew he didn't play up to his potential and left a lot of plays on the field. Lewis displayed amazing mobility and had a couple of nice throws on the run. The Buffaloes' offense fed off his energy and Lewis had full command of the huddle.
"I felt like I played better, but you know, still not good enough," Lewis said. "That wasn't good enough to get the win, so I got to continue to get better and watch them get better."
Lewis showed how tough he was when he absorbed a blindside hit from a Texas A&M defender that resulted in an interception, which was the game's only turnover. Colorado's offense got stuffed on a fourth down attempt and kicker Cole Becker missed a 46-yard field goal. From that point on Lewis never looked comfortable behind center.
It didn't help Colorado (1-1) after Jarek Broussard got sidelined with an injury and didn't return. The Aggies took away the Buffaloes running lanes, and made Lewis throw the ball. The six-foot-two, 215-pounder started off solid and completed six of his nine passes through the first quarter.
However, he struggled with his accuracy in the second half and was apprehensive with his throws. Colorado's offense became one-dimensional and that frustrated Lewis the most.
"We need to execute better you know," he said. "I'm saying we have all the tools and all the weapons, and those save calls to the game, so we just got to execute more."
Although Lewis hooked up with tight end Brady Russell on a couple of intermediate passes, he couldn't connect with any of his receivers on anything deep. Brenden Rice and Dimitri Stanley are weapons in the slot and on the edge, but they never got a chance to get into a rhythm.
Lewis never gave up and kept fighting, which impressed his teammates.
"Even though he took some shots, he was still battling the whole time, so I think as a freshman quarterback he was doing everything that was asked of him," Russell said. "We need to help him more protecting and not let the people get to him in the pass rush."
Colorado needs to iron out all of the wrinkles on offense before an intriguing matchup at home against Minnesota. The Golden Gophers (1-1) are physical and will try to establish the line of scrimmage early on. Lewis can't make the same mistakes that he did against the Aggies. Minnesota has studied film on Lewis and will try to pick up where Texas A&M left off.
The former three-star prospect understands it all starts with him on offense and it's his responsibility to get everyone involved. Getting the ball in the hands of his playmakers will be vital. Coach Karl Dorrell will keep practice intense throughout the week, by putting Lewis and the offense in pressure situations. In return it should lead to success on the gridiron Saturday.
Dorrell knows Lewis is capable of leading the offense to a touchdown on each drive, it's just a matter of the unit around him executing on a consistent basis.
"Field goals, when you're playing against a really good team, don't amount to anything because you need touchdowns to win," Dorrell said.
The Buffaloes will likely come out aggressive against the Golden Gophers. Dorrell will be looking for Lewis to correct all of the mistakes he made against the Aggies, and in return that should deliver more positive results.