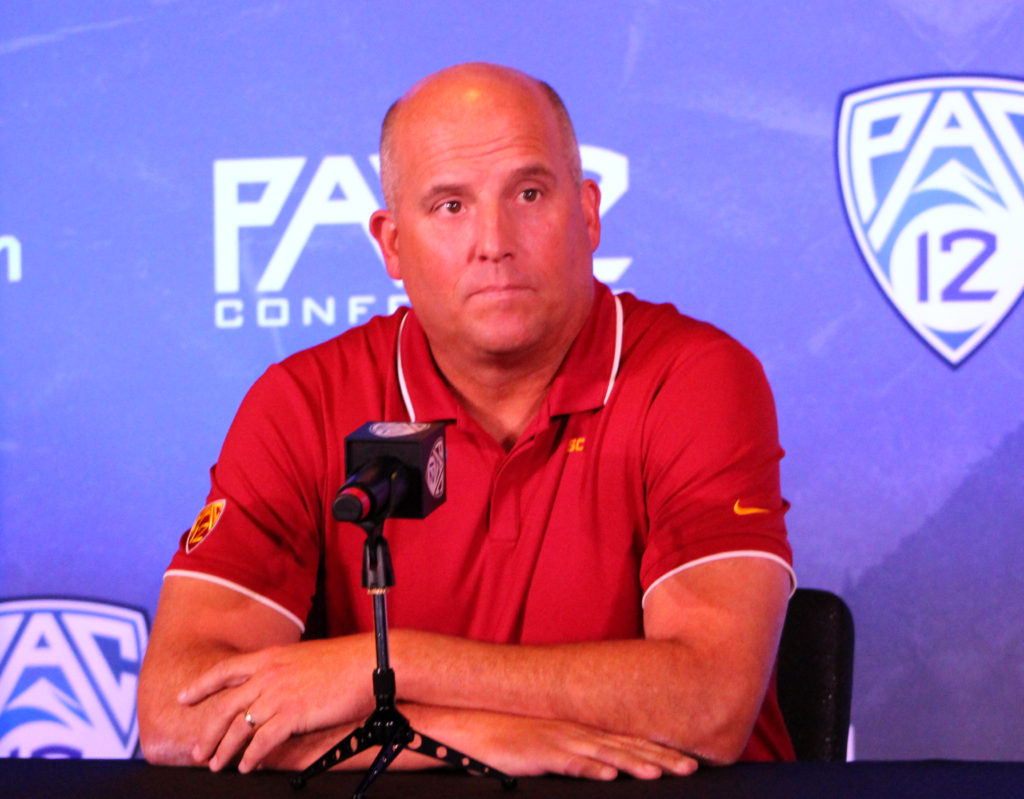 He was already the most embattled coach in the FBS approaching this season.
After all, USC hasn't won a Pac-12 Championship in years, recruiting has been on the decline and the head-scratching losses keep piling up under Clay Helton's leadership. When Stanford went into the Coliseum and embarrassed USC Saturday, it was like pouring gasoline on a fire regarding his job security.
Now Helton's haters have resurfaced in a big way. And the outside noise is as loud as it's ever been. That's because the Trojans went from being ranked 14th in the AP Poll last week, to unranked Sunday. It was a painful reminder that Helton's pattern has become a sitcom USC fans are all too familiar with, and they're ready to throw away the script.
Helton always drops a game or two he shouldn't, but no matter the magnitude of the loss, he always finds a way to keep his job once December rolls around. USC fans have expressed their disgust with his tenure on social media. The Trojans are too talented to be losing at home by double-digits to a mediocre Cardinal team, and the fans believe they deserve better coaching.
Stanford's running back Nathaniel Peat steamrolled over USC's defense for 115 yards on just six carries. It's mind-boggling that the Trojans had more yards, ran 22 additional plays, converted more first downs and led in time of possession, but still lost the game. The stats that matter is the fact that Helton's squad had more penalties, which exposed how undisciplined the players are, and the offense turned the ball over.
Even the biggest Helton supporters can't make excuses for that type of coaching. Still, there's no time to hit the panic button two games into the season. Luckily for Helton, none of the Trojans' next three opponents have winning records. Kedon Slovis is one of the best gunslingers in the country and he's clutch, but Stanford made him look average behind center. There's no denying the offense needs a primary stud at running back.
The players have to have more intensity and urgency on the gridiron. Leaders are going to have to step up for the team and hold players accountable during this time of adversity. Helton's staff obviously needs to do the same. The Trojans are a blue blood and College football is better overall when they're good.
However, USC (1-1) hasn't been the same since Pete Carroll left the building. Lane Kiffin and Steve Sarkisian didn't work out, plus Ed Orgeron got passed up. Not to mention USC failed to lure in Urban Meyer. In hindsight, the 49-year old Helton's job appears to be hanging from a thread.
Stability could quickly become an issue when changing coaches. It just so happens Helton has watched a revolving door of USC Athletic Directors during his tenure. From Pat Haden, to Lynn Swann, and now Helton is in his second season operating under Mike Bohn.
It remains to be seen if the Trojans have reached their ceiling with Helton, but the comings weeks will be very intriguing and he still has a lot to prove.