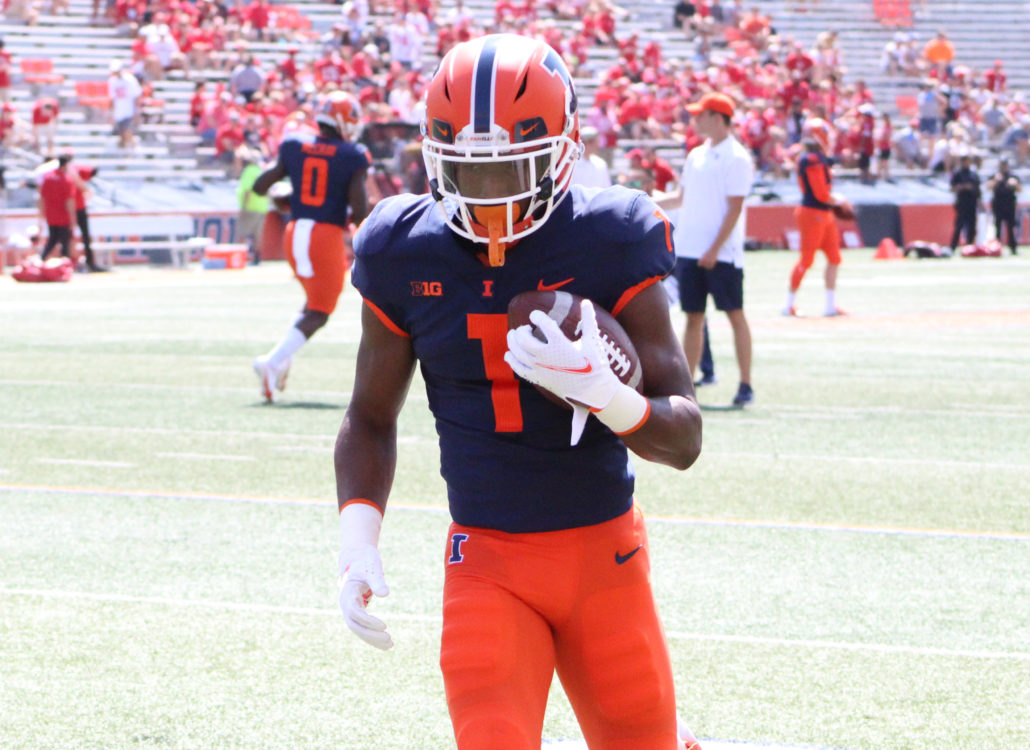 CHAMPAIGN, Ill. — It only took one game at his new position to convince Illinois fans that he was born to do it.
Isaiah Williams made plays all over the field Saturday afternoon and performed like an All-Big Ten caliber receiver.  Coach Bret Bielema moved him around a lot during the pre-snap. The converted quarterback proved to be a vital piece in the slot and along the edge.
Williams speed and athleticism allowed him to run circles around Nebraska defenders. He finished the game with a team-high, six catches for 41 yards and a receiving score. Shockingly, Williams wasn't even satisfied with his debut.
"I felt like it's more progress that need to be made, but I felt good, it felt like home," Williams said. "I had a chance to make some plays, show what I could do and it's only up from here."
He made life easier for backup quarterback Artur Sitkowski, who filled in nicely for the injured Brandon Peters. The two connected on a couple of clutch passes and had chemistry like they've played together for years. Now the Fighting Illini are flying high after that first win of the Bielema era.
The victory gave the team some much needed momentum and snapped a three-game losing streak. Williams thought the victory was significant, considering the conference gauntlet Illinois will encounter as it navigates through the rest of its' schedule. The offense made a statement and some fans even believe it was a program-changing victory.
"It does a lot, the energy just flows and flows, so it just translates to the next week," he said. "Most of all, it just gives us the confidence, to rally behind Coach B (Bielema) and the captains of the team."
The former four-star prospect made the Huskers' secondary look silly at times. It was just what the doctor ordered for the the Fighting Illini. After all, the team lost last season's leading pass catcher Josh Imatorbhebhe. Illinois finished the clash with only 159 yards through the air, but it proved to be enough against a Nebraska secondary short on ballhawks.
Not to mention Illinois' offense controlled the line of scrimmage and killed Nebraska in time of possession by nearly 10 minutes. Williams was proud that Sitkowski showed a next man up mentality and delivered in the clutch for the Fighting Illini's offense.
Now Williams believe the sky's the limit for his squad's potential. He thinks his team is playing harder and smarter. And that's simply complimentary football to Williams. The 5-foot-10, 180-pounder is hyped about the rest of the games and feels like the Fighting Illini's time time is now.
"We showed that we're a new football team," the redshirt freshman said. "We put the world on notice that this isn't the same team, the past is gone and we're looking forward to the future."