Thayer Munford staying focused on life after football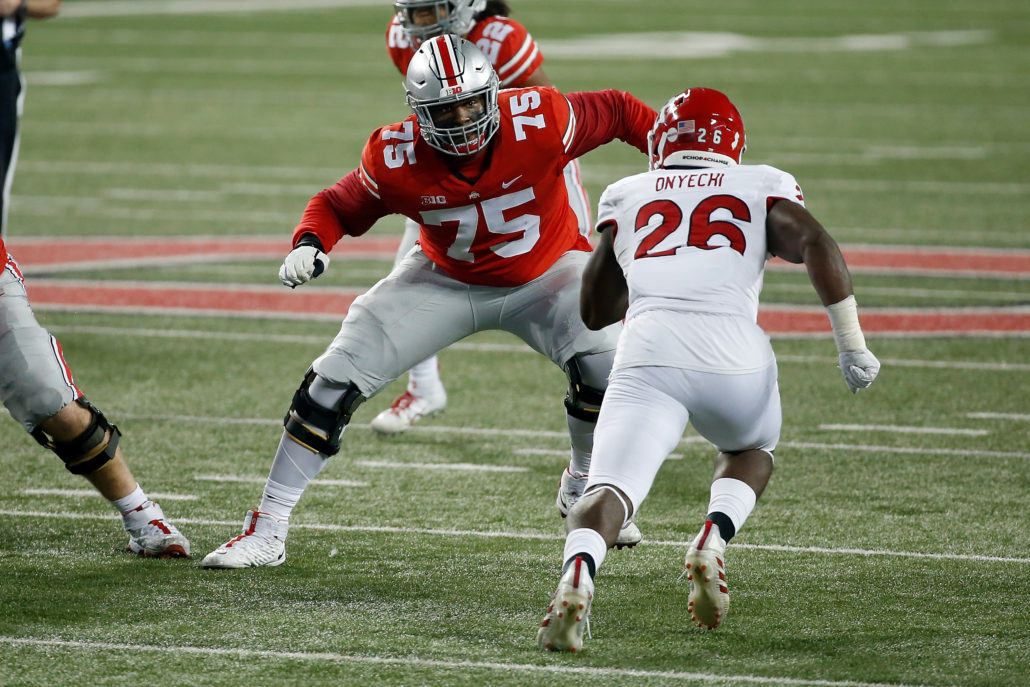 COLUMBUS, Ohio — Every year several student athletes jump at their first opportunity of NFL stardom.
Besides the transfer portal, it's one of the biggest trends in today's game. The decision to go pro is almost a no-brainer for most African-American players, who hail from the inner cities and grew up somewhat underprivileged. They usually have family and friends to look after, who carried them along their football journey.
Usually their lives financially hinder on a player's decision. The pressure to take care of loved ones often plays a big role. Not to mention there's always someone in a prospect's ear telling them to pursue the NFL money now and finish the degree later.
That wasn't the case for Thayer Munford. The NFL came knocking for Ohio State's star offensive tackle. He even accepted an invitation to the Senior Bowl, but couldn't pull the trigger. Instead the Cincinnati native decided to return to school for a fifth year to fulfill a lifelong promise.
"The reason why I came back is to get my academics together and I'm one semester away from actually graduating," Munford said. "Another part of me coming back is my mom, because she also wants me to get my degree."
Munford will be the first person in the generation of his family to graduate from college. It was instilled in him as a youth that education is important. So it's no surprise Munford wants to make his mother proud. His main goal is to earn his degree by August.
He plans on climbing that hill in the classroom and on the field. Munford believes he has yet to reach his ceiling. Despite having 26 starts and back-to-back All-Big Ten honors over the past two seasons, he's not complacent. The six-foot-six, 315-pounder wants to improve all aspects of his game.
Munford's return didn't cause tension with his coaches or the other offensive linemen in the locker room fighting for their place along the interior. Although the Buckeyes will have a new quarterback and several young blockers, Munford is enjoying spring ball.
Practice been going better than expected, the big boys up front are hungry and all of the signal-callers have looked promising.
"To be honest I'll block for whoever, it doesn't matter who's back there at all, and we got three amazing quarterbacks fighting and competing for that spot," he said. "What stood out with me about them is that they love to work, I just see them out there after every workout throwing balls to the receivers trying to get better."
Matchups been extremely beneficial for Munford. He's not afraid to get his knees dirty against the likes of Haskell Garrett and Zach Harrison, two of the best defensive linemen in the country. With Josh Meyers and Wyatt Davis off to the NFL, Munford will be anchoring Ohio State's front five this fall.
He's the old head of the unit now, so Munford is embracing the leadership role and guiding the youngsters. Munford feels the Buckeyes will have a great offensive line again. They're all developing ahead of schedule, which spells bad news for opposing Big Ten defenses.
It's still business as usual for Ohio State, which is a National Championship or bust. Munford is back to enjoy the ride one last time. Off the field the former four-star prospect has aspirations of becoming a future Athletic Director just as much as he does playing in the NFL.
Munford has even job shadowed individuals in that career field at high schools a couple of years ago. He wanted to see their job functions on a day-to-day basis and believes it's a career he'll thrive in. Munford also wants to help other individuals with similar backgrounds like him get into college.
He appears to have the next 20 years of his life planned out to his advantage. As for now, Munford is just making sure he excels on the field, in the classroom, and by doing both everything else will fall into place.